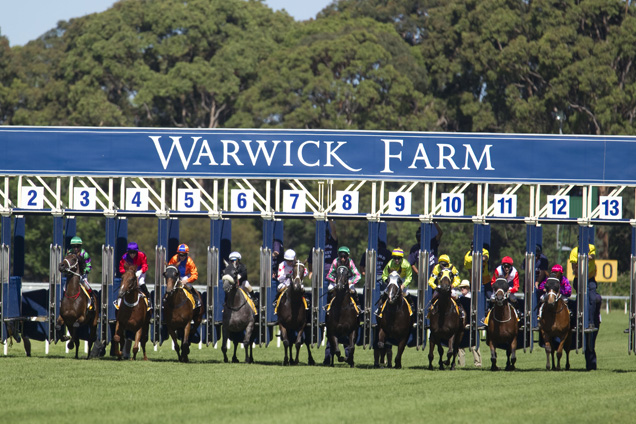 WARWICK FARM January 4
RACE 4: (3) VILLADEN
RACE 6: (3) CAPTAIN BOND (EW)
RACE 7: (3) ROCKRIBBED (EW)
RACE 1: 11-4-1-3
RACE 2: 15-12-9-4
RACE 3: 2-1-5-4
RACE 4: 3-5-8-1
RACE 5: 3-1-2-6
RACE 6: 3-5-6-8
RACE 7: 3-10-12-2
TRIAL WATCH REPORT
NOTED TRIAL RUNNERS – January 4-6
WARWICK FARM WEDNESDAY: Mezidon (R1)
CANTERBURY FRIDAY: War Star (R1); Autunno (R2); Desert Safari (R2); Fameux (R2); Ravenclaw (R2); Star Act (R2); Sequestered (R3); Capitol Queen (R3); Divots (R3); Amrap (R3); Graceful Force (R3); The Big Easy (R4); Vittoriosa (R7)
RECENT TRIAL WATCH WINNERS: Exploring; Garrison; Po Kare Kare; Hide Your Heart; Off Da Hizzle; Mission Value; Kalino, King Of Sparta; Chipper; Passeggiata; Goofy Mick; Banana Queen; Lazzago; Dynamic Impact; Cardone; Hamaki; Sovereign Fund; Hell I Am; Reateros; Barossa Rosa; Godfather; The Novelist.
TRIAL POINTERS
WARWICK FARM December 23: Taken by the first trial of Harry Angel youngster RAVENCLAW to finish second to a smart type in FAMEAUX in their 813m heat (49.23; 34.60). It was the slowest of the four 2YO heats over 813m but that doesn't detract from the effort of RAVENCLAW to work home under strongly from last under an easy ride from James McDonald. Suspect Waller has some good talent to work with. FAMEAUX has now trialled four times and is a lot more settled and tractable than his his debut trial in September when he won a heat at Randwick. I also liked the way AUTUNNO found the line under an easy ride for second in his heat (48.21; 33.98) won by DESERT SAFARI. In the fastest 2YO trial (48.16; 33.92) STAR ACT impressed with his third.
ROSEHILL December 8: Strong debut trial by Zoustar filly DIVOTS. Travelled easily in second in her maiden heat over 900m (54.57; 34.53) and was never off the leash to overhaul the leader and coast to a soft win by 1.4 lengths. Should take plenty of benefit from the experience.
ROSEHILL October 4: A strong trial in the colts heat from the wayward Randwick trial winner FAMEUX doing everything right under a soft ride.
RANDWICK September 19: In Heat 9 (Colts/Geldings – 51.92; 35.44) Annabel Neasham's $825,000 colt FAMEUX won but did a lot wrong over the last 200m. After leading easily he came under pressure and proved a handful for Chad Schofield, running out badly over the last 100m and hampering the placegetters. Obviously has ability but his manners will need to improve.
HAWKESBURY August 22: An eye catching trial from the maiden SEQUESTERED.
WARWICK FARM August 5: Godolphin had several nice triallers including SEQUESTERED.
BLACKBOOK REPORT
Eligible Blackbook Runners –
WARWICK FARM WEDNESDAY: Elettrica (R3)
RECENT BLACKBOOK WINNERS: Mr Rock It; Dunkel; Sunshine In Paris; Skyman; Validated; Superium; Cavalier Charles; Vienna Princess; Athelric; Bankers Choice; Turbeau; High Blue Sea; Pal D'Oro; Vilana; Key Largo; Argentia; Port Albert; Turaath; Minsk Moment; Rocketing By; Asfoora; Highlights; Greek Hero; Tuvalu; Lunar Flare.
Blackbookers – Selected December 31
(Follow for next 3 starts)
ALMANIA; DAYTONA; HOKKAIDO; LAST CHANCE; RUMBLED AGAIN; SNEAKY FIVE; THREEANDFOURPENCE