WARWICK FARM January 30
Inside Grass; Good 4
15 Heats – 2 x 1209m (1 Open; 1 Maiden); 3 x 824m (3 Open); 3 x 821m (3 2YO); 3 x 818m (2 2YO; 1 3YO); 4 x 815m (1 3YO; 3 Maiden)
Polytrack; Synthetic
4 Heats – 1 x 1175m (Open); 3 x 740m (3 Open)
He's back! NATURE STRIP led home a star studded heat in a reassuring return after the testing program he took on in 2022.
Given first use of the inside track, seven G1 winners of 20 G1 races and more than $50 million prizemoney strutted their stuff in a trial over 824m that will lay the platform for their autumn campaigns.
It took him 200m to build up the revs but once into full stride NATURE STRIP's superior natural speed saw him cruise clear and lead them by three lengths into the turn. With stand in rider Kerrin McEvoy swinging to him, he coasted to the line under a big hold without breaking the clock (49.34; 34.39) for the 12th trial win of his career by 1.24 lengths.
"Nature Strip is way too good."

The world's best sprinter Nature Strip, trained by @cwallerracing, wins a trial at Warwick Farm on Monday, beating Fireburn and Riodini. Multiple Group 1 winner Zaaki ran on well for fourth. @tabcomau pic.twitter.com/e5wiB6gGs0

— Racing NSW (@racing_nsw) January 29, 2023
Golden Slipper winner FIREBURN saved ground along the inside to finish off nicely for second with RIODINI holding his ground for third.
Nothing else was put under pressure to make ground but it was hard to miss the impressive work of ZAAKI over the last 50 metres to finish fourth. PRIVATE EYE and IN SECRET, after missing the start, were given easy work.
ARKANSAW KID (Ben & JD Hayes): The unbeaten Victorian youngster took the honours in the 2YO trials with a classy win in his 821m heat (48.49; 34.25). He settled midfield from a wide gate and tracked four and five deep around the turn before showing his quality to easily take control and run to the line under an easy ride from Chad Schofield. Sending him north for this trial indicates the aspirations held for him by his top stable.
NOTED TRIALS
XX Arkansaw Kid; Nature Strip
X Arbitration; Cafe Millenium; Deep Fury; Larkspur Run; Lazzago; Lohnraki; Madame Pommery; Norwegian Joy; Pericles; Rolene; Saltaire; Sunshine In Paris; Sweet Ride; The Poacher; Zaaki
The unraced Lady Jezam, trained by @GaryPortelli, wins a trial at Warwick Farm on Monday, beating the fast-finishing Facile, and Lazzago found the line well under a tight hold. @tabcomau pic.twitter.com/Mmpzenoh3z

— Racing NSW (@racing_nsw) January 29, 2023
Saikono, trained by @GaiWaterhouse1 / Adrian Bott, wins a trial at Warwick Farm on Monday, beating Zelta and The Hawkesbury. Inglis Nursery winner Saltaire ran an eye-catching fourth. @tabcomau pic.twitter.com/TLL8owCq5L

— Racing NSW (@racing_nsw) January 30, 2023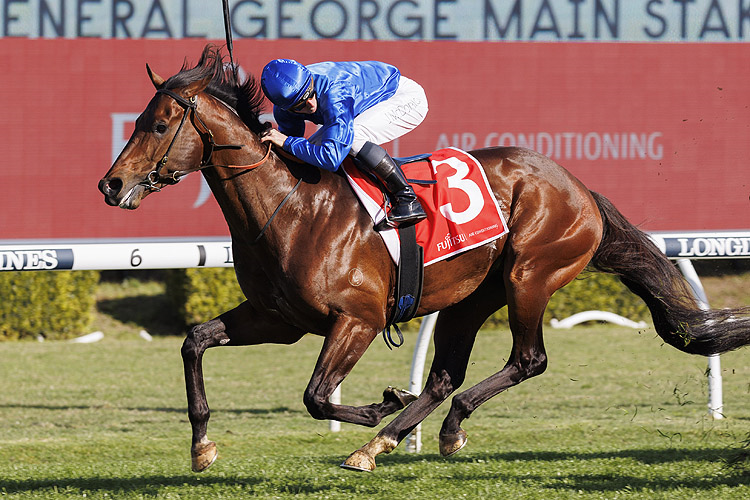 ROSEHILL January 27
15 Heats; Course Proper (Soft 5)/Inside Grass (Soft 5)
Course Proper – 1 x 1000m (Group/Listed); 1 x 900m (Group/Listed)
Inside Grass – 4 x 1030m (2 Open; 1 2YO; 1 Maiden); 9 x 900m (3 Open; 3 2YO; 3 Maiden)
All eyes were on Godolphin's best horse ANAMOE in his second trial as he prepares for a campaign that is expected to take him overseas.
It was easy work for the 4YO as he was under no pressure to finish a strong second to the smart filly NORTH STAR LASS in the 1000m heat (59.95; 33.87) for the Group horses on the course proper. The winner was pushed along to hold her advantage with ANAMOE tracking her from the start and finishing off nicely under a quiet ride from James McDonald. ICEBATH had an easy time finishing a nice fourth.
"North Star Lass responded to pressure to beat the good horse."

North Star Lass, trained by @GaiWaterhouse1 / Adrian Bott, wins a trial at Rosehill Gardens on Friday, beating seven-time Group 1 winner Anamoe and Revolutionary Miss. pic.twitter.com/1MJOhCFbC4

— Racing NSW (@racing_nsw) January 26, 2023
The second Group heat over the shorter 900m (56.67; 34.84 was won by CROSS TALK after he was gifted an easy lead, coasting over the last 200m with none of the chasers put under pressure to make up ground. Among those having very easy trials were FANGIRL and QUANTICO.
"Cross Talks in complete control of this trial."

Cross Talk leads all the way to win a trial at Rosehill Gardens on Friday, beating Sheeza Belter and Group 1 winning filly Zougotcha. @GaiWaterhouse1 @tabcomau pic.twitter.com/rP1VjqzyNh

— Racing NSW (@racing_nsw) January 26, 2023
REMARQUE (Hawkes Racing): This just might be the prep when we see this often hyped 4YO really deliver on his early potential. He's now fully matured and he looked in great order surging to the line for second in the 900m heat on the A grass won by SEBONACK (55.04; 34.55). This was his first trial since October and augers well for a bold return, remembering he recorded excellent back to back wins when he started off his last campaign.
BLANC DE BLANC (Michael Freedman): A classy second from this I Am Invincible filly in the fastest 900m heat (53.90; 34.,62) won by the smart newcomer HELLDANCER. Sat back midfield before making ground quickly over the last 200m as she took a weaving inside path with her best work through the line. Showed plenty of talent in her first two starts for a Newcastle win and Inglis Nursery placing and confident she will make her mark through the autumn.
The Bjorn Baker-trained HELLDANCER was having her first trial and made a good impression. She sat off the leader and had no trouble taking the upper hand at the 300m, stretching out smoothly and going to the line with something in reserve.
EYE PEA OH was dominant winning the fastest 1030m heat (63.16; 34.81). This was her second trial and she looks ready to win first-up in a suitable sprint as she did when she resumed last time.
NOTED TRIALS
XX Remarque; Blanc De Blanc
X Anamoe; Cross Talk; Dakarai; Espiona; Eye Pea Oh; Fangirl; Fire; Grand Crusader; Helldancer; Jupitus; I Am Jade; Lomandra; Quantico; Roussillon; Smashing Eagle; Tajneed; Zulfiqar.