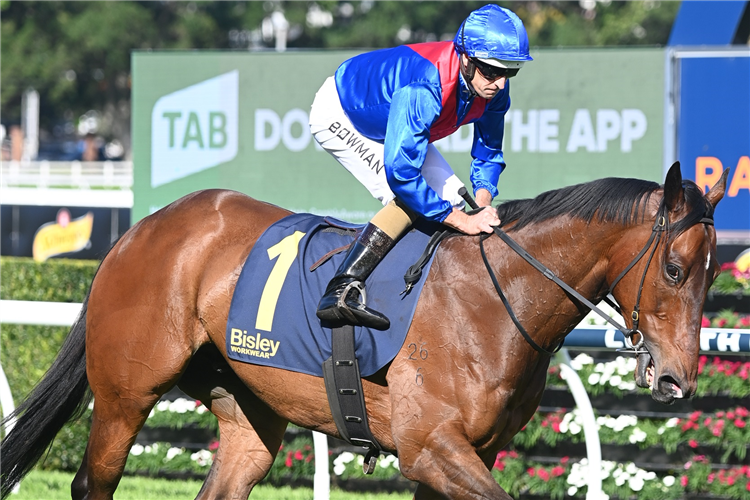 NEWCASTLE March 8
Beaumont; Heavy 8
16 Heats – 1 x 1200m (Open); 7 x 1000m (4 Open; 3 Maiden); 8 x 800m (2 Open; 3 2YO; 3 Maiden)
Heavy conditions favoured on pace runners.
AUDETTE (Kylie Gavenlock): Made it back to back trial wins at Newcastle with an easy win in the fastest 1000m heat (60.60; 33.60). Cruised to the line almost four lengths clear, setting her up to add to her impressive race record of five wins from only seven starts.
NOTED TRIALS
XX Audette
X Angara; Kissaki; La Boqueria; Outishka; Pier Pressure; Single Shot
RANDWICK March 7
17 Heats - Good 4
Randwick A Grass – 1 x 1200m (Open); 8 x 1050 (3 Open; 3 2YO; 2 Maiden); 6 x 742m (2 Open; 2 2YO; 2 Maiden)
Polytrack – 2 x 1080m (2 Open)
A strong set of trials with a number of performances that will prove a worthwhile guide in coming weeks.
HAWAII FIVE OH (Waterhouse/Bott): First trial for his new stable and a sure sign of things to come from the classy 3YO colt by I am Invincible. Went through his gears in great style for a soft win in his open heat over 1050m (62.46; 34.08) with AIR TO AIR, another new addition to the Waterhouse/Bott team, also working the line in promising style for second.
Hawaii Five Oh, now with @GaiWaterhouse1 & Adrian Bott, wins a trial at Randwick on Tuesday over stablemate Air To Air with early leader Tragara in third. Waihaha Falls stoked up late behind them. @tabcomau pic.twitter.com/FSxuxEe6Az

— Racing NSW (@racing_nsw) March 6, 2023
HELL I AM (John O'Shea): Excellent trial from a nice prospect who is certain to build on his record of four wins from 10 starts. Sat three wide in midfield before surging off the turn and easily running down the fast leader Shihonka for a soft win in his open heat over 1050m (63.22; 34.23).
KING'S GAMBIT (Peter & Paul Snowden): Boom 2YO showed he is back on his game with a sharp win in his 2YO heat over 1050m (63.49; 35.03). The time wasn't flash but you had to like the way he settled back in the field and let down quickly after taking a split at the 250m to put a gap in them with ease, coasting home by a soft margin of more than three lengths.
"He's exploding down the outside."

Mark Zahra lets @SnowdenRacing1 colt King's Gambit go in a trial at Randwick on Tuesday, as he warms up for the Golden Slipper, and he charges away to win over unraced colts Shadow Joker and Professor Pickles. @tabcomau pic.twitter.com/CA4ySZvXRq

— Racing NSW (@racing_nsw) March 6, 2023
LOST AND RUNNING (John O'Shea): Top sprinter showed the benefit of his first-up trial, working easily in second place and showing his class when extending late to nail the pacy leader Omni Man in his open heat over 742m (43.00; 32.62). All in order for a strong return.
A sharp second trial from classy @JohnOSheaRacing sprinter Lost And Running at Randwick on Tuesday as he runs down Omni Man to win with Shadow Vampire running into third. @tabcomau pic.twitter.com/5URFEppVOY

— Racing NSW (@racing_nsw) March 7, 2023
MARTIAL MUSIC (Anthony Cummings): Expect big improvement form this lightly raced maiden 3YO after a super trial win in his 1050m heat in fast time (61.77; 33.92). Was full of running from the jump and had plenty in the tank cruising to an impressive win by almost seven lengths in the fastest heat over the distance.
NOTED TRIALS
XX Hawaii Five Oh; Hell I Am; King's Gambit; Lost And Running; Martial Music;
X Air To Air; Alcyone; Dipsy Doodle; Frilled; Godfather; Parisal; Shades Of Rose; Shadow Crush; The King; Vilana; Watch The Clock, Waihaha Falls; Welcome Gypsy
Martial Music was low flying this morning in heat 11 at Randwick!@CummingsRacing pic.twitter.com/ToD45cIV8R

— SKY Racing (@SkyRacingAU) March 6, 2023
WARWICK FARM March 2
Inside Grass; Good 4
16 Heats - 4 x 1209m (2 Open; 2 Maiden); 4 x 811m (3 Open; 1 2YO); 4 x 808m (3 2YO; 1 3YO); 4 x 804m (4 Maiden)
Polytrack – 1 x 740m (Open)
More winning trials by two-year-olds from the Waterhouse/Bott stable.
The star was the unraced KAIZAD, a Capitalist colt having his second trial with blinkers added to his gear.
He showed natural talent to control his 808m heat from the front and was under double wraps extending sweetly off the turn to cruise home by a soft 2.2 lengths in fast time (46.87; 33.52).
Silver Slipper runner-up Platinum Jubilee and @clarkyhk sail away to win a trial at Warwick Farm on Thursday by almost four lengths over a pair of unraced colts Rimbaud and Galations in 47.16 for the 808m. @tabcomau @GaiWaterhouse1 pic.twitter.com/UwIIvwLcQl

— Racing NSW (@racing_nsw) March 2, 2023
His well exposed stablemate PLATINUM JUBILEE, the Gimcrack Stakes winner, has had a testing season but showed she has bounced off her Silver Slipper Stakes second behind top colt Cylinder in top shape with a cruisy front running win in her 808m heat in slower time (47.16; 33.52).
Waterhouse and Bott won a third 2YO heat with the racy filly OZ EMPRESS, a daughter of Exceed and Excel who went into the blackbook with a super trial win at Warwick Farm on February 16.
She was again too sharp for her rivals in the fastest 811m heat, doing it easily to score by almost two lengths (47.40; 33.46) and is obviously set to race boldly on debut.
"That's a good last 150!"

Buenos Noches steams down the middle to win a trial at Warwick Farm on Thursday. The @mcsmithracing three-year-old accounted for Miss Madison by 1-1/4 lengths with Whinchat in third. @tabcomau pic.twitter.com/IsmPMNMJ7A

— Racing NSW (@racing_nsw) March 1, 2023
NOTED TRIALS
XX Kaizad
X Buenos Noches; Coal Crusher; Ferrari Girl; Global Empire; Mumbai Jewel; Ohtani; Oz Empress; Platinum Jubilee; Rimbaud; Silent Raindrops; Swiss Exile; Rebel Shadow
Last start @DavidPfieffer Group 2 winner Glint Of Silver leads all the way to win a trial at Warwick Farm on Thursday from Wild Chap with Bois D'Argent in third. The unbeaten White Marlin finished sixth. @tabcomau pic.twitter.com/L2m5hSbV08

— Racing NSW (@racing_nsw) March 1, 2023