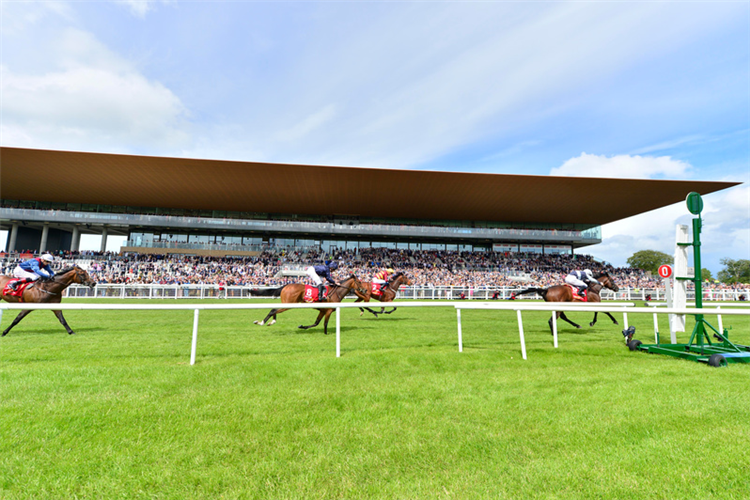 Irish racing's largest sponsor, the Irish European Breeders' Fund, who are funded by Irish Stallion Farms, have announced an all-time record high level of annual sponsorship. €2.7 million will be added to the prize-money of Irish races throughout 2023, when the Irish EBF are also celebrating 40 years of service to Irish Racing. This brings the overall contribution to over €57 million since the foundation of the Irish European Breeders' Fund in 1983. The spend will encompass nearly 500 races, both flat and National Hunt, that will carry EBF conditions throughout the year.
The highlights of the record €2.7 million spend is the support given to two-year-old races where over 42% of the total spend is targeted. This includes almost all of the maiden races, the successful Irish EBF Auction Series and the Median Sires Series with the Irish EBF Ballyhane Stakes as a valuable showcase for median races. The Irish EBF Auction Series, now in its ninth year and worth a total of €745,000, has 24 qualifying races and two finals to target. The Auction Nursery Final, over 6 furlongs, will be run for €50,000 at Cork Racecourse in September and the series will finish on a high as usual with the €120,000 Irish EBF Auction Series Final at Naas racecourse in October. Races for older horses are being bolstered, with all Listed Fillies races running for a minimum of €50,000 and all other listed races running for a minimum of €40,000.
National Hunt support continues to focus on mares races with about 50% of the National Hunt allocation targeted at mares' chases, hurdle and bumper races. The popular Connolly's Red Mills Irish EBF Auction Hurdle Series, worth nearly €400,000 has 16 qualifying races and a €75,000 final at the Punchestown Festival which is backed up by the Irish EBF Auction Bumper Series with six races worth €15,000 each over the season.
Joe Foley, Irish EBF Chairman, said; "Prize-money is the lifeblood of our industry and fundamental to the health and future of any racing jurisdiction. The Irish EBF board are always eager to direct as much funding as possible into prize-money and are delighted to put forward this €2.7 million record spend for 2023. This level of spend is only possible thanks to the voluntary contributions made annually, by every stallion owner and manager in Ireland. The sponsorship spend encompasses all facets of the racing programme throughout the year and provide many valuable options to owners and trainers of horses of both codes."
Suzanne Eade, CEO Horse Racing Ireland, commented; "The Irish EBF has long been the largest sponsor of Irish racing and HRI is hugely appreciative of their long-standing and continued commitment which is underpinned by voluntary contributions from stallion farms all over Ireland. The Irish EBF's record race sponsorship of €2.7m million in 2023 is hugely important to the horseracing industry as it will benefit all the many recipients of prize money under both codes including owners, trainers, jockeys and stable staff."