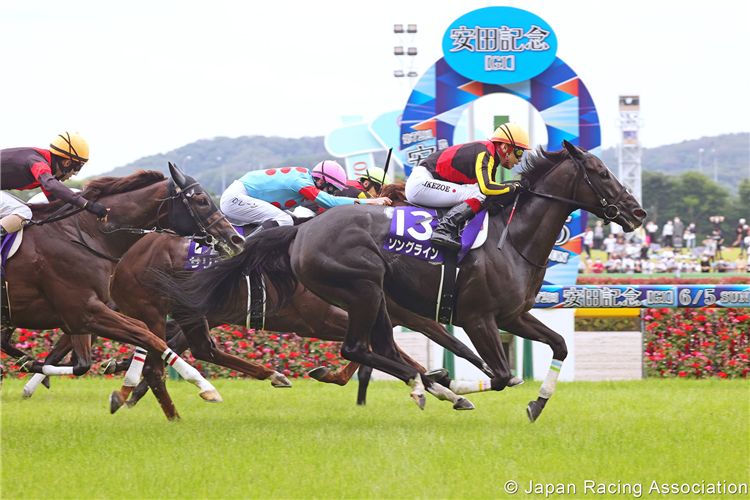 Fourth favorite Songline bounced back from her latest Victoria Mile (G1, 1,600m) fifth-place finish to land her first G1 victory in this year's Yasuda Kinen. Finishing a nose second to Schnell Meister in last year's NHK Mile Cup (G1, 1,600m), the Kizuna filly turned the tables this time holding off the German-bred colt by a neck. Following the 2021 Fuji Stakes (G2, 1,600m) and this year's 1351 Turf Sprint (G3), this marks the filly's third grade-race title. Winning trainer Toru Hayashi, who opened his yard in 2018, celebrates his fifth grade-race victory and first JRA-G1 title while jockey Kenichi Ikezoe has now 27 G1 wins—his latest was with Gran Alegria in the 2020 Yasuda Kinen.
After breaking sharply from stall 13, Songline was settled behind Salios and in front of Schnell Meister in mid-pack as the field cruised down the backstretch in a leisurely pace. Making headway while shifting to the outside before the last corner, the Kizuna filly unleashed a good and tenacious stretch drive, finally catching Salios in the last half furlong and held off Schnell Meister, who dug in with great force from behind, to clear the wire first.
"I'm just relieved and happy that I was able to live up to the team's expectations. It was a tight schedule for the filly but the staff at the stables prepared her remarkably. She broke well and I decided to settle her behind Salios who rushed up in front of us. Trying not to make the same mistake as last time, we made an early bid before the last corner and she responded well and stretched all the way for a strong finish," commented Kenichi Ikezoe.
Second pick and G1 winner Schnell Meister broke well but was settled in mid-division under jockey Christophe Lemaire after a bit keen in the backstretch. Boxed in after rounding for home, the son of Kingman struggled to find room climbing the hill and finally shot out between horses to overtake Salios at the same time Songline did on the other side but was a neck short in second.
Eighth favorite Salios, under Damian Lane, took a wide trip around seventh just in front of the eventual winner, responded well to rally for the lead but weakened in the last 100 meters and gave way to Songline and then the fast-closing Schnell Meister in the last strides for third.
Race favorite Elusive Panther trailed near the rear before hitting the straight in a wide move and quickened in the last 200 meters while clocking the fastest late kick but had too much ground to make up and finished eighth.
Other Horses:
4th: (15) Serifos—sat near eventual winner, showed effort but failed to close in on leaders
5th: (7) Fine Rouge—ran forwardly around 5th, ran willingly while no match for top finishers
6th: (4) Danon the Kid—stalked leader in 2nd, took lead 300m out, weakened in last 100m
7th: (10) Air Lolonois—positioned near rear, angled out, showed fastest late drive but belatedly
9th: (18) Naran Huleg—unhurried around 15th, passed tiring rivals at stretch
10th: (3) Lotus Land—raced around 9th, struggled to find clear path at early stretch, even paced
11th: (16) Resistencia—rallied for lead but eased back to 5-6th, ran gamely until 100m out
12th: (5) Ho O Amazon—set pace, showed tenacity on rails until 200m marker, weakened thereafter
13th: (14) Soul Rush—traveled around 13th, showed response but met traffic 200m out, lost momentum
14th: (12) Diatonic—tracked leaders around 3rd while keen to go, outrun in last 200m
15th: (2) Vin de Garde—saved ground around 7th, lacked needed kick
16th: (6) Karate—took economic trip around 10th, showed little at stretch
17th: (1) Cafe Pharoah—chased leaders around 3rd, faded after 200m pole
18th: (11) Catedral—was off a bit slow, trailed in rear, no factor