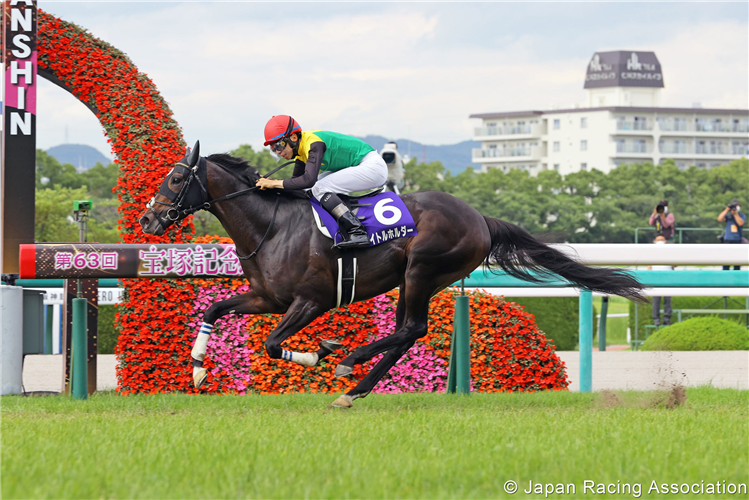 Titleholder who acquired the most votes from the fans but was posted second favorite, marked a sweeping victory over a strong field in this year's Takarazuka Kinen by renewing the track record to 2:09.7. He is the first horse to capture both the Tenno Sho (Spring) (G1, 3,200m) and the Takarazuka Kinen in the same year since Deep Impact in 2006. His three G1 victories including last year's Kikuka Sho (Japanese St. Leger, 3,000m) title are all marked at Hanshin Racecourse. This is the third JRA-G1 win for trainer Toru Kurita and the second for jockey Kazuo Yokoyama, which include this year's Tenno Sho (Spring) victory with this colt.
Titleholder, making a smooth break from stall six, rallied with Panthalassa for the lead but eventually settled in second and traveled three lengths behind the record-breaking pace in the backstretch. The Duramente colt gradually closed in on the leader approaching the last two corners and, after drawing even with the frontrunner entering the lane, easily pulled away with powerful strides for a comfortable two-length victory.
"This was my fourth race with Titleholder and I knew how the colt could run in good rhythm. The pace was fast but I wasn't concerned because he still had enough power left at the straight. He's still in the process of maturing and I think he'll get better going forward," commented Kazuo Yokohama. "I've been told by the owner that the colt will go to 'the Prix de l'Arc de Triomphe if he wins' so we're planning to send him straight to France with Kazuo," added trainer Toru Kurita.
Fifth choice Hishi Iguazu broke well to settle around sixth by the rails, angled out slightly after the third corner and launched the fastest late drive to pass his rivals one by one in the last 300 meters but failed to close in on the winner while securing the runner-up seat.
Fourth pick and 2020 fillies' Triple Crown winner Daring Tact sat in 10th, just behind the favorite, made headway on the outer path passing the 1,000-meter point, showed the second fastest late kick and, although unable to threaten the top two finishers, nosed out Deep Bond right before the wire to finish third.
Race favorite Efforia traveled in mid-division, around ninth from the front and, though displaying a strong charge that timed the fourth fastest closing speed, finished in sixth.
Other Horses:
4th: (15) Deep Bond—prominent in 3rd or 4th, unable to keep up with winner, passed by
Hishi Iguazu 200m out then Daring Tact just before wire
5th: (9) Meiner Fanrong—raced 3-wide in 8th, advanced and rallied for 2nd, weakened in last
100m
7th: (12) Win Marilyn—sat in 5th, ran gamely until 200m out, gradually dropped back
8th: (11) Panthalassa—set fast pace, ran out of steam passing 200m pole
9th: (8) Stay Foolish—took economic trip in 11th, lacked needed kick
10th: (17) Gibeon—ran around 6th, outrun turning final corners, showed little
11th: (18) Potager—settled around 12th, circled wide, failed to respond
12th: (16) Gloria Mundi—traveled in 13-14th, showed little at stretch
13th: (3) Melody Lane—hugged rails in 12-13th, unable to reach contention
14th: (13) Arrivo—trailed wide in rear, never fired
15th: (5) Iron Barows—positioned around 15th, no factor
16th: (2) African Gold—was off slow, saved ground in 3rd or 4th, faded after final corner
17th: (14) King of Koji—far rear throughout trip
Excluded from running:
(1) Authority—due to lameness in his right foreleg