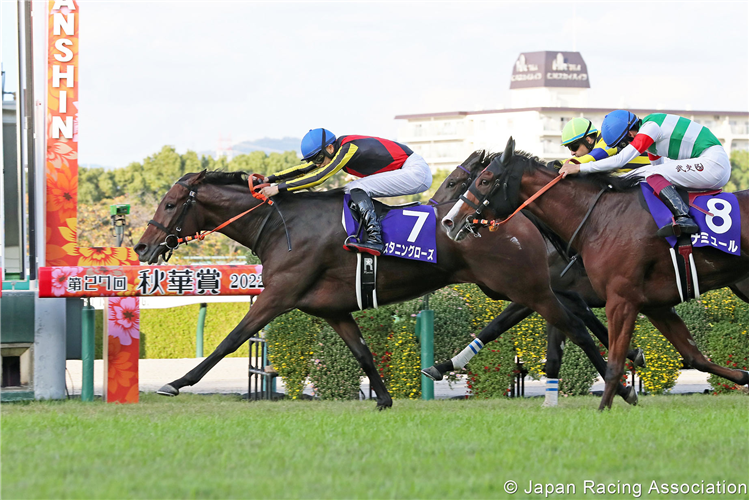 Third pick Stunning Rose, second in her last G1 attempt in the Yushun Himba (Japanese Oaks, 2,400m), put a stop to Stars on Earth's bid to become a triple crown winner by claiming the third jewel of the three-year-old fillies' Triple Crown, the Shuka Sho. Debuting in June last year as a two-year-old, the King Kamehameha filly broke her maiden in her second career start but was third at best in her following three grade-race starts. Two wins in her three-year-old debut, the Kobushi Sho (1,600m), and the Flower Cup (G3, 1,800m) which became her first grade-race victory was followed by a runner-up effort in the Yushun Himba and another graded victory in the Shion Stakes (G3, 2,000m) before registering her first G1 title in this race. Trainer Tomokazu Takano scored his second Shuka Sho victory since with Shonan Pandora in 2014 and fourth JRA-G1 title—his latest G1 victory was the 2021 Osaka Hai with Lei Papale—while Ryusei Sakai who made his jockey debut in 2016 landed his first career G1 victory in the race and registered his tenth grade-race title overall.
Stunning Rose broke sharply and positioned nicely behind the leaders and two-wide in fourth along the backstretch, made headway 600 meters out, shifted out slightly entering the short stretch and wasted no time pinning Art House and Sound Vivace along the 356-meter stretch while holding off a fast-closing chase by Namur and Stars on Earth to a 1/2-length victory.
"I am grateful to have been given the chance to ride this filly and want to thank the connections for that and for conditioning her to how she was today. I was able to assess the filly's maneuverability the last timed I rode her and I was able to position her near Art House during the trip. Her response at the straight was way much better than her last start and although I was aware of the horses coming strongly from behind, I felt her power under me would carry us to the wire in front," commented Ryusei Sakai.
Namur was rated in mid-pack, made headway along the outside with 600 meters, circled wide into the homestretch and showed a good turn of speed while having to make up ground to finish a 1/2-length second.
Race favorite Stars On Earth missed a beat coming out of the gate, was pinched back and had to race near the rear up to the final corner where the Duramente filly split horses with tremendous force and in contention within the last furlong with the fastest finishing speed but was short of reaching the top two finishers and claiming her third jewel for three-year-old fillies by half a length and a nose.
Other Horses:
4th: (6) Memory Raison—ran in 8th, switched to outside 300m out, quickened but
failed to threaten top finishers
5th: (10) Art House—chased leaders in 3rd or 4th, rallied for lead until 100m out
6th: (11) Eglantyne—settled 3-wide around 6th, ran willingly but weakened in last
100m
7th: (15) Sound Vivace—broke loose before race but cleared vet check, chased
leader in 2nd, led at early stretch, weakened in last 100m
8th: (5) Storia—raced around 11th, met traffic 300m out, showed brief effort
9th: (16) Presage Lift—sat 2nd from rear, angled out, passed tiring rivals
10th: (2) Lilac—trailed in rear, circled wide, showed belated charge
11th: (1) Win Eclair—saved ground around 9th, showed effort until 100m out
12th: (12) Water Navillera—tracked leaders in 3rd or 4th, dropped back after 200m
pole
13th: (13) Erika Vita—traveled 3-wide around 12th, unable to reach contention
14th: (4) Love Pyro—positioned around 12th on rails , even paced at stretch
15th: (3) Tagano Finale—hugged rails around 6th, showed little at stretch
16th: (14) Bright on Base—set pace from wide stall, faded after final corner