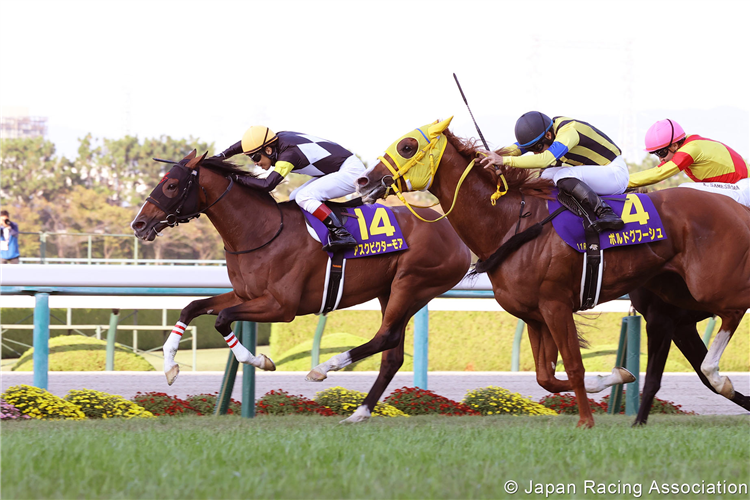 Second favorite Ask Victor More marked a track record of 3:02.4 over the 3,000-meter course to win the last leg of the Triple Crown, the Kikuka Sho (Japanese St. Leger). Debuting in June last year, the Deep Impact colt broke his maiden in September that year and registered a win and two thirds out of three starts as a two-year-old, all at 1,800 meters. Scoring his second win in January this year at 2,000 meters, the bay colt captured his first grade-race title in the Yayoi Sho Deep Impact Kinen (G2, 2,000m, March), finished fifth in the Satsuki Sho (Japanese 2000 Guineas, G1, 2,000m) and was a close third (neck and 1/2-length) in the Tokyo Yushun (Japanese Derby, G1, 2,400m). He was second in his fall debut, the St. Lite Kinen (G2, 2,200m) on September 19 prior to his G1 victory in the Kikuka Sho. Trainer Yasuhito Tamura scored his first JRA-G1 victory since with Major Emblem in the 2016 NHK Mile Cup and third overall. Jockey Hironobu Tanabe also picked up his third JRA-G1 title—his first since with Logotype in the 2016 Yasuda Kinen—and for both trainer and jockey it was their first Classic victory.
Ask Victor More broke sharply from stall 14 and while a good five lengths behind pacesetter Seiun Hades who covered the first 1,000 meter in 58.7 seconds, maintained his position in second while without pressure and cruising in good rhythm. As the field gradually made headway passing the 800-meter pole, the Deep Impact colt easily pinned the leader and drew away, leading the rest by about four lengths entering the stretch and was only threatened by Boldog Hos and Justin Palace who came charging up down the middle in the closing stages but prevailed by a nose to score his first G1 victory in record time.
"I had a lot in my mind as to how I should ride in such a way that would produce good results for the colt and I am relieved that it worked out well. Although he we will be facing even tougher competition in the future, I feel that he is getting stronger with every race and hope that we can continue with good results," commented Hironobu Tanabe.
Boldog Hos was reserved in mid-division early while saving ground and slowly angled out away from the rails as the horses began to make their move soon after the 800-meter marker. Picking up speed turning for home down the middle lane and joined by Justin Palace on his inside, the two pulled away within the last furlong with tremendous late charge with Boldog Hos managing to extend his stride to just miss by a nose at the wire in second.
Justin Palace was forwardly placed outside the race favorite two wide and kept a close watch on the foe through the early stages. While Gaia Force failed to find another gear after the final turn, the Deep Impact colt had plenty left in the tank to follow Boldog Hos who came flying by on his outside and kept in tandem with that rival until just before the wire where the brown colt was outrun by the first two by half a length.
Race favorite Gaia Force was a fraction slow out of the gate and was rated around seventh or eighth along the rails for most of the way. Constantly covered by horses close in front and around, the Kitasan Black colt struggled to find space as the field began to make headway and only just found a clearing after entering the stretch where the gray was unable to pick up speed and faded to eighth.
Other Horses:
4th: (11) Douradores—raced around 12th, angled out to accelerate, failed to
threaten top 3 finishers
5th: (9) Shihono Speranza—positioned 3rd from rear, showed 3rd fastest late kick,
belatedly
6th: (5) Yamanin Zest—ran around 15th, showed effort, had too much ground to
make up
7th: (3) Pradaria—sat around 9th, turned wide for stretch run, never threatened
9th: (7) Ask Wild More—traveled in 14th, lacked needed kick at stretch
10th: (2) Shelby's Eye—saved ground around 10th, angled out, even paced
11th: (18) Seleccion—settled 3-wide around 6th, met traffic at early stretch, dropped
back
12th: (12) Verona City—was off slow, sat 2nd from rear, circled wide, passed tired
rivals
13th: (6) Be Astonished—hugged rails in 4th, remained in contention until 300m out
14th: (13) Dinasta—chased leaders in 3rd, driven after 3rd corner, failed to respond
15th: (16) Feengrotten—sat 3-wide around 9th, advanced in backstretch, showed
little after final corner
16th: (15) Pod Bullet—raced around 5th early, outrun after 3rd corner
17th: (10) Seiun Hades—set rapid pace, faded after final corner
18th: (8) Meiner Turpan—traveled in rear throughout trip