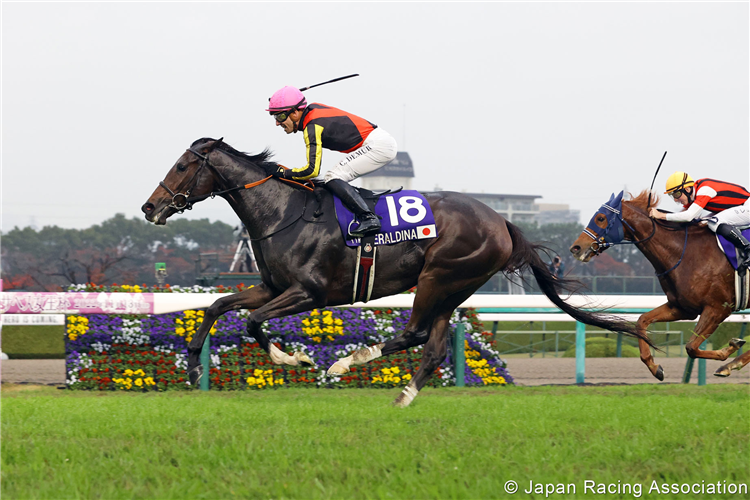 Fourth pick Geraldina claimed this year's Queen Elizabeth II Cup to score her first G1 title. Foaled out of seven-time G1 winner Gentildonna who swept the fillies' Triple Crown in 2012, the bay broke her maiden in her third start as a two-year-old and, though unable to run in the Classics in her three-year-old spring campaign, marked three consecutive wins from July. She came off her first graded win in the All Comers (G2, 2,200m) on September 25, which was her sixth graded challenge. Trainer Takashi Saito marked his seventh JRA-G1 title following his win in last year's Hopeful Stakes with Killer Ability, while jockey Cristian Demuro, who is under short-term license, claimed his fourth JRA-G1 victory following his 2018 Hanshin Juvenile Fillies title with Danon Fantasy.
Breaking out from the outermost stall, Geraldina traveled wide towards the rear and advanced rounding the last corners the widest. Displaying her powerful late drive that timed the fastest last three furlongs in the field, the Maurice filly caught up with the frontrunner after passing the 200-meter pole, dueled briefly with Win Marilyn 100 meters out but pulled away in the last 50 meters for a 1-3/4-length win.
"I'm very happy I was able to win another G1 race. The filly was traveling very well in the last corner, came out and gave a good turn of foot. The last time when she won, it was a good race, so I was pretty confident with her. Gentildonna was a good filly and I think Geraldina can be like her dam," commented Cristian Demuro.
Traveling three-wide around sixth, fifth pick Win Marilyn made headway after the third corner and briefly took command 200 meters out. The Screen Hero chestnut, however, was overtaken by fast-closing eventual winner after a brief duel in the last 100 meters and was then challenged by 12th choice Lilac who launched the second fastest late kick after racing in 17th position. The two dueled strongly at the wire to share the runner-up seat.
Race favorite Daring Tact settled in mid-division around eighth and was unable to pull out from the pack at the stretch to finish sixth.
Magical Lagoon pressed the pace in second but was unable to make use of her late kick due to the heavy going and finished 18th.
"We were able to race in good position but she likes quick ground and the rain, unfortunately, took her chance away. I urged her to go from the third corner but she didn't respond. I don't know why she didn't want to go into the gate because she's usually really good," said Shane Foley.
Other Horses:
4th: (14) Akai Ito—trailed in rear, showed 3rd fastest late drive, belatedly
5th: (11) Namur—sat 3-wide around 8th, stretched but no match for top finishers
7th: (6) Ho O Emmy's—ran around 15th, angled out, responded but never threatened
8th: (12) Ruby Casablanca—saved ground around 16th, lacked needed kick
9th: (3) Pin High—traveled around 6th on rails, drifted to outside at early stretch,
showed brief effort
10th: (7) Izu Jo no Kiseki—settled in 11-12th, passed tiring rivals
11th: (1) Kurino Premium—hugged rails in 10-11th, even paced at stretch
12th: (16) Terzetto—sat 3-wide around 10th, gradually advanced, showed effort
until 200m pole
13th: (2) Rosa Noir—set pace, dropped back after surrendering lead 200m out
14th: (10) Stunning Rose—ran in 5th, met traffic at early stretch, lost momentum
15th: (9) Win Kiitos—chased leaders around 3rd, failed to sustain bid
16th: (17) Win Mighty—traveled around 4th, faded after 200m marker
17th: (8) Andvaranaut—raced in 11-12th, gradually fell back