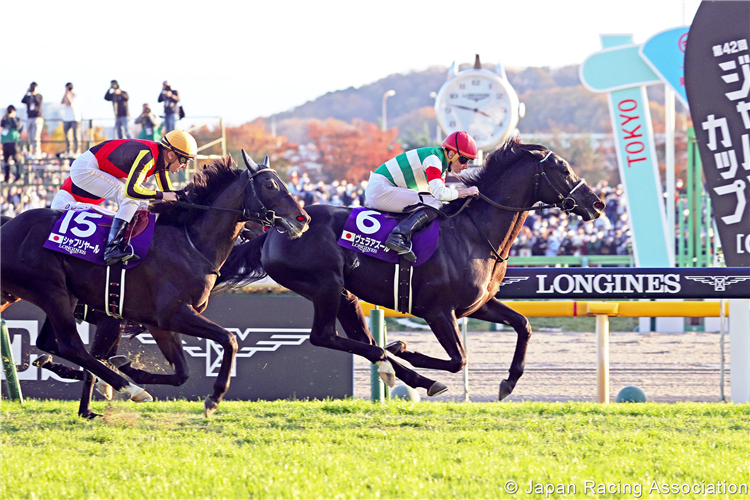 Third favorite Vela Azul captured his first G1 title in this year's Japan Cup, giving his sire Eishin Flash his first G1 victory. Vela Azul had been raced on dirt since his debut as a three-year-old up to his first start of the current season in January. Switched to turf racing this March, the five-year-old marked two wins and two thirds before claiming his first graded victory in his latest Kyoto Daishoten (G2, 2,400m) challenge. For trainer Kunihiko Watanabe, this is his first G1 triumph after claiming three graded wins since opening his stables in 2016. British jockey Ryan Moore, who is racing under a short-term license, has scored his ninth JRA-G1 win and first since his Asahi Hai Futurity Stakes victory with Salios in 2019.
Vela Azul was forced to travel in a tight, two-wide and mid-field position up to the final corner behind a slow pace set by Unicorn Lion. Trapped behind a wall of horses, the son of Eishin Flash finally found room 300 meters out only to be forced to switch paths to avoid the tiring Danon Beluga just after passing the furlong pole, and dug in fiercely overtaking the dueling Shahryar and Weltreisende 50 meters to the wire for a 3/4-length win.
"He broke OK. The pace was rather slow, but my horse has a good late charge and I trusted him to make a good run and. He was in good condition coming into this race but he exceeded our expectation. He is five years old but he gets better and better and still has room for improvement. The reason for racing him on dirt early in his career was because he had leg issues (fractures) as a young colt and in order to race him with less risk he was raced on dirt. However, I did think he had an aptitude to race well on turf and it was only a matter of timing as to when to shift to turf racing," commented trainer Kunihiko Watanabe.
"I was very lucky to ride a talented horse. The pace was very steady for the Japan Cup. The horse never had much room, but when he did he quickened up very well so he was very impressive today. I had a good horse that got me out front and we had a nice spot--it wasn't too far off the pace and following a good horse, the horse in front was having to wait and I was having to wait (too), and when he found a bit of room he quickened up very well. I suppose for today being towards the inside wasn't a disadvantage," said jockey Ryan Moore.
Breaking from stall 15, race favorite Shahryar was eased to a lower rearward position after sitting in mid-pack as the bunched-up field cruised down the backstretch. After meeting traffic then finding a clear path two furlongs out, the Sheema Dubai Classic victor kicked into gear and rallied with Danon Beluga and Weltreisende into the last furlong but was outrun by the strong-closing winner, while beating a stubborn Weltreisende and Danon Beluga who dropped behind earlier, and cleared the wire 3/4 lengths behind in second.
Fourth pick Weltreisende sat in fifth from the pace, was blocked in early stretch and after squeezing through a gap for clear sailing, briefly took over the lead at the furlong marker but was caught by the runner- up 100 meters out and then the hard-closing winner for a neck third.
14th favorite Grand Glory was settled in mid-pack, eased back a bit to run sixth to seventh from the rear, was checked at the early stretch behind horses and was then guided to an outer route for her stretch run. The six-year-old mare displayed her signature closing speed from there and, although unable to better her fifth-place finish in last year's version, cleared the wire in sixth.
Trainer Gianluca Bietolini:
"The track condition suited her, but the path didn't open for her and she had no room to run at the stretch."
Jockey Maxime Guyon:
"We got stuck behind horses from about the last corner and couldn't find room to run."
Sent off sixth favorite, Onesto took a ground-saving trip in around sixth to seventh, found himself in tight quarters in early stretch but slipped into a narrow path next to the rails while overtaking fellow French contender Simca Mille 400 meters out. Still unable to find running space, the Grand Prix de Paris champion gradually shifted a few paths out and finally showed his best stride 200 meters to the wire but was too late and finished seventh.
Trainer Fabrice Chappet:
"The colt ran very well but, unfortunately, he had a wall of horses in front at the stretch."
Jockey Christophe Lemaire:
"The pace was slow, and I tried to look for a space in the inside but there was no room for us. The horse ran well but we were unlucky."
Representing Germany, seventh favorite Tunnes was reluctant to load and after a delayed start, was off slow before settling in third to fourth from the rear beside the race favorite. As the field turned for home, the Grosser Preis von Bayern victor, still near the rear, was one of the few to find an untroubled way home, however, the three-year-old colt had too much ground to make up and was ninth.
Trainer Peter Schiergen:
"He was unable to keep up with the fast pace on the firm track and couldn't make up ground from running behind."
Jockey Bauyrzhan Murzabayev:
"His had a poor break and the race didn't work out as we had liked. A softer ground would have been better for this colt."
11th favorite Simca Mille saved ground near the pace in third after breaking from the innermost stall. This year's Prix Niel winner remained a factor up to the top of the stretch hill but weakened 300 meters out and retreated to 15th.
Trainer Stephane Wattel:
"He broke extremely well but he wasn't able to show his real form throughout the race."
Jockey Gregory Benoist:
"He ran comfortably behind the pacesetter, but he couldn't find his speed at the end."
Other Horses:
4th: (8) Daring Tact—rated in mid-field between rivals, quickly advanced through
opening along uphill stretch behind winner
5th: (14) Danon Beluga—raced wide, made headway along outside at backstretch,
made ground uphill while shifting in, soon joined by winner, tired 100
meters out but held on well
8th: (11) Karate—traveled 3-wide in mid-field, followed winner uphill stretch, even
paced thereafter
10th: (17) Uberleben—near rear early, headway along backstretch, widest around
final turn, made effort to follow winner but outrun 200m out
11th: (10) Heart's Histoire—chased leader in second, inherited brief lead within
400m before running out of gas and faded
12th: (12) Shadow Diva—saved ground third or fourth from rear, unable to find
speed after angling out early stretch
13th: (4) Trust Kenshin—hugged rails off the pace, never a factor
14th: (13) T O Royal—prominent early, outrun and faded before 400m pole
16th: (9) Unicorn Lion—made pace up to 400m pole, came up empty and faded
17th: (18) Boccherini—traveled wide in mid-division, lacked response when asked
early stretch
18th: (16) Ridge Man—trailed throughout