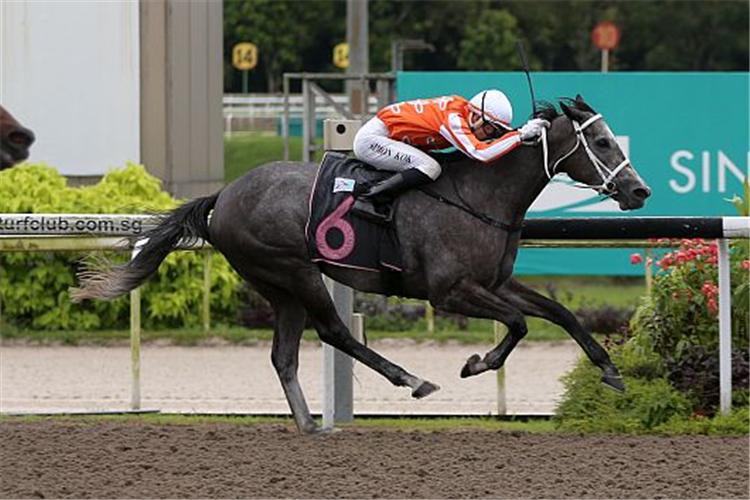 A new acquisition by the Malaysian outfit a few weeks ago, Qaidoom was previously owned by Kuwaiti owner Fahad al Rashid of the Al Rashid Stable previously, but the global Middle East outfit has greatly scaled down their operations in Singapore in the last couple of years or so, with only Istataba left in Clements' care now.
When one door closes, another opens.
Originally known as the Greenwood Stable, the Pacific Stable has walked into Clements' yard at the right time.
The new duo has combined with a slew of winners like South Of The River (now Pacific River), Pacific Star , Lucky Charm (now Pacific Charm) and Pacific Bao Bei last week.
Qaidoom, who will be renamed Pacific Angel soon, was the latest success in their partnership.
"The previous owner (Al Rashid Stable) wanted to move on and it's a good timing for them (Pacific Stable)," said assistant-trainer Michael White, who was deputising for Clements, of the owners who currently have seven horses in their barn.
"They (Pacific Stable) have really started to invest heavily and get the right class of horses.
"She popped up for sale about two or three weeks ago and fitted the bill, so we grabbed her. She's also racing well, so it's a quick return of investment."
Donning the orange, white striped and braided silk for the first time, the five-year-old daughter of Noble Mission broke out of the gates and shot to the front for jockey Simon Kok Wei Hoong, before opting to sit outside another mare, Hamama (Saifudin Ismail), who was also owned by the Al Rashid Stable previously.
The Bullet (Amirul Ismadi) overtook the frontrunning pair momentarily in the backstraight, albeit four wide, but Hamama quickly regained the lead with Qaidoom in close attendance as they swung for home.
The two mares battled stride for stride for a furlong before Qaidoom ($10) gradually gained the upper hand at the 100m under an assertive ride by Kok. She held off the fast-closing Lim's Craft (A'Isisuhairi Kasim) by a neck, while Hyde Park (Jerlyn Seow) ran another half-a-length away in third.
Trained by Mahadi Taib, Hamama finished one-and-three-quarters length off the winner. The winning time was 59.49secs for the 1000m on the Polytrack.
White applauded the honest mare for her win, but reckoned a Class 4 race is where she suits best for now.
"She's a good 'bread-and-butter' sort of sprinting mare," said the Australian horseman.
"She's in the right place in the handicaps as she (51.5kgs) got a big weight advantage off the horse on the inside (Hamama on 57.5kgs).
"She's no star but she tries hard. She's a genuine Class 4 1000m horse. She's back up in ratings again and it does make it tough, but she's always thereabouts and she'll pay her way."
Kok was riding Qaidoom for the first time after the pair ran second behind Dream Alliance in a barrier trial on January 19.
"I'm lucky enough to ride for them (Pacific Stable) for the first time and got a winner," said the Ipoh-born jockey of his third winner of the year.
"They look like they have good quality horses coming in, but most of them are ridden by (jockey) CC (Wong Chin Chuen), so I pick up whatever I can.
"At the last 50m, I thought I wouldn't win because the second horse (Lim's Craft) was coming really fast, but we managed to hold on to the line.
"I don't want her (Qaidoom) to overdo it. I knew Hamama was going to take the lead, so I was happy enough to sit outside.
"Coming to the straight when Hamama started to kick, my horse hit a flat spot, so I had to ride her hands and heels really hard, until the last furlong when she managed to find more to the line."
With three wins and six placings in 14 starts, Qaidoom has now earned over $100,000 in prizemoney for Malaysian businessman Jimmy Poh and his friends.