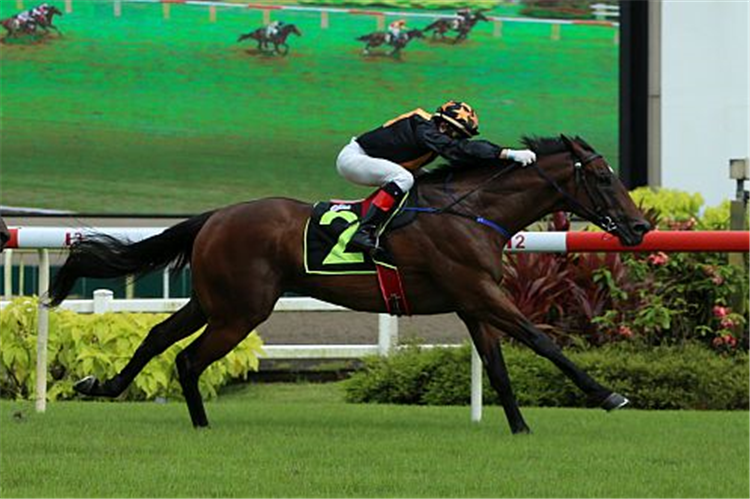 Fitzsimmons was crowned the Champion Trainer at the Singapore Racing Awards 2022 held on Tuesday evening, and it was in that same season that he won his first Group race - the Group 3 Singapore Three-Year-Old Sprint (1200m) - with Golden Monkey on June 18.
That same horse added a Group 2 (the Singapore Three-Year-Old Classic over 1400m on July 9) win to Fitzsimmons' growing resume, and the last mountain to climb is now that elusive Group 1 win.
The Australian handler saddles three runners, Cyclone, Mr Black Back and Trumpy in the 12-runner field, but it is a big ask taking on the best horses in Singapore at weight-for-age conditions.
"It's going to be tough on Saturday but a Group 1 win is definitely the next box to tick for me as a trainer," said Fitzsimmons.
"It's very difficult to beat those horses at the top of the ratings at the weights (all horses will carry 58kgs at the weight-for-age conditions), especially (trainer) Daniel's (Meagher) good horse (Lim's Kosciuszko) and (trainer) Ricardo's (Le Grange) pair (Katak and Hongkong Great).
"I am really impressed with Katak, in particular. His first-up run (second to Street Of Dreams in the Kranji Stakes A race over 1400m on February 12) was enormous and I've never seen him look better at trackwork.
"But we have three runners and with some luck, we should have a say."
Of the trio, Fitzsimmons reckoned Mr Black Back will run a forward race and he is excited to see how the son of Snitzel handles the mile with blinkers on.
"He trialled super (finished first in trial no. 4 on March 16 in the time of 58.61secs) with blinkers on," he explained.
"The question is whether or not he can settle with blinkers on over the mile but (jockey) Simon (Kok Wei Hoong) is really confident that he (Mr Black Back) will switch off.
"He will still lead and I'm pretty sure no one will take him on early. If a horse like Hongkong Great does, we would both blow up.
"It is a massive step up to weight-for-age level, but I think Mr Black Back is better than his current rating (81 points). He just hasn't had the opportunities to race lately and get it (rating) higher.
"His last run (finished seventh behind Street Of Dreams in the Kranji Stakes A race over 1400m on February 12) was better than it looked too. He missed the kick, was taken on up front and still finished best of the on-pace runners. He wasn't wound up for that run either.
"I think we will see his best on Saturday."
Fitzsimmons also has a high opinion of Cyclone but suggested that things will have to go the son of Pierro's way to win over the mile at this level.
"He's a genuine 2000m horse," he continued.
"The track didn't suit runners off the speed the other day (when he finished fourth in the Kranji Stakes A race over 1600m on March 4), so I thought it was okay.
"(Jockey) Manoel (Nunes) is really happy with him – we all are – but he (Cyclone) will need luck or the track and race to suit his racing pattern.
"If things do go his way, he is a chance, but he will be better over longer."
As for Trumpy who will have jockey Calvin Habib in the reins for the first time, Fitzsimmons thought that the blinkers and a good gate may help, but it is still a tough assignment for him.
"He had no luck last start – three wide and with no cover – but with the blinkers and the gate two, we should see a more competitive run. His go is the handicap races over 2000m, so this is a big ask."
Apart from being crowned the Champion Trainer, the Fitzsimmons' stable also celebrated Golden Monkey winning the Champion Three-Year-Old award, Lucky Jinsha securing the Champion Polytrack Horse title and the Buffalo Stable sharing the award of Champion Owner (by wins) with Lim's Stable.
"It was a great night – the Club (Singapore Turf Club) did an excellent job – and everyone present commented on how good an event it was," he said.
"Great to have my wife (Joan) there and also to share the evening with everyone from the Buffalo Stable, the Lucky Unicorn team and the Golden Monkey crew.
"Not to forget (Champion Jockey) Manoel too. It was a real celebration for the stable.
"Golden Monkey was the standout three-year-old and hopefully, he can show his best on Saturday in the ($100,000) Kranji Stakes A (1200m) race.
"He's a smart horse and had excuses at his last start (in the Kranji Stakes A race over 1200m on January 23). He has trialled well since and I think he can win."