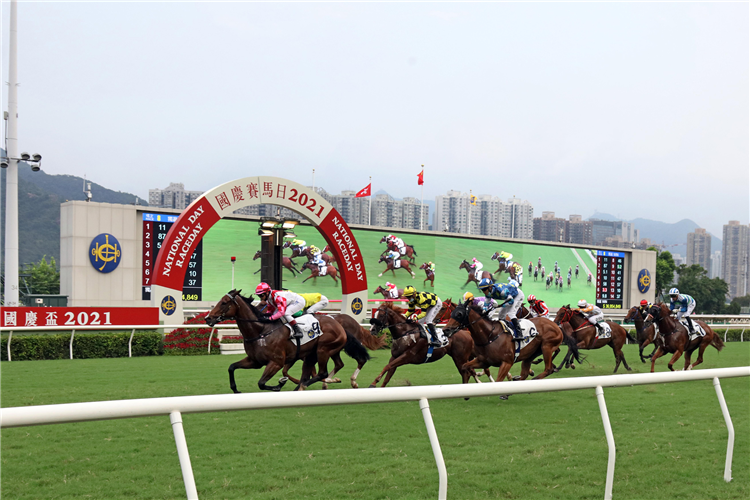 Race 1: #8 Sight Hero, #1 Classic Moon, #7 Hong Kong Hall, #11 Colonel
Race 2: #4 Superb Daddy, #1 Dragon Pride, #12 Hang's Choice, #3 Over The Moon
Race 3: #6 Moduleconstruction, #8 Speedy Smartie, #1 Chilli Baba, #2 Imperial Magee
Race 4: #13 Travel Glory, #7 Fortune Master, #8 Hunky Dory, #10 Handsome Guys
Race 5: #5 Galvanic, #13 Gallant Hero, #8 Lost Child, #1 Ariel
Race 6: #5 Thunderboltaurus, #7 Turquoise Alpha, #4 Eighteen Palms, #3 Dragon Delight
Race 7: #10 Excellent Fighter, #5 Beauty Inspire, #6 Mark The Moment, #9 Victory Moments
Race 8: #8 Seasons Wit, #3 Pleasant Endeavor, #6 Flying Dragon, #1 Run Run Cool
Race 9: #4 Happy Together, #6 Ching, #3 The Best Peach, #1 Sinba
Race 10: #3 Solid Impact, #4 Beauty Missile, #12 Universal Horizon, #5 Happy Daily
Race 1: CW Chu And Lee Woo Sing Almuni Handicap
#8 Sight Hero is regularly consistent. He's in sound condition and gets the right draw, right jockey and suitable conditions to suggest he can get the win. #1 Classic Moon has mixed his form so far but clearly has the ability to continue rising. He draws well here and with any room late on, he should have enough to be challenging this group. #7 Hong Kong Hall was well fancied on debut, however, he could only muster for fifth that day. Expect he can bounce back with experience. #11 Colonel has claims and is favoured under the light weight.
Race 2: Morningside And S.H. Ho Alumni Handicap
#4 Superb Daddy hasn't been far away of late. He draws ideally here and is always a threat racing in this grade. #1 Dragon Pride must overcome gate 14 out of 14. Still, he gets Zac Purton aboard in his bid to do so and in this grade he should prove hard to get past. #12 Hang's Choice is lightly raced but continues to improve with each run. His latest effort was the best of the bunch, enough so to suggest a win is very, very close. #3 Over The Moon has the ability and can improve in this grade. Next best.
Race 3: Graduate School Alumni Handicap
#6 Moduleconstruction is closing in on a first win following a trio of third-placed efforts. He has a touch of class and any improvement from his last run suggests that he could be winning this one. #8 Speedy Smartie did well to finish fourth on debut. He caught the eye late that day and Zac Purton's booking here catches the eye. #1 Chilli Baba was impressive on debut before finishing 14th last start. He showed his immaturity that day and hopefully with more experience he can turn it around here. #2 Imperial Magee has claims.
Race 4: Chung Chi Alumni Handicap
#13 Travel Glory caught the eye flashing into third last time out. He's shown he's closing in on a first win and this contest appears suitable with no weight on his back. #7 Fortune Master is chasing back-to-back wins. Zac Purton's services will ensure he's in the finish once more. #8 Hunky Dory appears to be on the improve, enough so to suggest he could figure against this group. #10 Handsome Guys is racing well. The draw should afford him his chance, especially in this grade.
Race 5: New Asia Alumni Handicap
#5 Galvanic is deserving of a first win following consecutive runner-up efforts. He looks to have his fair share of ability, enough to suggest he could be competitive in higher grades. One to beat. #13 Gallant Hero is racing off a dangerous mark. The light weight here should see him get every chance. #8 Lost Child has continued to improve across two starts in Hong Kong. Expect he can take another step forward here. #1 Ariel has class and is showing signs of improvement in this grade. Next best.
Race 6: United Alumni Handicap
#5 Thunderboltaurus has the talent and is in a solid vein of form. Hugh Bowman retains the ride and his form in tandem with David Hall has been nothing short of impressive this season. #7 Turquoise Alpha knows how to win and his last-start second suggests that he's ready to do exactly that again. #4 Eighteen Palms has placed three times from just three starts in Hong Kong. He has the ability and must be kept safe. #3 Dragon Delight is consistent and he will be rewarded soon. Next best.
Race 7: The CUHK Alumni Cup Handicap
#10 Excellent Fighter is a two-time winner from four starts. He looks like a sharp talent who can continue his rise here, even up in grade for an in-form Ricky Yiu stable. #5 Beauty Inspire mixes his form and may need luck from the wide draw. Still, he's a talent and it wouldn't surprise to see him bounce into form. #6 Mark The Moment has class and is a three-time placegetter from five starts. A first is quickly approaching. #9 Victory Moments is lightly raced but showed tremendous ability ahead of his debut. Keep safe.
Race 8: Shaw Alumni Handicap
#8 Seasons Wit caught the eye when finishing a smart second on debut. He was gallant in defeat that day and it wouldn't surprise at all to see him go one placing better this weekend. #3 Pleasant Endeavor is always underestimated and rarely runs a bad race. Expect he rocks up again here, especially from the wide draw. #6 Flying Dragon always seems to do enough to warrant consideration. #1 Run Run Cool was a tidy winner last start. He remains in the grade, which suits this weekend.
Race 9: Wu Yee Sun Alumni Handicap
#4 Happy Together is lightly raced but has shown sharp closing speed across his short career. Zac Purton hops up and with a clean run late, he is the one they all must beat. #6 Ching is a two-time winner from his last three starts. He's holding his condition and even still, while doing so, continues to show improvement. #3 The Best Peach turned it around to finish third last time out. Expect he can carry on with it here. #1 Sinba can improve after finishing an inconclusive eighth last start. Keep safe.
Race 10: Faculty Of Education Alumni Handicap
#3 Solid Impact is in the right vein of form to win again now that he's off the mark in Hong Kong. He gets the right draw to continue a recent advance, especially with Hugh Bowman engaged. #4 Beauty Missile has the wide draw but has hit the ground running since his arrival. Zac Purton should be able to navigate a competitive passage. #12 Universal Horizon has the talent and looks ready to win again. Keep safe. #5 Happy Daily may float under the radar here but from a good draw he should be in the finish.