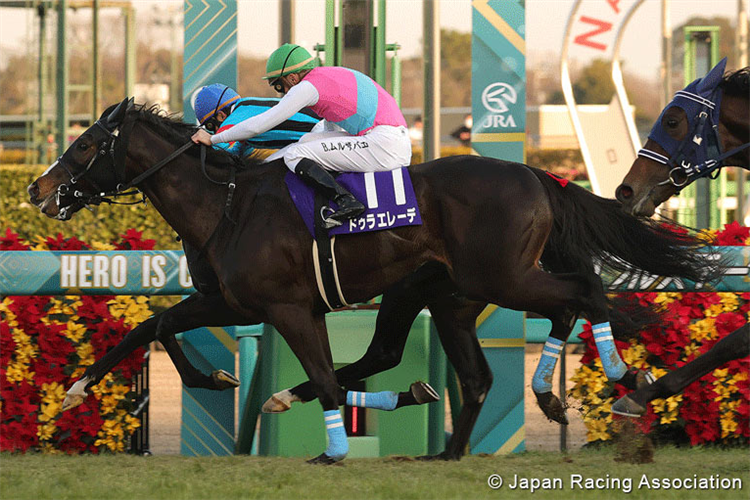 14th favorite Dura Erede claimed this year's Hopeful Stakes nosing out his rival at the wire to outshine the other hopefuls in the year-end G1 test for two-year-old's. Debuting in June this year and breaking his maiden in his third career start in August, the son of Duramente came into this race after putting in a fourth-place finish in the G2 Tokyo Sports Hai Nisai Stakes (1,800m) on November 19. The dark brown colt has given trainer Manabu Ikezoe and Kazakhstan native-jockey Bauyrzhan Murzabayev—who is riding in Japan under a short-term license for the first time—their first JRA-G1 victories.
Top Knife was sent up front as the race got underway and led the 18-horse field while Dura Erede pressed the pace from the outside in second all the way into the stretch. As the two dueled running up the hill, Top Knife briefly shook off the persistent Dura Erede and put close to a length lead between him 100 meters out. However, the stubborn Duramente colt found another gear and dug in with enormous force to overtake his rival at the wire, notching a photo-finish victory.
"It's the same good feeling as when I won my first G1 race in Germany—I'm very happy. I couldn't tell if we won, it was so close, but my colt broke well and it was the plan to chase the pace in second so everything went well. After two close seconds last weekend, I'm so happy that I came in first in the last G1 race of the year," commented jockey Bauyrzhan Murzabayev in an interview after the race.
King's Reign was off a bit slow, first sitting in fourth from the rear and then improved position in the backstretch up to a mid-pack seat before taking the widest route into the lane. Although with a lot of ground to cover, the Rulership colt stormed down the straight with the fastest closing speed and put away Fantom Thief at the wire while finishing 1-1/4 lengths behind the runner-up for third place.
Race favorite Mikki Cappuccino rushed up close to the pace after breaking sharply from the widest stall and stalked the two frontrunners in third. The Epiphaneia colt continued to chase the leaders in early stretch but failed to further threaten and was overtaken by Fantom Thief and then King's Reign before the finishing line and was fifth.
Other Horses:
4th: (1) Phantom Thief—reserved in 7th on rails, switched paths for room, dug in
with 2nd-tied fastest late speed but caught before wire
6th: (9) Seven Magician—sat in mid-field and 3-wide, closed in well while briefly
dueling with King's Reign 100m out
7th: (2) Hearts Concerto—saved ground in 10th, showed 2nd-tied fastest late
speed, no match for winners
8th: (4) Serendipity—traveled in mid-pack, two-wide, bumped rival in early stretch,
unable to reach contention
9th: (3) Sea Wizard—fourth on the rails, sustained bid until 100m out, nothing left
thereafter
10th: (14) J Palms—settled 10th to 11th and 3-wide, struggled climbing hill, passed
tired rivals
11th: (6) Gruner Green—sat in 6th, made rapid headway rounding final corner,
showed little in stretch
12th: (13) Wurttemberg—bobbled at start, ran rails around 4th from rear, showed
mild effort
13th: (7) Born in Grande—ran in 10th to 11th, near rear coming into lane, failed to
respond
14th: (17) Jun Tsubamegaeshi—gradually made headway up to 7th in backstretch,
drifted out in last turn, nothing left
15th: (5) Fate—traveled in 3rd, 5th entering lane, came up empty after early efforts
16th: (10) Gastrique—reserved 4th to 5th from rear, made bid turning into straight,
never fired
17th: (12) Monde Plume—missed break, trailed near rear, was through early
18th: (16) Ska Paradise—followed in rear, never a factor