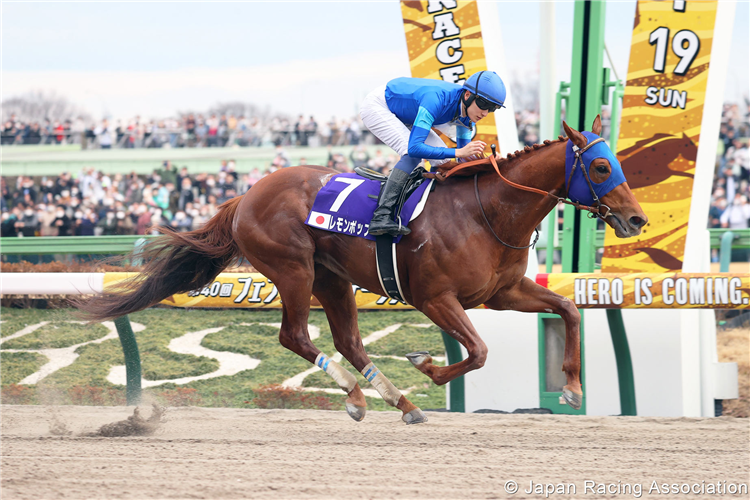 Adding another victory to his already impressive record, race favorite Lemon Pop captured this year's February Stakes title, extending his wins to eight out of 11 career starts in which he finished second best in the rest. The son of Lemon Drop Kid won both of his two races as a two-year-old and was runner-up in his one and only start the following season. He then kicked off his 2022 campaign with another second before claiming four consecutive wins and concluded the season with a runner-up effort in his first graded challenge, the Musashino Stakes (G3, dirt, 1,600m). The five-year-old is coming off his first grade-race victory in the Negishi Stakes (G3, dirt, 1,400m) on January 29 and is selected to run in the Dubai Golden Shaheen (G1, dirt, 1,200m) on March 25. For winning trainer Hiroyasu Tanaka, who opened his yard in 2018, this is his second graded and first G1 triumph while jockey Ryusei Sakai, who took the reins of Lemon Pop for the first time, now has three JRA-G1 wins—his latest was in last December's Asahi Hai Futurity Stakes with Dolce More.
The race unfolded with Shonan Nadeshiko taking the lead, followed closely by Helios and Keiai Turquoise while Sakai settled Lemon Pop a couple of lengths behind in fifth to sixth and three-wide. Gradually improving position, the race favorite came out of the last turn in fourth, unleashed an incredible stretch drive overhauling Helios 300 meters out to grab the lead and romped to the wire 1-1/2 lengths ahead of the fast-closing runner-up for the win.
"I'm grateful to have been given the chance to ride such a strong and favored horse and am happy we won. I rode him in workouts and found out he was laid-back and very easy to ride. Today we sat near the pace, just as planned. He responded well and pulled away strongly, all the way to the wire," commented Ryusei Sakai.
Red Le Zele, favored third, was reserved second from the rear after breaking from the second widest stall. After shifting out wide for a clear path, the sixth-place finisher in last year's version stormed down the stretch with the fastest late speed but failed to catch the winner and was second.
Sent off fourth favorite, Meisho Hario stumbled a few strides after his break and chased the field in the far rear. Entering the lane last, the chestnut displayed the second fastest late drive and picked off his rivals one by one to dig in for third, 2-1/2 lengths from Red le Zele.
Foreign contender Shirl's Speight broke well from stall number two, ran in mid-field on the rails, shifted a path out for his stretch run but struggled to find room and although showing effort, was unable to demonstrate his good late speed and finished ninth.
"From what the jockey was telling me, he wasn't enjoying the kick-back that much but I think he ran an OK race. I just think he's a superior turf horse, but we gave it a try," commented trainer Roger Attfield.
"It's a strong race and Shirl's Speight wasn't capable of handling the track over here which is extremely deeper than what he gets in North America. In the straight, even if he did get held up a little, he wasn't really taking into the race indicating that he wasn't going to be competitive," jockey Joao Moreira said after the race.
Other Horses:
4th: (4) Dry Stout—sat around 4th, passed tiring front runners but no match for top
finishers
5th: (8) Admire Lupus—settled wide around 8th, passed one by one at stretch
6th: (13) Speedy Kick—unhurried around 14th inside Red le Zele, showed effort but
never threatened
7th: (14) Helios—tracked pace around 2nd, led briefly, weakened in last 200m
8th: (11) Soliste Thunder—raced 3-wide around 11th, passed tired rivals
10th: (3) Kenshinko—traveled in 13th, found little room, even paced
11th: (12) Sekifu—made headway to 4th, circled wide, failed to find another gear
12th: (5) Auvergne—saved ground around 11th, struggled to find clear path at
stretch
13th: (16) Keiai Turquoise—advanced to 2nd from widest draw, remained in
contention until 300m out
14th: (10) T M South Dan—sat outside winner, showed little at stretch
15th: (9) Shonan Nadeshiko—rallied to set pace, ran out of steam 400m out
16th: (1) Jasper Prince—prominent early around 4th, faded after final corner