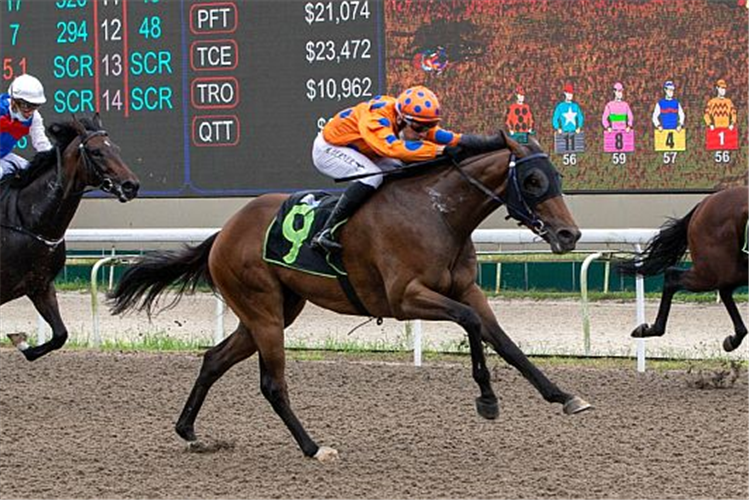 It is remarkable given Nunes only returned to riding trackwork last Saturday after the near career-ending fall in the Group 3 Singapore Three-Year-Old Sprint on June 18 that saw the Brazilian ace underwent treatment for a broken vertebra (no. 6) in his neck, which led to him wearing a brace for six weeks.
This Saturday, only four other riders, namely Simon Kok Wei Hoong (11), Wong Chin Chuen (nine), Bernardo Pinheiro (nine) and Yusoff Fadzli (nine) have more rides than him but Nunes – who has worked very hard to be as fit as he can be for his return – was very wary of biting off more than he could chew on Saturday.
"Look, I probably would have liked to have only five or so rides at my first meeting back," explained an excited Nunes on Thursday.
"But since I had the neck brace removed, I have been doing plenty of physiotherapy and swimming in the last six weeks to keep fit and my weight stayed at 53.5kgs, which I was happy about.
"The trainers have been very supportive and while I had to turn down some on Saturday, the eight rides I accepted are all good chances."
That hard work to keep his weight at 53.5kgs was instrumental in picking up some nice rides in some very competitive handicap races on Saturday.
Two races, in particular, that excite the leading rider are Relentless for trainer Tim Fitzsimmons in the $100,000 Class 1 race over 1600m and Trident, a relative newcomer in the $50,000 Class 4 race over 1400m for trainer Donna Logan.
"Relentless is my ride in the (Group 1) Queen Elizabeth Cup (1800m)," explained Nunes.
"I am very much looking forward to see where Tim has him at for Saturday but whatever he does, he will be better for this run.
"He won the (Group 2) Stewards' Cup (1600m) very well and was unlucky not to win the (Group 1 Singapore) Derby (1800m, both with Vlad Duric aboard). But this field on Saturday is strong and will be a good guide going forward."
On what he has shown in three career starts, Trident also has a big future in Singapore and Nunes is bullish about the four-year-old by Deep Field's chances on Saturday.
"He's a lovely young horse," said Nunes who, despite a three-month absence, still leads the 2022 jockeys' premiership by 22 winners.
"Before I got hurt, I trialled him (finished first in trial no. 6 on June 14) and I said to Donna that he is an exciting horse.
"He's shown that at the races and his win with (jockey) Blake (Shinn) last start (August 14) was very good, so I'm really happy to be on him on Saturday.
"This race is strong but he's well-weighted (56.5kgs), comes off a good trial (finished second to Super Impact in trial no. 3 on September 13) and I galloped him on Saturday. He looks and feels well."
Nunes also suggested that Pacific Star, who runs in the $50,000 Class 4 race over 1200m in the Lucky Last), can make amends for being beaten as the odds-on pop at his recent outing (August 28).
"There is plenty of speed in this race, so we should get a good sit from gate five, just off the pace," said the three-time Singapore champion jockey.
"It's a strong field but with Silent Is Gold drawn on the outside, we should have every chance and he (Pacific Star) will be strong late."
Elsewhere, Nunes is very excited about the Singapore debut of Cyclone in the $70,000 Class 3 race over 1200m - but with a caveat.
"I galloped him (Cyclone) on Tuesday and he showed his class," said Nunes of the ex-Australian galloper who arrived with two wins over 1400m and 1800m from 15 starts.
"But 1200m is too short for him. Yes, he's fresh but he is a (Group 1) (Singapore) Gold Cup horse so this will be a really good way for Tim to get him started in Singapore.
"You never know. If they go really quick early, he will be strong late. But he will still be much better over longer (trips)."
With a winning strike rate of 29.15%, one can never discount any of Nunes' rides with Seson, What You Like, Born To Win and Boomba all serious chances.