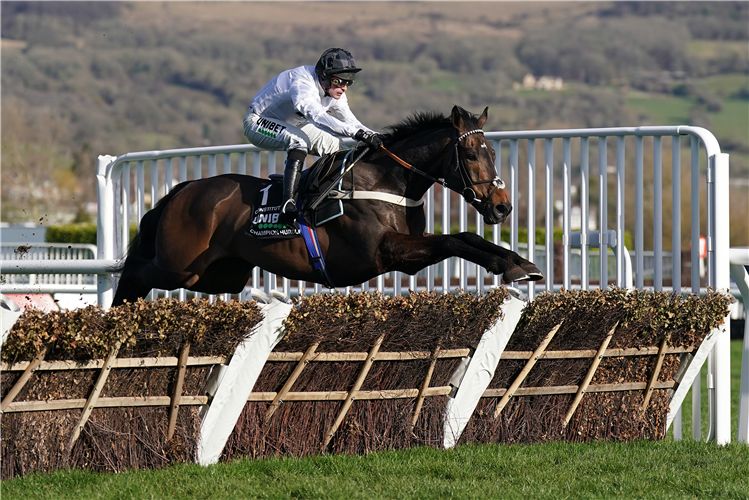 Firstly Constitution Hill is now clearly one of the greats of all time after his repeat win of the Champion Hurdle.
The crowd was in raptures as he turned into the straight and put in a couple of amazing jumps and that magical turn of foot to charge away and leave his rivals with the usual view of his backside as he went on to win by 9 lengths and it could have been more but Nico de Boinville was satisfied with that amount of winning margin.
His next destination is the Aintree Hurdle but will he be like Eclipse and find there are no horses who will take him on?
The chasing brigade was led by State Man who did a very good job but like the rest of the field they were in another race.
Just as the euphoria was starting to come down a notch out walks the gorgeous Honeysuckle who was embarking on her last race. She would have been adored by the crowd even if she had finished last but she didn't, she was going to do it in style with the help of her constant companion Racheal Blackmore to bring the fairy tale through to its happy ending.
And the sun even came out to watch!
Of course there were other races – the Supreme Novices saw Marine Nationale get the win over Facile Vega and the Arkle where El Fabiola maintained superiority over Jonbon, but it will be hard to find a more wonderful hour than that bookended by Constitution Hill and Honeysuckle for many a year to come.
However it is back to work on Wednesday where the Baring Bingham Novices' Hurdle will have 11 runners with Impaire et Passe on 7/4 for Mullins-Townend. Hermes Allen is on 3/1 for Paul Nicholls and Aidan Coleman, and Gallic Warrior 5/1 for Mullins W P and P W. If P W is am amateur, then say so don't put "Mr" in front of his name – all the men are "Mr" so using the term to denote an amateur riders is ridiculous. Reeks of the very old days of cricket where the Score Card distinguished between professionals and amateurs by giving the amateurs "Mr" in front of their names. This is, unless were are greatly mistaken, the 21st Century!
The Broadway Novices' Chase also has 11 runners and here Geri Colombe is on 7/4 for Gordon Elliott and Jordan Gainford, Sir Gerhard 4/1 for Mullins-Townend and we have a sort of roughie here in Adamantly Chosen, who has been supplemented for this and is 18/1 for Mullins and Brian Hayes.
The Queen Mother Champion Chase is one of the highlights of the meeting and this year's edition has Alan King's runner Edwarstone with Tom Cannon riding on 3/2. Energumene is 13/8 for Mullins-Townendd and Editeur du Gite 9/2 for Gary Moore and Niall Houlihan.