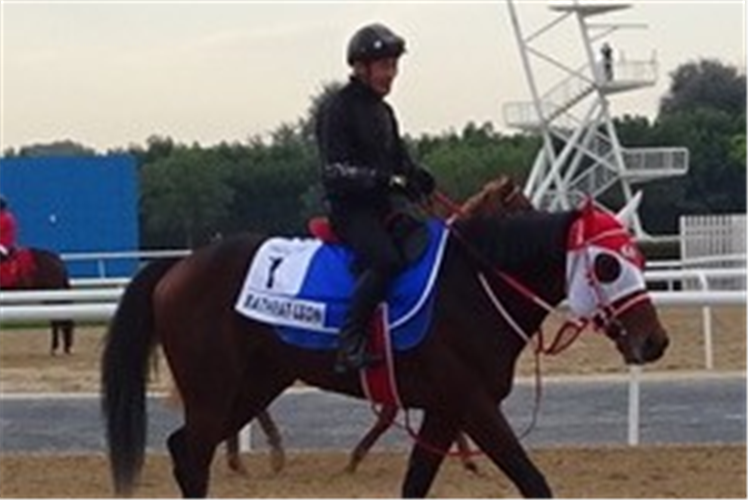 A few waited till later which gave us a chance to see how Bathrat Leon has bulked up in the last year – he looks all muscle and quite impressive. Justin was also there and looked well and we caught a glimpse of Win Marilyn and she also seemed fine and happy.
Those who saw Country Grammer yesterday said he looked very impressive after his second in Riyadh to Panthalassa. This trip is more suitable and in the case of Panthalassa questionable but then those that think that don't know train Yahagi-sensei who will have the horse quite able to handle both that and the Dubai dirt. The first five from the Saudi Cup are all present – 4 of whom are Japanese runners.
Algiers has taken the eye of a number of the track work watchers.
The "O'Briens" under the watchful eye of Pat Keating were out on the track with Broome leading them followed by Order of Australia and Cairo looking not too sure about his surroundings bringing up the rear.
The Hong Kong runners Russian Emperor and Senor Toba had a sprint on the turf this morning with Douglas Whyte riding his horse and Alberto Sana on Senor Toba. Senor Toba seems to have had "mucus problems" and HK watchers feel that he is a bit light in condition and while the horses were close together most of the way it may be that Whyte was holding back a bit on Russian Emporer.
We got a look at Shirl's Speight who ran recently in Japan but went round with one of the locals so cannot really comment on the work. He runs in the Dubai Turf as does Order of Australia.
The Barrier Draw and the Gala and just about everything else is being crammed into Wednesday as Ramadan, the fasting month, starts on Thursday so there will be no outdoor eating and no alcohol which may have put off some of the media!
There was actually some rain this morning – just a couple of passing showers which would have made no difference to the tracks.