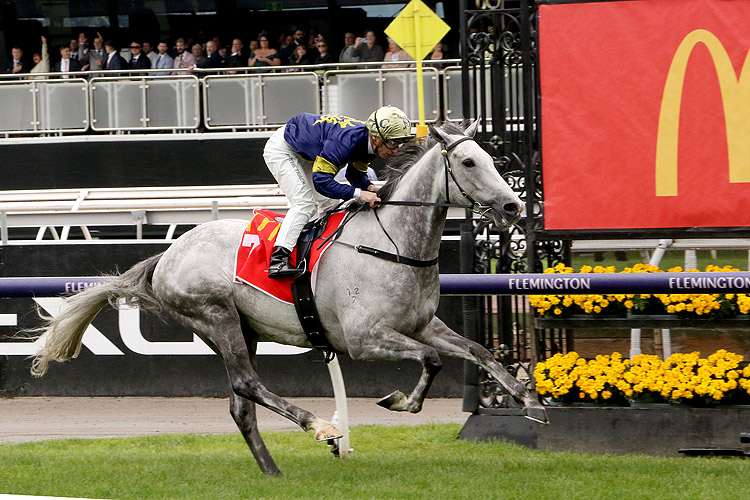 Have we seen the 2023 Cup winner?
Two weeks ago I wrote about the win of Francesco Guardi's win in the Moonee Valley Gold Cup, where he posted a massive figure with Timeform of 118, which would've made him the "#1 local seed" for the 2022 Melbourne Cup.
Whilst it's impossible to transfer a rating from one race to another, it is essentially what form study is- using past data to predict future performances, and off that rating, there's every chance he would've beaten Gold Trip (57.5kg) had he carried a similar weight to Emissary (51.5kg) and High Emocean (50kg).
Over Melbourne Cup week, we saw two other exciting staying performances, one on Cup day and one on Champions day which further strengthened 'our' ranks for next year's Cup.
White Marlin
Whenever there's a big winner of the 2800m Bm96 'Macca's Run' on Melbourne Cup day, the immediate thought is they'll be back next year for the big one, but in reality, it's a benchmark race generally full of relatively slow horses.
The best recent horse to win it was Shared Ambition in 2019, who profiles similarly to White Marlin this year. Both were lightly raced imports from the UK that had shown promise. Shared Ambition was rated 91 after three starts when he came out having won impressively at Killarney while White Marlin was rated 97 after two starts.
Shared Ambition rated 116 at Caulfield before equalling that figure at Flemington and had a solid, if maybe not quite as lofty a career as some may have expected, rating one pound better when third to Zaaki in the 2021 Hollindale Stakes.
White Marlin rated 112 on Tuesday in his 5.5L win which bettered everything bar Gold Trip and Deauville Legend in the Melbourne Cup, showing good staying prowess to sit on a good pace and win running away. I also can't see Gai trying to turn him into a miler like Waller did with Shared Ambition, so there's the first hurdle out of the way.
We saw what Gai & Adrian managed to do with Knights Order this year (who interestingly ran 4th in the 2020 Macca's Run), coming off a 25L 19th at 100-1 in last year's Melbourne Cup, getting him to win a Sydney Cup and place in a Caulfield Cup. With a lightly raced horse like White Marlin, expect him to keep improving and be a real force in the staying handicaps next year.
Soulcombe
White Marlin sent himself to the top of the 2023 Melbourne Cup betting for all of five days before this highly touted import usurped him with an emphatic win in the Group 3 Queen's Cup (2600m).
Since being gelded, his ratings had progressed nicely from 86 to 102, seemingly with much more to come going by the style of his win at York before coming here, coming from last to win by 4.25L in very soft style over 2787m.
That form proved a class above a group of fairly well-established local stayers and, put into a race with established 110+ horses, his rating exploded to 115+ suggesting there is even more to come from this horse.
Off a more genuine tempo (i.e. in White Marlin's race), there's no doubt Soulcombe could've rated higher which signals he deserves to be right up there in the betting for next year's Cup.
Off pure ratings, he sits just behind Francesco Guardi in the local pecking order, but given his profile you'd be a brave punter to suggest he isn't going to better his rating again and it's easy to see why the market has him pegged as the early horse to beat in the 2023 Cup.
What comes next will be interesting. The Zipping Classic is there for the taking if they head that way, otherwise a light Autumn campaign (Tancred, Sydney Cup?) beckons. Let's just hope Waller doesn't follow the Shared Ambition path and try to win a Doncaster with Soulcombe.

FP
Silk
Horse, Age & Sex
Sire & Dam
Jockey
Trainer
SP
WT

1st

7. WHITE MARLIN (IRE) 4yo G


MASTERCRAFTSMAN (IRE) - PLAYWITHMYHEART (GB)

TIM CLARK
G WATERHOUSE & A BOTT
$2.35
56kg
ACJC Sydney (Mgr: D You), R McClure, A McClure, D Hoggett, Y Bhoola, K McColgan, T Pender, R Cocks, Mrs M Mcluckie, B T W Mcluckie, Ms S Marshall, W Gabbert, Punter Valley (Mgr: C March), J Simmons, Mrs V Anderson, M Forsdick & B Hastie

2nd

12. PROTECTION MONEY (AUS) 7yo G


DOMESDAY (AUS) - DEEP IN THE WOODS (AUS)

BRETT PREBBLE
NIGEL BLACKISTON
$71
54kg
R Wilkinson

3rd

9. CABOCHE (NZ) 4yo G


VADAMOS (FR) - FLORAMOUR (AUS)

DAMIAN LANE
CHRIS WALLER
$8
54kg
N Morgan & D H T Devine
4th
6. PAPPALINO (FR) 6yo G


MAKFI (GB) - BARTIRA (GB)

DAMIEN THORNTON
MATTHEW SMITH
$31
56kg
5th
3. TEAM CAPTAIN (IRE) 6yo G


GALILEO (IRE) - REMEMBER WHEN (IRE)

BLAKE SHINN
MATT CUMANI
$12
58.5kg
6th
8. VERIMLI (FR) 6yo G


BORN TO SEA (IRE) - VERRIYA (FR)

ANTHONY DARMANIN
ROBERT HICKMOTT
$10
54.5kg
7th
4. HERMAN HESSE (GB) 5yo G


FRANKEL (GB) - DREAM PEACE (IRE)

JASON COLLETT
CIARON MAHER & DAVID EUSTACE
$13
58kg
8th
2. GOOD IDEA (AUS) 8yo G


SO YOU THINK (NZ) - FAINT PERFUME (AUS)

DANIEL MOOR
PHILLIP STOKES
$41
58.5kg
9th
10. SOUS LES NUAGES (IRE) 5yo G


HOLY ROMAN EMPEROR (IRE) - SOUSMARINE (IRE)

MICHAEL DEE
MATT CUMANI
$26
54kg
10th
14. BELL EX ONE (IRE) 4yo G


EXCELEBRATION (IRE) - BONNIE BLUEBELL (IRE)

DAMIEN OLIVER
STEVEN PATEMAN
$12
54kg
11th
5. TEEWATERS (AUS) 4yo G


DUNDEEL (NZ) - MY GIRL LIL (AUS)

CRAIG WILLIAMS
ARCHIE ALEXANDER
$26
58kg
12th
13. THEMOONLITEGAMBLER (AUS) 6yo G


GOOD JOURNEY (USA) - FAMOUS PAINTER (AUS)

DANIEL STACKHOUSE
JOHN MCARDLE
$21
54kg
13th
1. AURORA'S SYMPHONY (AUS) 6yo G


GLASS HARMONIUM (IRE) - AURORA'S HOT (AUS)

H COFFEY
SYMON WILDE
$21
60kg
14th
15. BORDER LEICESTER (NZ) 6yo G


REDWOOD (GB) - SABINO CREEK (AUS)

BEAU MERTENS
EMMA-LEE & DAVID BROWNE
$91
54kg
15th
11. NOONDAY GUN (GB) 5yo G


DUBAWI (IRE) - SKY LANTERN (IRE)

J ALLEN
CIARON MAHER & DAVID EUSTACE
$21
54kg