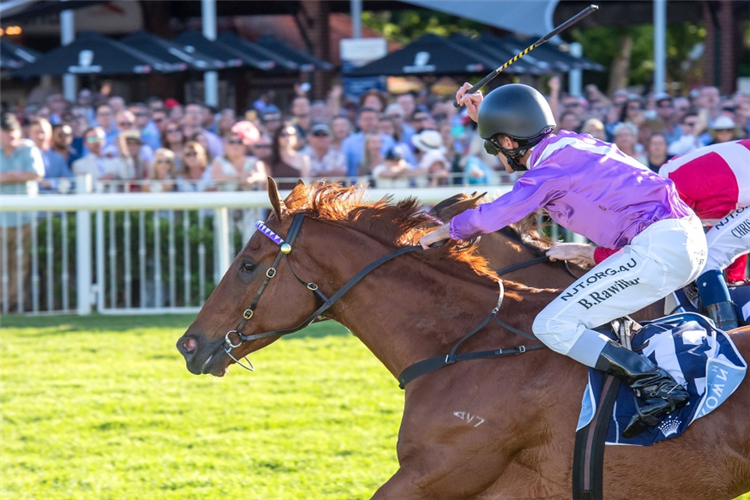 Winterbottom picture muddied
There hasn't really been a dominant sprinter in Perth in twenty years and even then, to call the 02/03 Winterbottom winner Hardrada a dominant horse is a stretch. He was a solid horse but in a time where fewer Eastern horses travelled over and the Winterbottom was still a Group 2, he was rated to a peak of 116 with Timeform.
For that reason, the easy comparison to Hardrada today is Elite Street, who has been the benchmark in the sprinting ranks out West for the last couple of years, winning the 2020 Winterbottom with a peak of 117.
Since then, he's run in Perth nine times and run between 114-116 on five of those occasions and seemingly the Winterbottom this year revolves around that benchmark- if you run over 116, you're a good chance of winning, and the recent history backs that up.

| | | |
| --- | --- | --- |
| 2021 | Graceful Girl | 116 |
| 2020 | Elite Street | 117 |
| 2019 | Hey Doc | 122 |
| 2018 | Voodoo Lad | 118 |
| 2017 | Viddora | 115 |
| 2016 | Takedown | 119 |
As seen in this snapshot of recent winners, the median winning number works out to be 117.83 and in a year where we know the level of the locals, I'd be confident that rating wins this year's edition.
This'Ll Testya took out the Group 3 Colonel Reeves Stakes (1100m) on Saturday, a key lead up to the Winterbottom in two weeks' time and likely the last run for most horses, with only the Listed Jungle Mist Classic for F&M and a 1000m 72+ handicap available this Saturday.
The seven-year-old is going better than ever, posting a new peak of 109 in the Colonel Reeves on Saturday, with Red Can Man heading the race at 113 under the weight conditions.
The form of the Colonel Reeves runs true enough due to Red Can Man, who has run his usual race- he's equalled his peak of 113, a mark he's run to thrice in his last six starts.
The favoured runners, Elite Street and Miss Conteki, got back in the field and never really threatened, both working home well from too far back.
Miss Conteki is a flashy horse who will always have her supporters, but she's now had 17 starts and is at an established level. It's a very good level and she's won 11 races, her peak figure actually coming two starts ago when running down This'll Testya over 1000m, running to 110+.
That + often signifies that the horse can go better due to running big late sectionals, but when you're getting back to last in nearly every race, justifying that + is going to be tricky.
That covers pretty much all of the local hopes in the market and so far, only Elite Street has a figure to his name that would win a Winterbottom. It's a touch worrying that he's run well below his best first up, given his last two first up runs have been his usual 116 and 115.
Is there the potential Dan Morton has deliberately left a bit in the tank and is targeting the new 1400m Gold Rush, worth the same as the Winterbottom at $1.5 million?
That leaves us with the raiders, and we've got a few likely to head over.
To my knowledge, Rothfire, Paulele, Kementari, The Astrologist and Beau Rossa are all heading over, with all five having a peak rating capable of winning.
Beau Rossa has run to 118 once when an unlucky second to Behemoth in the 2021 Memsie and did return well, running 114 at Flemington. If you wipe his last campaign he's not hoepeless at $34.
The Astrologist has a peak of 117, but if you look away from his favoured Flemington, his rating drops to 112. He's racing well and is honest as the Perth day is long, but I wouldn't want to be backing him to win.
Kementari actually does make some appeal. Special K's last four ratings read: 115, 113, 120, 117. The lowest of the quarter was in The Everest, and he stuck on well behind Private Eye in the Nature Strip Stakes last start.
We know he can be hit and miss but at $18 I'd be keeping him very safe.
Paulele has the highest recent rating in the field, having run to 121 despite copping a whip to the face when winning the Schillaci. He also ran to 121 last preparation when second to Mazu in the Doomben 10,000.
If he runs to that level he'll very likely win, but his last two runs have been poor, albeit with excuses. The Manikato failure was on a very testing track before a bunched finish behind Roch 'N' Horse in the Champions Sprint, running 11th but beaten 2.5 lengths in his first run down the straight.
Rothfire also has a recent rating of 120, winning the McEwen first up over 1000m. He basically crossed the line with Paulele in the Moir and beat him home in the Manikato and Champions Sprint, running to 116 in the latter.
Rothfire is the $4 favourite for the Winterbottom with Paulele at $8 which looks too big of a gap given their recent SP's:
| | | |
| --- | --- | --- |
| | Rothfire | Paulele |
| Champions | $41 | $41 |
| Manikato | $6.50 | $3 |
| Moir | $3.10 | $4.40 |
| Kingsford-Smith | $19 | $6 |
| Doomben 10k | $16 | $11 |
Of course it all depends on who has freshened up and travelled best at the end of long preparations, but at the current prices, the blue jackets of Paulele and Kementari (with Beau Rossa a smoky) make the most appeal.

EUROZ HARTLEYS FOUNDATION - COLONEL REEVES STAKES (G3)
Age: 3yo and up Type: OPEN
FP
Silk
Horse, Age & Sex
Sire & Dam
Jockey
Trainer
SP
WT

1st

13. THIS'LL TESTYA (AUS) 7yo M


TESTA ROSSA (AUS) - CAMILLE'S GIRL (AUS)

LUCY F WARWICK
MITCHELL PATEMAN
$7.5
54.5kg
G J Hunter, M J Nelson, N P Ryde, W H Lavender, R J Logie, S D Bayley, T J Lavender, P J O'rourke, B K Stubber, Miss K A E Smith, A Want, J R Want, S A Parr, R L Hortin, Z Hortin, G P Manley, A Ryde, G C Weinert & Go Charlie (Mgr: L J Dwyer)

2nd

3. RED CAN MAN (AUS) 6yo G


GINGERBREAD MAN (AUS) - BROCKY'S ACE (AUS)

SHAUN MCGRUDDY
STEPHEN WOLFE
$7.5
57.5kg
S J Wolfe, P D Braimbridge, L A Benson, N W Carter, B W Wolfe, T Alvin, D Mcauliffe, T C Guelfi, K G Battison, N A Walton, K R Watson, C J Spiniello & N P Ryde

3rd

4. INDIAN PACIFIC (AUS) 6yo G


ZOUSTAR (AUS) - ROSARINO (AUS)

BRAD PARNHAM
NEVILLE PARNHAM
$20
57.5kg
N D Parnham, Mrs C A Parnham, R C Pearson, Bagden Pty Ltd Syndicate (Mgr: W D Biggs), Ridgeport Syndicate (Mgr: S E Guagliardo) & G W Webster (Snr)
4th
1. ELITE STREET (AUS) 6yo G


STREET BOSS (USA) - ELITE ATEATES (AUS)

BRAD RAWILLER
D MORTON
$3
59.5kg
5th
10. MISS CONTEKI (AUS) 6yo M


EUROZONE (AUS) - TIPSY MOMENT (AUS)

PATRICK CARBERY
SIMON A MILLER
$4
55.5kg
6th
7. NERODIO (AUS) 7yo G


PLAYING GOD (AUS) - BLACK CARAT (AUS)

LAQDAR RAMOLY
STEPHANIE BAKRANICH
$41
57.5kg
7th
8. COMES A TIME (AUS) 6yo G


SESSIONS (AUS) - LET'S GO (AUS)

PAUL HARVEY
MICHAEL GRANTHAM
$31
57.5kg
8th
14. WILCHINO (AUS) 6yo M


MASCHINO (AUS) - WILD PARK (AUS)

CHRIS PARNHAM
D MORTON
$9
54.5kg
9th
11. AMASENUS (AUS) 6yo M


TIME FOR WAR (AUS) - KELENDRIA (AUS)

STEVEN PARNHAM
SIMON A MILLER
$31
55.5kg
10th
2. LAVERROD (AUS) 6yo G


TORONADO (IRE) - DEMASHEEN (AUS)

WILLIAM PIKE
S & J CASEY
$21
58.5kg
11th
12. JERICHO MISSILE (AUS) 6yo G


SMART MISSILE (AUS) - ONECATSTOOMANY (AUS)

JORDAN TURNER
D R HARRISON
$201
55kg
12th
5. MONEY MATTERS (AUS) 6yo G


CANFORD CLIFFS (IRE) - MIZ NICHOLLS (AUS)

SHAUN O'DONNELL
C & M GANGEMI
$101
57.5kg
13th
15. EXPRESS TIME (AUS) 6yo M


WAR CHANT (USA) - EVEN ASTAR (AUS)

KESHAW DHURUN
NEVILLE PARNHAM
$31
53kg
14th
6. OUTRAGEOUS (AUS) 7yo G


ALL TOO HARD (AUS) - FIT AND READY (AUS)

J AZZOPARDI
LUKE FERNIE
$201
57.5kg
15th
9. PANDEMIC (AUS) 6yo G


SEPOY (AUS) - CATACLYSM (AUS)

PETER KNUCKEY
C & M GANGEMI
$101
57.5kg