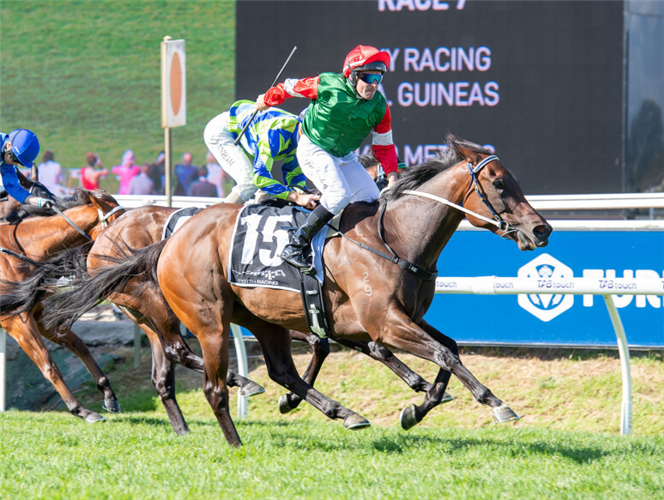 Amelia's Jewel shines in Guineas
Fillies have dominated the WA Guineas in recent years, the girls now having taken the last four running's of the Group 2 three-year-old feature, and five of the last six.
Amelia's Jewel was rated 107 by Timeform heading into Saturday and comes out rated 109+, with the potential to rate higher again due to a sectional mark up.
Here's how she stacks up against the recent winners of the race, considering the 2kg fillies' allowance in brackets.
| | | |
| --- | --- | --- |
| 22 | Amelia's Jewel | 109+(113+) |
| 21 | Treasured Star | 104 (108) |
| 20 | Watch Me Dance | 102 (106) |
| 19 | War Saint (colt) | 108 |
| 18 | Arcadia Queen | 112 (116) |
| 17 | Perfect Jewel | 104 (108) |
Arcadia Queen is the benchmark in Western Australian fillies. Adjusted to weight-for-age, her 116 rating in the WA Guineas is far and away the best rating in the race for as far back as I bothered to search, with Amelia's Jewel not far away in second.
She of course would go on to better that rating again, running to 121 in the Kingston Town Classic, effectively a 125 horse under weight-for-age. She would go on to confirm that rating, running to it twice more in Group 1 wins in the Caulfield and Mackinnon Stakes. Imagine what she could've done if not trained for an Everest, but I digress..
Amelia's Jewel will go into the Northerly Stakes (formerly Kingston Town Classic) as either first or second favourite (but very likely favourite) up against the proven weight-for-age gelding in Cascadian.
A peak of 122, equalled just three starts ago in a dominant Hill Stakes win, would probably win the Northerly but three-year-olds can improve sharply again.
There have been five three-year-old winners of the Northerly since 2010, and every one of them improved their rating from their previous start by an average of 8.2 pounds, as seen below:
Kay Cee 104>113 (+9)
Arcadia Queen 112>121 (+9)
Perfect Reflection 105>113 (+8)
Ihtsahymn 105>115 (+10)
Playing God 110>115 (+5)
Of course, this doesn't consider the three-year-olds who were beaten and didn't improve or indeed regressed in the Northerly, but it's an interesting extrapolation regardless.
If Cascadian runs to his peak of 122, she'd have to improve in line with the biggest jumps we've seen in recent years to beat him. If he runs to his last start rating of 117 in the Champions Mile, she'd only need to improve around 1-2 lengths to win, and her sectional mark up certainly suggests she's more than capable of doing so.
Trix Of The Trade...mans like?
Carrying 53kg and the weight of the R&S office, Trix Of The Trade kept up the strong record of four-year-olds in the Railway Stakes, winning in quite dominant fashion and recording a slight new peak rating of 112, up from his 110+ first up.
With a strong recent honour roll, Trix Of The Trade has a bit to find against the recent winners, especially the dominant Western Empire last year:
| | | |
| --- | --- | --- |
| 21 | Western Empire | 121 |
| 20 | Inspirational Girl | 115 |
| 19 | Regal Power | 109 |
| 18 | Galaxy Star | 115 |
| 17 | Great Shot | 113 |
| 16 | Scales Of Justice | 118 |
A good win from a good horse, but now the dust has settled on Monday, he's got history against him if he's to win the Railway-Northerly double.
Just four horses have won both in the same year: Better Loosen Up ('89), Old Comrade ('01), Modem ('04) and Sniper's Bullet ('09).
Better Loosen Up was obviously a star who won the Northerly (then Winfield) by 8.5 lengths, which was run before the Railway, which he won by 4.3 lengths.
Old Comrade was rated 119 off his Railway win and Sniper's Bullet 120, both going on to win The Northerly despite rating down.
The Lee Freedman trained Modem ran to a slightly lower mark than Trix Of The Trade in his Railway win- 111. He would run to the same mark to win The Northerly, but it's almost impossible a rating of 111 will win this year's edition.
Trix Of The Trade will need to improve plenty to be challenging Cascadian, who has rated below ≤112 once in his last eight starts and that's before seeing what Amelia's Jewel and even Bustler who gave her a scare are capable of.
I've got almost nothing between Amelia's Jewel and Cascadian for The Northerly and the pair should provide the peak of The Pinnacles.

SKY RACING - W.A. GUINEAS (G2)
Age: 3yo Type: OPEN
FP
Silk
Horse, Age & Sex
Sire & Dam
Jockey
Trainer
SP
WT

1st

15. AMELIA'S JEWEL (AUS) 3yo F


SIYOUNI (FR) - BUMBASINA (IRE)

PATRICK CARBERY
SIMON A MILLER
$1.9
54.5kg
P V Walsh

2nd

6. BUSTLER (AUS) 3yo G


PLAYING GOD (AUS) - COSMAH DOMINATION (AUS)

STEVEN PARNHAM
NEVILLE PARNHAM
$4
56.5kg
Ridgeport (Mgr: E S Guagliardo), N D Parnham, Mrs C A Parnham, D K Lee & R L O'Bree

3rd

2. SAINTORIO (AUS) 3yo G


ORATORIO (AUS) - LEITFADEN (AUS)

BRAD PARNHAM
STEPHEN MILLER
$17
56.5kg
D C Mcllheney, S J Miller, K J Jolly, Mrs B Jolly, D C Waugh, I R Penn, P D Gerrand, Mrs T Beresford, S A Marlow, D J Brooks, S E Lee, R J Antonio, B L Antonio, P M Antonio, B J Antonio, T B Antonio & G Antonio
4th
3. ALL THE KING'S MEN (AUS) 3yo G


KING'S TROOP (AUS) - HUETTE (AUS)

PAUL HARVEY
T M ANDREWS
$8.5
56.5kg
5th
7. REJUVA KING (AUS) 3yo G


PATRONIZE (AUS) - BELAVENIR (AUS)

BRAD RAWILLER
D MORTON
$61
56.5kg
6th
5. SWEAR TO GOD (AUS) 3yo C


PLAYING GOD (AUS) - ORA MISS (AUS)

SHAUN O'DONNELL
RUSSELL STEWART
$16
56.5kg
7th
13. CATCH THESE HANDS (AUS) 3yo G


ROMMEL (AUS) - COLLEGES (AUS)

SHAUN MCGRUDDY
STEPHEN WOLFE
$151
56.5kg
8th
16. LINDEN LADY (AUS) 3yo F


NO NAY NEVER (USA) - ROCK CANDY (AUS)

WILLIAM PIKE
G & A WILLIAMS
$19
54.5kg
9th
11. SUNNY HONEY (AUS) 3yo G


PATRONIZE (AUS) - SUNSILKIN (AUS)

BAREND VORSTER
D R HARRISON
$81
56.5kg
10th
1. SNOWDOME (AUS) 3yo C


ROMMEL (AUS) - SNOW PIXIE (AUS)

CHRIS PARNHAM
NEVILLE PARNHAM
$17
56.5kg
11th
8. LORD GANNICUS (AUS) 3yo G


UNIVERSAL RULER (AUS) - HELLO PARIS (AUS)

LACHLAN NEINDORF
G & A WILLIAMS
$101
56.5kg
12th
9. DEMOLISH (AUS) 3yo G


RICH ENUFF (AUS) - MAGNUS MISSILE (AUS)

LAQDAR RAMOLY
NEVILLE PARNHAM
$81
56.5kg
13th
10. UPPER LIMITS (AUS) 3yo G


EXOSPHERE (AUS) - DEFAR (AUS)

TROY TURNER
JEREMY EASTHOPE
$51
56.5kg
14th
14. SANTA BRAE (AUS) 3yo G


MANHATTAN RAIN (AUS) - MY SISTER LIL (AUS)

J AZZOPARDI
ROSS PRICE
$151
56.5kg