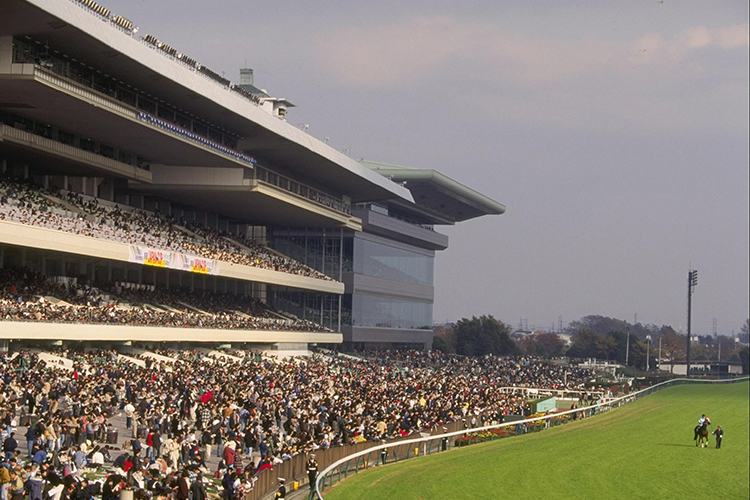 We've been blessed by some outstanding winners of the Japan Cup in recent years. Since 2012, there have been maybe a few races in the world that have taken as much winning, with the nine year average sitting at nearly 127 on Timeform's scale.
The best- Almond Eye, Epiphaneia, Kitasan Black and Gentildonna alll broke the 130 mark but I can't forecast anything going near that rating this year, with the 'big guns' of Japanese racing opting to skip.
The two Tenno Sho winners Equinox and Titleholder, Arima Kinen & Tenno Sho winner Efforia, Queen Elizabeth winner Geraldina and Jack D'Or are all missing, which leaves us with Shahryar as the top rated horse with Timeform.
That peak of 125 came in Dubai, dispatching of the subsequent King George winner Pyledriver, and a rock-solid 123 in this race last year when third to Contrail, albeit beaten 3.5L, is probably good enough to be right in the finish this year.
He was disappointing at Ascot behind State Of Rest but very forgiveable given the slow pace, however he was disappointing without many excuses in the Tenno Sho. He seemed to be in a fine spot and Danon Beluga flew past him.
Danon Beluga was super there and looks the progressive one of the field, lining up for just his fifth start. He actually started favourite in the Japanese Derby (Tokyo Yushun) over Equinox and Do Deuce, running on late for fourth.
His peak came last start, running to 123 in the aforementioned Tenno Sho, working home strongly late for third behind Equinox, which I think is the best form, however recent history is against him.
I'm not huge on historical factors but it's worth noting that no horse has ever won the Japan Cup at their fifth start or less, Almond Eye and El Condor Pasa holding the record at their seventh start.
A three-year-old has also never won the race having not won a Group 1 prior so he's got his work cut out, but again, it's not the strongest edition and I think he's probably the horse to beat off his last start.
The current market predictor, which can be found at this Net Keiba link, has Shahryar favourite over Danon Beluga which seems fair, and then Vela Azul as third pick, which looks wrong.
He's a handy horse coming off a big peak last start of 118 in the Kyoto Daishoten at Group 2 level but that is genuine B grade form, maybe even C grade form in Japan.
Glory Vase won the race in 2020 and ran to 123, actually bettering that effort in the Japan Cup but still falling well short of Almond Eye and Contrail. Kitasan Black ran to 127 at Kyoto before winning the Japan Cup in 2016 but Vela Azul is nowhere near the horse that Kitasan Black was, let alone Glory Vase.
Boccherini ran second at Kyoto and does have a peak of 119 the start prior but I just don't think that form is good enough.
Given these market predictors are based off the Japanese public, who, perhaps unlike Australians (see Lys Gracieux) tend to largely ignore the overseas contingent and back their own, a strategy that has paid off given local horses have won the past 16 editions.
They are also seemingly keeping Weltreisende quite safe, another horse I'm happy to be against. Damian Lane takes the ride but he was poor last start at Group 2 level and his peak of 120 when second in the American Jockey Club Cup at Nakayama was on heavy ground, which isn't good enough to win regardless.
Similarly, Daring Tact should be long odds here. The fillies' triple crown winner of 2020 hasn't been able to recapture that form since, although her peak of 124 (128 with mare's allowance) when third to Almond Eye and Contrail would win this. Her last four starts have been 105-100-113-111 and I can't come into her off that.
That brings us to the raiders, of which there are a few very solid conveyances.
Onesto looks the pick of them. A peak of 124 measures up well against the likes of Danon Beluga when second to Luxembourg in the Irish Champion Stakes, and he showed he stays a mile-and-a-half well in the Grand Prix De Paris.
The three-year-old son of Frankel finished full of running there off a strong tempo, running to 121. He was well beaten in the Arc but his two starts prior have him right in the game and at double figures odds he's worth keeping very safe.
Also in the Grand Prix De Paris was Simca Mille who sat on that strong tempo and kept kicking to go down a fighting 0.4L second, running to 119, which he effectively backed up last start with a solid win in the G2 Qatar Prix Neil at Longchamp.
Onesto is the better horse of the two and looks the likeliest of the raiders this year, with one other very interesting horse lining up.
Tunnes, a three-year-old brother to Arc winner (and placegetter) Torquator Tasso has exploded onto the scene, winning his last three starts by 6, 8 and 10 lengths, the latest an absolute romp in the Grosser Allianz-Preis von Bayern at Munich.
The line there is Siskany, who finished some 12L adrift of Tunnes having run to 118 the start prior when dispatching of Melbourne Cup runner Without A Fight, with peaks of 120 to his name.
Racing And Sports senior handicapper Adam Blencowe rated Tunnes' win at Munich at 124+ which on face value is easily good enough to win, but big margin wins off such a sharp progression aren't the easiest races to confidently rate.
The main query with Tunnes is the ground- like his brother, he's an absolute mudlark and his win last start was on heavy ground.
For some context, he won in a time of 2.44.33 last start. Last year, Contrail ran a time of 2.24.70, some 20 seconds slower.
For further context, Suave Richard's Japan Cup win, run of soft ground, was in a time of 2.25.90, still nearly 19 seconds faster than the time Tunnes is running. There is some rain around Tokyo on Saturday but should be clear on race day and I doubt we're dealing with a soft track.
He's the most fascinating runner in the race and if the Japanese market completely abandons him and he starts 40-1, he's worth having something on.
To summarise, I'm with Danon Beluga. His run in what I think is easily the best lead up, the Tenno Sho, was excellent, charging into third late. He's got a bit of history against him but it's not a strong year and he's the progressive horse with more to offer.
Shahryar is the obvious danger but I'll be risking him against Danon Beluga. Onesto is the best of the raiders and is worth saving on if you get around $16-21, while Tunnes is the dark horse that could win or run dead last.
JAPAN CUP TIPS
14. Danon Beluga
2. Onesto
15. Shahryar
7. Tunnes