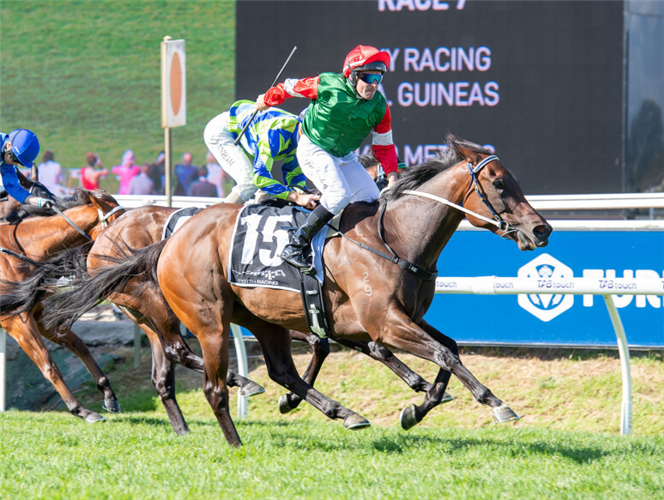 The Northerly wash-up
In my article after her W.A. Guineas win, I noted that the average improvement of three-year-old Northerly winners was 8.2 pounds, although many were coming from a lower rating.
Amelia's Jewel continued the outstanding record of three-year-old fillies in this race, making a leap of 7 pounds with Timeform to 116, up from 109+ two starts back.
So, how does she measure up against past winners of The Northerly, and in particular, where does fit amongst her fellow three-year-old winners of the race.

Amelia's Jewel - 116*
Regal Power - 116
Truly Great - 115+
Kay Cee - 113*
Arcadia Queen - 121*
Pounamu - 115
Stratum Star - 121
Perfect Reflection - 113p*
Moriarty - 119
Ihtsahymn - 115
Luckgray - 118
Playing God - 116
Playing God - 115
*filly

With her female allowance, Amelia's Jewel equates to a 120 mark, better than 10 of the last 12 winners. Only Arcadia Queen and Stratum Star have been better winners of the race.
For some context, Cascadian would've needed to run within roughly a length of his best to win on Saturday, something he simply wasn't able to do given the race shape.
Looking at the Racing And Sports Speed Figure (RSSF), The Northerly Stakes has ranked as the slowest race on the card as Ascot, and outside of the 3yo 1000m race, no race had a faster last 600m.
Even a listed 1400m and a Bm72+ 1200m have come home slower overall for their last 600m than the 1800m of The Northerly. By being so far back in the field, Cascadian effectively gave up all hope of winning and the placings and margins reflect that.
Ironclad has a run a huge new peak, up 8 pounds to 116, his next best effort coming in the 2021 Bendigo Golden Mile and that is almost entirely due to him leading the race which not many would've predicted despite there being no noted leaders on paper.
Consider the strongly run 2018 Kingston Town won by Arcadia Queen, which went nearly 2.5 seconds faster overall time than this year, with her margin back to 2nd at 4.5 lengths. With just 4 lengths from the winner back to 13th, 3 lengths to 8th and 2 lengths to 5th, the lack of tempo was blinding this year.
Nevertheless, Amelia's Jewel has conquered basically all before her in the West. Now, the East awaits and so…

Who is the best three-year-old in Australia?
With a healthy dose of recency bias many would easily jump straight to Amelia's Jewel.
Perhaps they would be right, as she became just the third of her generation to beat the older horses at the top level this year.
She follows in the footsteps of Coolangatta, who won the Moir at weight-for-age also running to 116, and Giga Kick, who run to 124 when winning The Everest (which I think we can all agree counts as top level).
Racing And Sports make Giga Kick a better horse than Amelia's Jewel, which I imagine many people would agree with- beating some of the best sprinters in the world in an Everest seems better than winning The Northerly over Ironclad and Steinem, with all due respect.
The best filly in the country by our measure is actually In Secret, who ran to 120 in her Coolmore Stud Stakes demolition. Adjusted to weight-for-age, there's effectively nothing between her and Giga Kick as the leading sprinting juveniles, with Jacquinot not far behind off his Golden Rose win.
Unfortunately, it seems unlikely these horses will ever meet. Amelia's Jewel has already been earmarked for an All Star Mile tilt where she would try to emulate 2019 winner Mystic Journey as a three-year-old filly to win the race.
So, can Amelia's Jewel lay claim to being the best three-year-old in the country? Over a mile and beyond, she probably can if you take even the tiniest bit of hype to her raw figures. She actually rates identically to Zougotcha who won the Silver Shadow-Tea-Rose-Flight treble, but ask any bookmaker today and I'm confident Amelia's Jewel is a dominant head-to-head favourite against her.
Whether she 'measures up' at weight-for-age in the East is another question. Arcadia Queen never actually bettered her Kingston Town number of 121 (although did earn a + in her fast-finishing win over Russian Camelot), and with two G1 wins at weight-for-age you'd say she comfortably did.
Amelia's Jewel probably has to improve approximately 2 lengths to be right amongst the finish of our best 1600-2000m races, but if not, there's always mare's grade to fall back on.

FP
Silk
Horse, Age & Sex
Sire & Dam
Jockey
Trainer
SP
WT

1st

16. AMELIA'S JEWEL (AUS) 3yo F


SIYOUNI (FR) - BUMBASINA (IRE)

PATRICK CARBERY
SIMON A MILLER
$2.88
50kg
P V Walsh

2nd

7. IRONCLAD (GB) 6yo G


DUBAWI (IRE) - HEAT HAZE (GB)

BRAD RAWILLER
WILL CLARKEN
$61
59kg
Australian Bloodstock, R Murphy, M P Barker, K B Rust, K-B Racing, P J McLean, J W Rose, T Romano, W F Butler, Mrs G Vogel, S R Doyle, Ms A Kelton, C Pearson, T A Shorland, N P Ortmann, One For The Road, A J Smith, S A Bandick, Pentagon Racing & Ironclad

3rd

12. STEINEM (GB) 5yo M


FRANKEL (GB) - THAI NOON (IRE)

J ALLEN
CIARON MAHER & DAVID EUSTACE
$12
57kg
Mystery Downs, Mrs C M Cook, Australian Thoroughbred Bloodstock Pty Ltd, C J Favre, Mrs S V Favre, G J Ferguson, R I Hitchcock, B C Showniruk, Brittain Racing, D J Dunstan, Tsunami Racing, O F Kelly, D Falla, S J Phillips, R E Wilson & J A Willaton
4th
1. CASCADIAN (GB) 7yo G


NEW APPROACH (IRE) - FALLS OF LORA (GB)

JAMES MCDONALD
JAMES CUMMINGS
$3.2
59kg
5th
15. BUSTLER (AUS) 3yo G


PLAYING GOD (AUS) - COSMAH DOMINATION (AUS)

STEVEN PARNHAM
NEVILLE PARNHAM
$9
52kg
6th
10. TRIX OF THE TRADE (AUS) 4yo G


TRADE FAIR (GB) - MY NAME'S TRIXIE (AUS)

TROY TURNER
C H WEBSTER
$12
58.5kg
7th
14. TREASURED STAR (AUS) 4yo M


TORONADO (IRE) - TREASURED GIFT (AUS)

WILLIAM PIKE
ADAM DURRANT
$11
56.5kg
8th
11. ALASKAN GOD (AUS) 4yo G


PLAYING GOD (AUS) - LADY ALASKA (AUS)

CHRIS PARNHAM
D MORTON
$17
58.5kg
9th
2. DOM TO SHOOT (AUS) 5yo G


SHOOTING TO WIN (AUS) - PRINCESS ROUGE (NZ)

PAUL HARVEY
S & J CASEY
$61
59kg
10th
6. GOD HAS CHOSEN (AUS) 5yo G


PLAYING GOD (AUS) - CELTIC FEVA (AUS)

SHAUN O'DONNELL
DONNA RIORDAN
$81
59kg
11th
13. SEARCHIN' ROC'S (AUS) 4yo M


AWESOME ROCK (AUS) - STILL SEARCHIN' (AUS)

MS KYRA YUILL
JIM P TAYLOR
$81
56.5kg
12th
9. NOTORIOUS ONE (AUS) 7yo G


ANIMAL KINGDOM (USA) - FEATHER DUSTER (AUS)

LAQDAR RAMOLY
C & M GANGEMI
$101
59kg
13th
3. BAD WOLF (AUS) 8yo G


SO YOU THINK (NZ) - SURPASSING (AUS)

SHAUN MCGRUDDY
ASHLEY MALEY
$151
59kg
14th
5. KAPTAIN KAOS (AUS) 5yo G


DEMERIT (AUS) - VELVET STRIKE (AUS)

LUCY F WARWICK
MICHAEL GRANTHAM
$201
59kg
15th
4. STARTRADE (AUS) 6yo G


TRADE FAIR (GB) - STARTEGO (AUS)

CHRISTOPHER NICOLL
D MORTON
$81
59kg