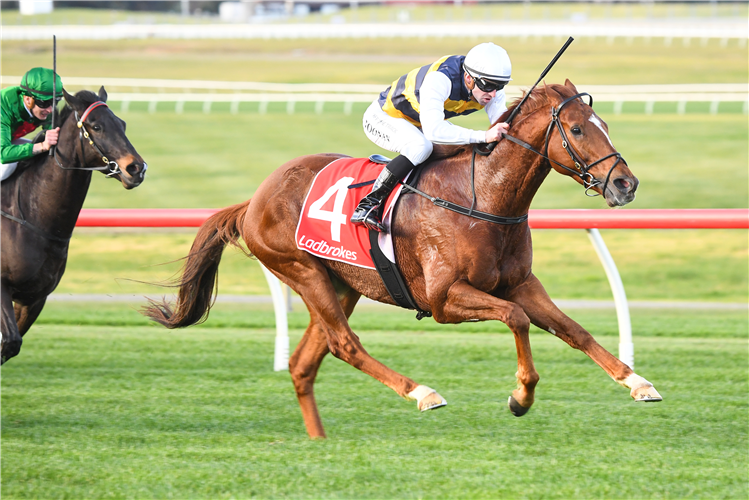 Trainer Clayton Douglas is working towards having his first Melbourne Cup runner with a race at Mornington an integral part of that plan.
Harmysian heads to the Listed R M Ansett Classic (2400m) on Saturday with Douglas hoping a win will lead to the Group 2 Herbert Power Stakes (2400m) at Caulfield on October 8.
Douglas sees victory in that race being the chance to receive a penalty for the Group 1 Melbourne Cup (3200m) at Flemington on November 1 and move up the ballot order.
Harmysian qualifies for a Melbourne Cup start if successful on Saturday but will remain well down the order of entry.
"If he wins on Saturday, all going well, he'll go to the Herbert Power in two weeks and then we'll work it out after that where he lobs," Douglas said.
"He needs to get his rating up and a penalty to get into the Melbourne Cup. He is unlikely to get that on Saturday, but he could get in the Herbert Power."
Douglas said Harmysian's campaign this time in had gone smoothly.
He was successful second-up at Sandown over 1800m in Benckmark 70 company before rising the 2040m at Moonee Valley last time, finishing a luckless fifth.
"He's come back super this prep," Douglas said.
"All three runs have been good, and he was probably a little bit unlucky the other day getting held-up around The Valley.
"He hit the line solid, especially going to an open handicap over 2000 metres.
"He got out to 2400 metres third-up last prep, so this prep we're going in fourth up.
"It looks the right race being on his home track and when it came up, with nice spacing between runs, we thought it would be a good race to have shot at."
Should Douglas' hopes of a Melbourne Cup start fall short, he said there was plenty of other options for Harmysian including the Geelong Cup, the Moonee Valley Cup and even the Sandown Cup at the end of the Melbourne Spring Carnival.

FP
Silk
Horse, Age & Sex
Sire & Dam
Jockey
Trainer
SP
WT

1st

6. SARACEN KNIGHT (IRE) 7yo G


CAMELOT (GB) - ZA'HARA (IRE)

JAMIE KAH
DANNY O'BRIEN
$3.30
54.0kg
D Freyer, Club Four-Thousand (Mgr: C Bugeja), T Horoch, M Russell, Grove Bar (Mgr: M Kennedy), Lucky Six (Mgr: M Fitzsimmonds), Meadowbank (Mgr: W Dansey), W Dansey, M Finegan, J Agius, Mrs S Agius, Nice Garry (Mgr: L Hobbs), Nellando, Liberty Racing, D Krushka, P Giemza, P Coffey & R Berens

2nd

10. VERIMLI (FR) 6yo G


BORN TO SEA (IRE) - VERRIYA (FR)

ANTHONY DARMANIN
ROBERT HICKMOTT
$51.00
54.0kg
N C Williams, Mr & Mrs L J Williams, A L Green, Mrs B A Green, B N Singer, Jacobsen Bloodstock Pty Ltd, J A Ingham, P Mehrten, M E Ruff, G T Ryan, C L Marks, M D Wizel, EST M S Gudinski, V J Sammartino & M J Symons

3rd

7. HARMYSIAN (GB) 5yo G


LOPE DE VEGA (IRE) - ADJA (IRE)

J NOONAN
CLAYTON DOUGLAS
$5.00
54.0kg
OTI Racing (Mgrs: T Henderson & S Driscoll), M & Mrs A Stone, J Spence, L Larmer, G Van Ameyden, G Medved, J Gurrieri, S Gilbert, Mrs C Paton, S & Mrs L Tsardakas, Madica, Travaglini Racing, Dycer Racing, Bamm Bamm Racing, D & L Alford, Ciziamo Racing & Lakeside Bloods
4th
5. PORT GUILLAUME (FR) 5yo G


LE HAVRE (IRE) - KEIRA (FR)

MICHAEL DEE
BEN & JD HAYES
$21.00
54.0kg
5th
8. IMPULSAR (IRE) 4yo G


FRANKEL (GB) - PROPEL (IRE)

ETHAN BROWN
CIARON MAHER & DAVID EUSTACE
$5.00
54.0kg
6th
9. KING OF THE CASTLE (IRE) 4yo G


GALILEO (IRE) - REMEMBER WHEN (IRE)

JYE MCNEIL
ROBERT HICKMOTT
$4.40
54.0kg
7th
3. THE GOOD FIGHT (NZ) 8yo G


HIGH CHAPARRAL (IRE) - PRAVDA (NZ)

JAMIE MOTT
MICHAEL MORONEY
$11.00
57.5kg
8th
4. TIGERTIGER (NZ) 7yo G


ZED (NZ) - HOORANG (NZ)

BRIAN HIGGINS
R J BLACKER
$21.00
57.5kg
9th
2. IRISH FLAME (NZ) 8yo G


ZED (NZ) - FLEUR DE L'ORIENT (NZ)

DANIEL STACKHOUSE
BRETT SCOTT
$21.00
57.5kg
10th
11. SWELTER MAGIC (NZ) 5yo M


GHIBELLINES (AUS) - SWELTER (NZ)

MATTHEW CARTWRIGHT
K CORSTENS
$201.00
54.0kg