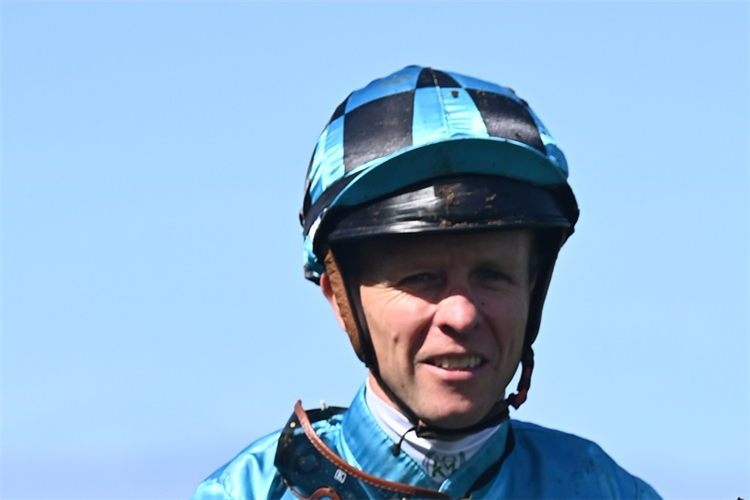 Kerrin Mcevoy says it would mean a lot if he could join Bobbie Lewis and Harry White as a joint record holder of the most Melbourne Cup wins.
Lewis rode his four Cup wins over a 27-year period in the early 1900's while White, who died on Cox Plate eve, registered his four victories in the space of six years in the 1970's.
McEvoy won his first aboard Brew in 2000 then had to wait until Almandin in 2016 before winning again two years later on Cross Counter.
This year McEvoy rides Deauville Legend in Tuesday's 3200m Melbourne Cup who is the $3.60 with TAB and on Monday evening the only runner in single figure figures.
"It would mean a lot," McEvoy said of a fourth Cup win.
"Obviously records are for everyone to see, and it has been a great race for me over the years.
"It has been a fantastic memory made for my career and my family and it would be fantastic to add to that tomorrow."
McEvoy remembers well his first Cup win on Brew, which also provided him with his first win in a Group 1 contest while on Tuesday he will be lining up for his 19th Cup ride.
That is one more than Craig Williams with only Craig Newitt (11) and Hugh Bowman (10) being the other jockeys in double figures.
McEvoy said he still gets a little nervous before the Cup.
"I'd like to think you should be getting a bit toey, nervously excited," McEvoy said.
"You get there on the day and you just want to get to the Cup, and everything else is a bit of a blur.
"It is a great lead up, but you just want to get there on the back of your horse and once I do that it is job on, you just want to get on and get it done."
Riding for Deauville Legend's owner Bon Ho in Sydney gave McEvoy first refusal of the Cup ride.
It didn't take long to convince the jockey the stayer had excellent credentials with his win in the Great Voltigeur Stakes at York being confirmed by El Bodegon running third in the Cox Plate at Moonee Valley.
"His run at Goodwood highlighted to me that he could be a top chance in the race and then he went to a new level when he won the Great Voltigeur at York," McEvoy said.
"I have been lucky enough to ride in Cups when they have been in the money, and they have not been a favourite. I cannot dictate the price, you just have to ride it like any other.
"I would prefer it not to be heavy, if it comes up soft, I think it will be fine, so I hope the rain misses."

FP
Silk
Horse, Age & Sex
Sire & Dam
Jockey
Trainer
SP
WT

1st

1. GOLD TRIP (FR) 5yo H


OUTSTRIP (GB) - SARVANA (FR)

MARK ZAHRA
CIARON MAHER & DAVID EUSTACE
$21
57.5kg
Australian Bloodstock, J Woodbridge, Whitegate Pastoral, Roth Brogan Syndicate, Gold Trip, Surf Coast Racing, S Pellegrino, B Taylor, M Belford, J Garvey, N Greenhalgh, Mrs M Greenhalgh, C Madden, Mystery Downs, C Cook, B Nally, Werrett Bloodstock, L Caminiti & J Simmons

2nd

17. EMISSARY (GB) 5yo G


KINGMAN (GB) - SOVIET MOON (IRE)

PATRICK MOLONEY
MICHAEL MORONEY
$26
51.5kg
Ballymore Stables (Aust) P/L, R & C Legh Racing P/L, Pulitano Thoroughbreds P/L, Gee Gee Equine Ltd, R A Duke, J Bartolo, R Ford, F Brown, Ms A Bergin, A Panozzo, C & Mrs L Talbot, D Smith, M Nees, L Deady, Mrs S Cummings, A Ring & Union Road Racing (Mgr: M J Catanzariti)

3rd

22. HIGH EMOCEAN (NZ) 6yo M


OCEAN PARK (NZ) - HIGH JOY (NZ)

TEODORE NUGENT
CIARON MAHER & DAVID EUSTACE
$41
50kg
D J Molloy, M A Milano, C L Brettschneider, Wilawl Go Racing, A J Rosano, A J Thompson, I F B S Group, Proline Thoroughbreds No.2, G L Orr, R B Grace, M W Ridgway, M J Hayward, Buangor Bunch, G T G Racing, G Ingram, C G Taylor, B A Quinn, R J Taylor, Mrs D M Molloy & B J Molloy
4th
8. DEAUVILLE LEGEND (IRE) 3yo G


SEA THE STARS (IRE) - SOHO ROSE (IRE)

KERRIN MCEVOY
JAMES FERGUSON
$4.4
55kg
5th
24. REALM OF FLOWERS (AUS) 6yo M


SO YOU THINK (NZ) - ASTRAL FLOWER (GB)

DAMIEN THORNTON
A & S FREEDMAN
$8
50kg
6th
14. DAQIANSWEET JUNIOR (NZ) 5yo G


SWEET ORANGE (USA) - PAULETTE (NZ)

DANIEL MOOR
PHILLIP STOKES
$61
53kg
7th
19. SMOKIN' ROMANS (NZ) 6yo G


GHIBELLINES (AUS) - INFERNO (NZ)

JAMIE KAH
CIARON MAHER & DAVID EUSTACE
$17
51.5kg
8th
9. STOCKMAN (NZ) 6yo G


TAVISTOCK (NZ) - CRIMSON (NZ)

SAM CLIPPERTON
JOSEPH PRIDE
$16
54kg
9th
3. KNIGHTS ORDER (IRE) 7yo G


SO YOU THINK (NZ) - LAMANKA LASS (USA)

TIM CLARK
G WATERHOUSE & A BOTT
$18
55.5kg
10th
10. VOW AND DECLARE (AUS) 7yo G


DECLARATION OF WAR (USA) - GEBLITZT (AUS)

BLAKE SHINN
DANNY O'BRIEN
$21
54.5kg
11th
16. ARAPAHO (FR) 5yo G


LOPE DE VEGA (IRE) - ALZUBRA (GB)

MS RACHEL KING
BJORN BAKER
$61
52.5kg
12th
12. HOO YA MAL (GB) 3yo C


TERRITORIES (IRE) - SENSATIONALLY (GB)

CRAIG WILLIAMS
G WATERHOUSE & A BOTT
$13
53.5kg
13th
6. WITHOUT A FIGHT (IRE) 5yo G


TEOFILO (IRE) - KHOR SHEED (GB)

WILLIAM BUICK
SIMON & ED CRISFORD
$12
55.5kg
14th
15. GRAND PROMENADE (GB) 6yo G


CHAMPS ELYSEES (GB) - ZACCHERA (GB)

HARRY COFFEY
CIARON MAHER & DAVID EUSTACE
$71
53kg
15th
11. YOUNG WERTHER (NZ) 5yo G


TAVISTOCK (NZ) - ROMANTIC TIME (NZ)

DAMIAN LANE
DANNY O'BRIEN
$31
54kg
16th
4. MONTEFILIA (AUS) 5yo M


KERMADEC (NZ) - BANA WU (GB)

JASON COLLETT
DAVID PAYNE
$9.5
55.5kg
17th
20. TRALEE ROSE (NZ) 6yo M


TAVISTOCK (NZ) - STAR OF TRALEE (NZ)

DEAN YENDALL
SYMON WILDE
$51
51.5kg
18th
2. DUAIS (AUS) 5yo M


SHAMUS AWARD (AUS) - MEERLUST (AUS)

HUGH BOWMAN
EDWARD CUMMINGS
$21
55.5kg
19th
5. NUMERIAN (IRE) 6yo G


HOLY ROMAN EMPEROR (IRE) - DELICATE CHARM (IRE)

TOMMY BERRY
ANNABEL NEASHAM
$61
55.5kg
20th
13. SERPENTINE (IRE) 5yo G


GALILEO (IRE) - REMEMBER WHEN (IRE)

J ALLEN
ROBERT HICKMOTT
$31
53.5kg
21st
7. CAMORRA (IRE) 5yo G


ZOFFANY (IRE) - MAURALAKANA (FR)

BEN MELHAM
BEN & JD HAYES
$41
55kg
FF
23. INTERPRETATION (IRE) 4yo H


GALILEO (IRE) - DALDIYNA (FR)

CRAIG NEWITT
CIARON MAHER & DAVID EUSTACE
$51
50kg