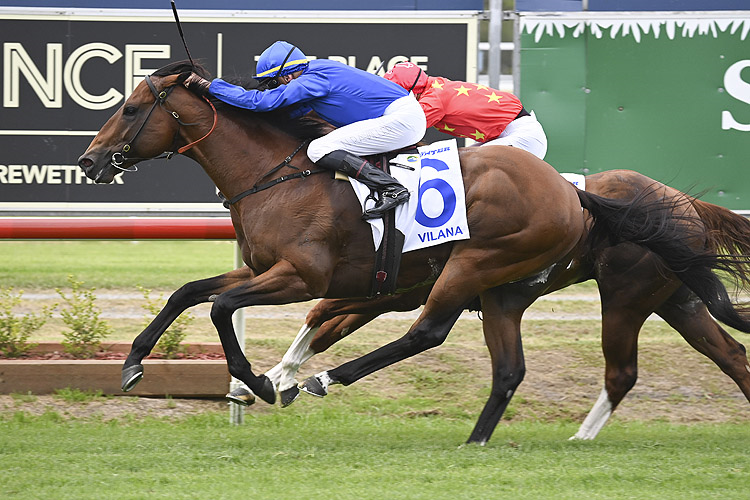 After being scratched from the Winterbottom Stakes on race morning due to a leg abrasion, Vilana was given an exhibition gallop between races at Ascot yesterday with James McDonald in the saddle.
"Beautiful horse that worked really well," McDonald said.
"Didn't even raise a sweat."
"He felt like he was just three-quarter pace down the running, but he was obviously going a little bit quicker."
Vilana is currently favourite for the $1.5million Group 3 Gold Rush (1400m) where a strong performance in the inaugural Pinnacles feature event would cap off a campaign which has so far returned impressive wins in the Silver Eagle (1300m) and The Hunter (1300m).
His spring efforts already have connections looking towards the 2023 autumn.
"He's got brilliant form lines and he's a good horse," McDonald said.
"He's got a Doncaster written all over him. I don't think he's been out to a mile. He's been out to a Golden Eagle trip, but he had no luck. He was wicked in The Hunter."
Success for Vilana or stablemate Kementari in The Gold Rush would enhance what has already been a successful raid of West Australian riches by Team Godolphin during The Pinnacles.
After Paulele won the Group 1 Winterbottom Stakes (1200m), Cascadian on Saturday finished fourth in the Group 1 Northerly Stakes (1800m) behind local boom filly Amelia's Jewel.
"I thought he ran enormous," McDonald said of Cascadian.
"Very proud of the horse. There was just literally no speed for a good three or four furlongs during that race. He was out of play from then because he just lost touch with them from the 600m. He found the line as good as anything."
Godolphin travelling foreman Nacim Dilmi confirmed The Pinnacles race series will continue to attract James Cummings-trained runners west.
"They'll find more horses to bring next year," Dilmi said.
"With the bump in prizemoney it's going to entice our guys to bring more horses here.
"It's brilliant - what they've done this year is incredible.
"Its (The Pinnacles) really lifted the whole atmosphere in Perth. I know two years ago when we were here it was Covid but in the previous years we came here, it seems like The Pinnacles is bringing more crowds being a longer carnival.
"I don't wish for it, but hopefully by next year there's more interstate trainers coming. It was very surprising that there was no more than the ones that came this year, it's a great carnival.
"All the interstate horses are looked after and if they don't come next year, it's fine - it's more for us."