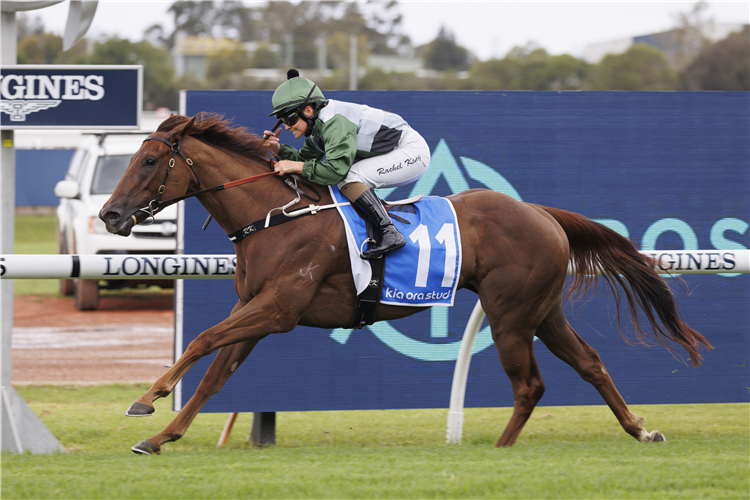 Passeggiata was stepped up in grade at Rosehill on Saturday after a clinical debut victory at Gosford on December 22 where she led throughout for a 3.5 length success.
Her natural speed was again on display at Rosehill as she bounced to the lead and carved out some slick early sectionals.
While on tired legs late, the Winning Rupert filly held a 1.4 length margin on the line to runner up Narito with Compassionate close behind in third.
"She's very quick and I thought I was nervous at Gosford but there was a new level today," Bjorn Baker Racing Manager Luke Hilton said.
"She was a little more buzzed up in the yard than she was at Gosford. She just probably went out a touch quicker than she did there too, didn't relax as well, but she found plenty and she's got plenty of heart, and she's still learning.
"I think once she sort of heard them coming she was able to kick into another gear and go away, and it was a good effort on a heavy track, up to 1100m, probably racing more like a 1200m, but she did a really good job."
Passeggiata has long shown promise, winning each of her two trials at a juvenile.
Despite those encouraging early signs, the stable gave the filly further time to mature and are now reaping the benefits.
"Credit to Bjorn (Baker). He has done a great job and has been very patient with her. He didn't push her as a two-year-old. She showed a lot of promise very early and he's looked after her. Hopefully he'll reap the benefits now.
"She's done some pretty impressive things at home that made us thought she might be the real deal and she is starting to put that together now.
"She's still got a lot to learn, a lot more maturing to come. She is an exciting horse."
Jockey Rachel King wasn't afraid to utilise Passeggiata's early speed, stretching the field right out through the early stages.
"She is naturally a fast horse," King said.
"If you try to go too much slower she might be a bit ugly. At the moment it's all about finding that happy medium and she's done that for two starts now and she is only going to get better the more racing she has.
"She is doing all still very much within herself."