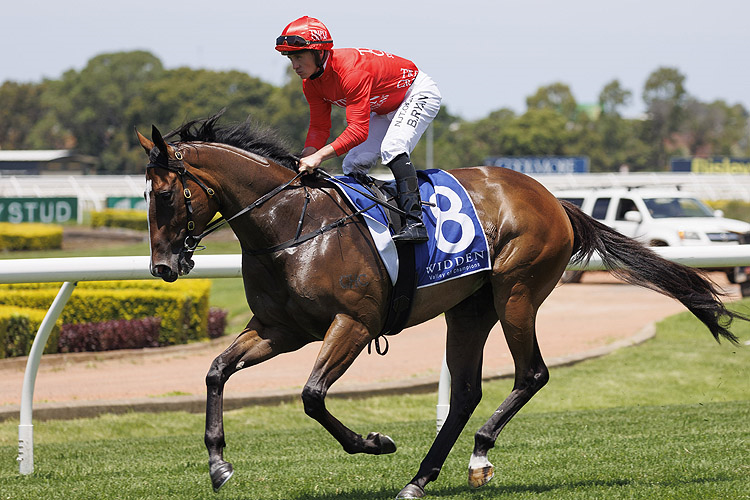 ROSEHILL January 11
Inside Grass; Good 4
13 Heats – 2 x 1030m (1 Open; 1 Maiden); 11 x 900m (2 Open; 1 3YO; 4 2YO; 4 Maiden)
A good morning for Bjorn Baker and the Snowden boys. Baker won four heats and the Snowden's sent a team from Randwick to pick up three heats.
KA YING RADIANCE (Bjorn Baker): This unraced 4YO gelding by I Am Invincible has obviously had some issues to delay his first trial apperance. It was some debut as he's a long striding runner with plenty of natural speed, leading by three lengths after 100m then held back to them before slipping away at the 350m and sprinting fast to the line in the quickest 900m heat of the morning (53.73; 33.82). He'll be ready to run when produced.
REVOLUTIONARY MISS (Peter & Paul Snowden): This classy filly took the eye when she trialled at Rosehill on December 29 and it was nice to see her make obvious improvement to record a soft win her 1030m heat (63.15; 35.18) over the race fit last start winner KANAZAWA. She'll be well prepared for an early start to her autumn program while KANAZAWA had an easy time of it and looks in great health to go for back to back wins.
NOTED TRIALS
XX Ka Ying Radiance; Revolutionary Miss
X Emancipist; Kanazawa; Lucky Strong; Petulant; Quantico; Rockabilly Rebel; The Poacher; We Don't Roam
Brett Prebble sends @BWiddupRacing gelding The Poacher home to win a trial at Rosehill on Thursday over Land Of Valens with Quantico weaving through into third. Communist was a close up fourth. @tabcomau pic.twitter.com/XYAhdU5A9n

— Racing NSW (@racing_nsw) January 11, 2023
RANDWICK January 9
A Grass; Soft 6
14 Heats – 1 x 1200m (Open); 5 x 1050m (1 2YO; 2 Open; 2 Maiden); 8 x 740m (3 2YO; 1 3YO; 1 Open; 3 Maiden)
NOTED TRIALS
A classy start to the New Year with the G1 winner Golden Mile and Golden Slipper favourite King's Gambit among some big names kicking off their preps for the big races.
KING'S GAMBIT (Peter & Paul Snowden): The unbeaten youngster looked all class taking out the only 1050m heat for the 2YOs with style (63.34; 34.72). He travelled smoothly tucked behind the leaders and did it easily to take control over the last 200m with Tommy Berry allowing him to only what was required to put the heat to bed.
"Very nice work."@hkdarren said it all as Golden Slipper favourite King's Gambit wins a trial at Randwick on Monday, the @SnowdenRacing1 colt safely held Al Ras Blues and Don Corleone in 1:03.34 for 1050m. @tabcomau pic.twitter.com/hngcFaP1ex

— Racing NSW (@racing_nsw) January 8, 2023
The three shorter 2YO heats over 740m saw MEXICO post the quickest time (43.24; 32.72) with a sharp win that also featured an easy third by Godolphin's unbeaten colt BARBER. His stablemate DIPSY DOODLE impressed with her strong win a fillies heat (43.60; 33.14) and FLEETWOOD was another of their team to take eye making up ground under an easy ride for a strong fourth in the heat won by CAPITAL HEART (43.65; 33.23).
Brett Prebble guides the @MFreedmanRacing youngster Mexico to a trial win at Randwick on Monday over Bases Loaded with Golden Gift winner Barber in third. @tabcomau pic.twitter.com/Ga6tnmGECJ

— Racing NSW (@racing_nsw) January 9, 2023
Caulfield Guineas winner GOLDEN MILE had easy exercise finishing third in his 740m heat won by the pacy NOMINATOR (43.34; 32.99). Another classy 3YO ZOU TIGER worked equally well beside him to finish a well held fourth in his first trial since October.
Speedy performance from @GaiWaterhouse1 & Adrian Bott 3yo Nominator to win a trial at Randwick on Monday. All eyes on those chasing including Brian Crowley winner Kote, Group 1 winner Golden Mile and Zou Tiger. @tabcomau pic.twitter.com/OEwbQbLxpc

— Racing NSW (@racing_nsw) January 9, 2023
The Graeme Murray-trained mare NICCI'S SONG ran away with the fastest 1050m heat (62.72; 34.41) in a good display of sustained speed that sets her up well for a suitable race first-up. Godolphin will also be keen on the prospects of the lightly raced PARISAL picking up a maiden win after her impressive 740m heat win (43.91; 33.14).
NOTED TRIALS
XX King's Gambit
X Barber; Bartoselli; Condrieu; Golden Mile; Dipsy Doodle; Fleetwood; Iamadancer; Ithadtobezou; Mexico; Nicci's Song; Parisal; Sky Artist; Tazaral; Zou Tiger.
RECENT TRIAL WATCH WINNERS: The Instructor; Think About It; Moscow Night; Alicia Roma; Silentsar; Vreneli; Capitol Queen; Cigar Flick; Exploring; Garrison; Po Kare Kare; Hide Your Heart; Off Da Hizzle; Mission Value; Kalino, King Of Sparta; Chipper; Passeggiata; Goofy Mick; Banana Queen; Lazzago; Dynamic Impact.