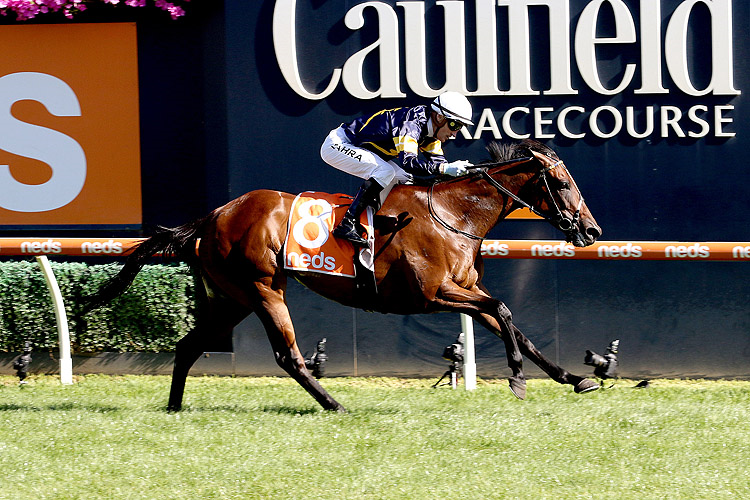 Hartnell was a WFA grand warrior. Who adds their name in the 2023 CF Orr Stakes (1400m) at Sandown Hillside on Saturday?
2023 CF Orr Stakes: Nominations
2023 CF ORR STAKES - RACE HISTORY AND BACKGROUND
The CF Orr Stakes is a Group 1 race for open class sprinters conducted by the Melbourne Racing Club.
The CF Orr Stakes was first run in 1925 and was won by The Night Patrol.
The CF Orr Stakes is run over 1400m under Weight For Age conditions. It was worth $750,000 in 2023.
It was a Principal race up to 1979, then Group 2 to 1992 before being upgraded to G1 from 1993 and beyond.
Has been run at all of Victoria's racecourses at one stage or another. Sandown conducted it the most before heading to Caulfield in 1997. It returns to Sandown in 2023.
The race has been won some champion sprinters like Black Caviar as well as Cox Plate and Melbourne Cup horses coming back to the races like At Talaq.
That said the last Cox Plate winner to return to win this was Maldivian in 2009 and Saintly the last Cup winner in 1997.
Black Caviar's only start beyond 1200m in her 25 run career came in the CF Orr Stakes when she won easily.
Peter Moody won 5 times in 6 years from 2010.
Females have only won 9 times in nearly 45 years but taken 5 of the last 13.
Tofane won her 4th G1 race in taking the 2022 Orr and every one of them were over 1400m.
3yos won six times in a row from '98 to '03 but it took All Too Hard to get them back on board in 2013. Alabama Express added to the list in 2020.
In the 2018 running, it saw 3.5L from first to last in a field of 13 with the first seven less than length away.
Notable winners of the CF Orr Stakes include Heroic (1927), Gothic (1929), Mildura (1941), Flight (1946), Comic Court (1951), Rising Fast (1956), Lord (1959/1960), Wenona Girl (1962), Aquanita (1963), Tobin Bronze (1967), Winfreux (1968), Black Onyx (1971), All Shot (1974), Leilani (1975), Surround (1977), Hyperno (1978), Manikato (1979/1980/1981), At Talaq (1987), Vo Rogue (1988/1989/1990), Let's Elope (1992), Durbridge (1993), Primacy (1994), Jeune (1995), Saintly (1997), Redoute's Choice (2000), Lonhro (2004), Elvstroem (2005), El Segundo (2007), Maldivian (2009), Typhoon Tracy (2010/2011), Black Caviar (2012), All Too Hard (2013), Moment Of Change (2014), Dissident (2015), Black Heart Bart (2017), Hartnell (2018), Streets Of Avalon (2021) and Tofane (2022).
The 2022 CF Orr Stakes was won by Tofane from Lighthouse and Cascadian.