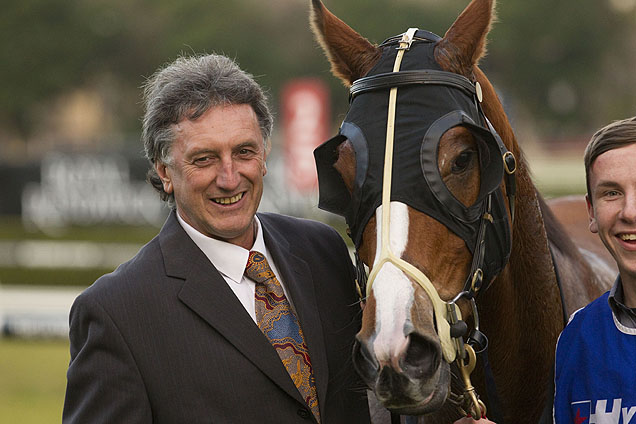 Sure, the Tuncurry-Forster Jockey Club's debut in 2009 was met with a bumper crowd of around 6500 but the club, through volunteers, has worked hard to build the course, not only literally, into a regular TAB venue and now Country Championships host.
Terry Evans is the only trainer based at Tuncurry and will be represented by Sir Ravanelli and Par Avion in Sunday's $150,000 Newhaven Park Mid North Coast Country Championships (1410m).
He said while moving from the Central Coast happened a bit by chance it didn't take long for Evans and his wife to fall in love with the area and make the change.
"It was a bit of a fluke,'' he said.
"A mate of mine lived up here and another mate was building townhouses to move here and one day we called in on our way to Port Macquarie.
"The boxes were all empty and (Tuncurry CEO) Garry McQuillan said they were available if we wanted to take them on.
"We went back home after the races that day at Port and arranged to move within weeks. It took a little while to get here, we had to contact owners and arrange to move the horses and we had to find somewhere to live.
"We found a place that was 20 acres and we put an offer in and they accepted.
"I thought the way it was set up and that everyone local loves it, they were all chipping in wanting to help, there was always a chance the club was going to kick off.
"I remember the first race meeting. There's always a crowd and everyone supports it."
As the 'local' trainer, Evans is well aware of the added expectation that he might provide one or both of the Mid North Coast representatives in the $500,000 Newhaven Park Country Championships Final by finishing in the top two on Sunday.
So far he's taking it in his stride but says at the end of the day it will be up to Sir Ravanelli (to be ridden by Darryl McLellan) and Par Avion (Jenny Duggan rides) to put their best foot forward and give him his first experience of a runner in that Final at Royal Randwick.
"There's a little bit of extra pressure but we've done as much as we can with the horses,'' he said.
"We'll be trying our hardest to win. We always try to support Tuncurry when it's on, we have a lot of runners and all our owners turn up to support the club.
"It's very even, there are a fair few horses up here that are fairly close. It'll be a good race."
Sir Ravanelli has been a work in progress for Evans.
The grey was purchased with the Country Championships in mind, he cost $90,000 from New Zealand, but it was only just over a year ago when he finally made his debut as a mid-season four-year-old.
Since then he's won four races, including his last start Port Macquarie victory over 1100m, and it's fair to say he's thrown one or two away but Evans is confident he's ready for his biggest test.
"He's grown up a lot since his spell. He went terrific first-up,'' he said.
"He has had a few issues, his feet are soft being a grey horse so we've had to maintain his feet.
"He has bar shoes on because of that, I know everyone doesn't like the idea of having bar shoes on but he's won three out of four with them on.
"He's a nice horse and we're having a lot of fun with him."
The gelding has raced just twice at 1400m, both in TAB Highways, and Evans said in both races he wasn't able to be ridden to best effect and where he finds himself in the run on Sunday will be crucial to his chances.
"He'll go better if he can take a sit,'' he said.
"He hasn't had a lot of opportunity to take a sit, except for the other day. He's always been up on the pace because he's drawn awkwardly."
Par Avion is back for her second shot at a Country Championships Final berth and Evans said there's some unfinished business after she was luckless in the Mid North Coast feature run at Taree in 2022.
The mare resumed in the Queen Of The North (1200m) at Port Macquarie on January 20 and while she only beat one home that day Evans was happy enough to proceed to Tuncurry.
"Because there's not much of her she's an unlucky horse, she can't bullock her way out of any trouble,'' he said.
"She trialled like a bomb at Taree because she had it all her own way.
"A horse came back on top of her (first-up) and she couldn't get clear running in the straight. Digger (Darryl McLellan) rode her that day and said she felt as good as she's ever felt."