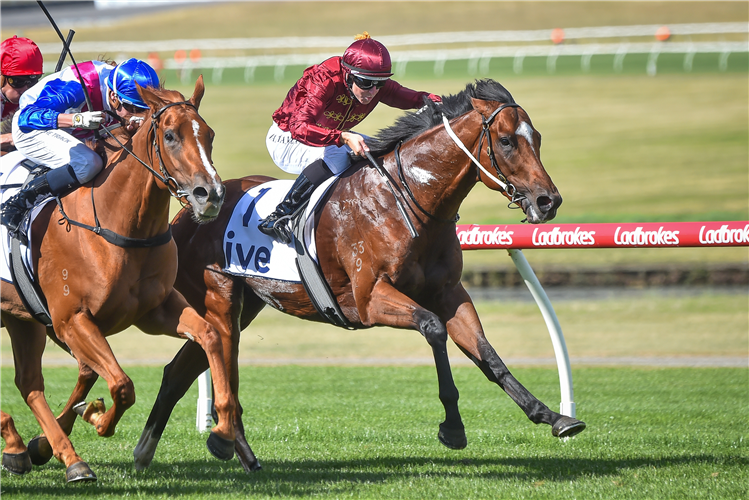 A trip to Sandown for the Mick Price & Michael Kent Jnr pair of I'm Thunderstruck and Jacquinot has rounded out their preparations for the C F Orr Stakes.
The Group 1 race over 1400m on Saturday kicks off Melbourne's Festival Of Racing and the Price and Kent Jnr runners head the market ahead of final acceptances on Wednesday.
While both horses went out onto the track on Tuesday together, they worked separately with their race jockeys on aboard – Damian Lane atop Jacquinot and Jamie Kah on I'm Thunderstruck.
"I'm Thunderstruck had a little target to look at, which was fine," Price said.
"Jacquinot is fit, and it was an opportunity to come out here on this beautiful surface. He had a good gallop, a good day out.
"It was the same for I'm Thunderstruck. He went as straight as a gun barrel. That's a gallop, not race day pressure, but both horses were pretty good."
Price said not every horse handles Sandown, although both his charges have performed well at the course previously.
However, he said it is sometimes a good idea to get away from Cranbourne and get the adrenaline flowing with a float trip and a change of scenery.
Jacquinot enters the Orr Stakes with a fitness edge on his stablemate having won the Group 3 Manfred Stakes (1300m) at Sandown on January 26.
But Price was impressed with I'm Thunderstruck's 1000m trial win at Geelong on January 31.
"Jacquinot is hard fit. I'm Thunderstruck, if he gets up to the end of the race late and peaks a bit, I'll cop it sweet," Price said.
"He's got his four runs, starting here on Saturday. He trialled really well at Geelong and he's going well, had a beautiful prep, but hard, race fitness, I lean towards Jacquinot."
I'm Thunderstruck heads the Orr market at $3.50 ahead of Jacquinot at $4, with Tuvalu, the likely leader in Price's eyes, on the next line at $6.
The final field with barrier draw will be declared on Wednesday.