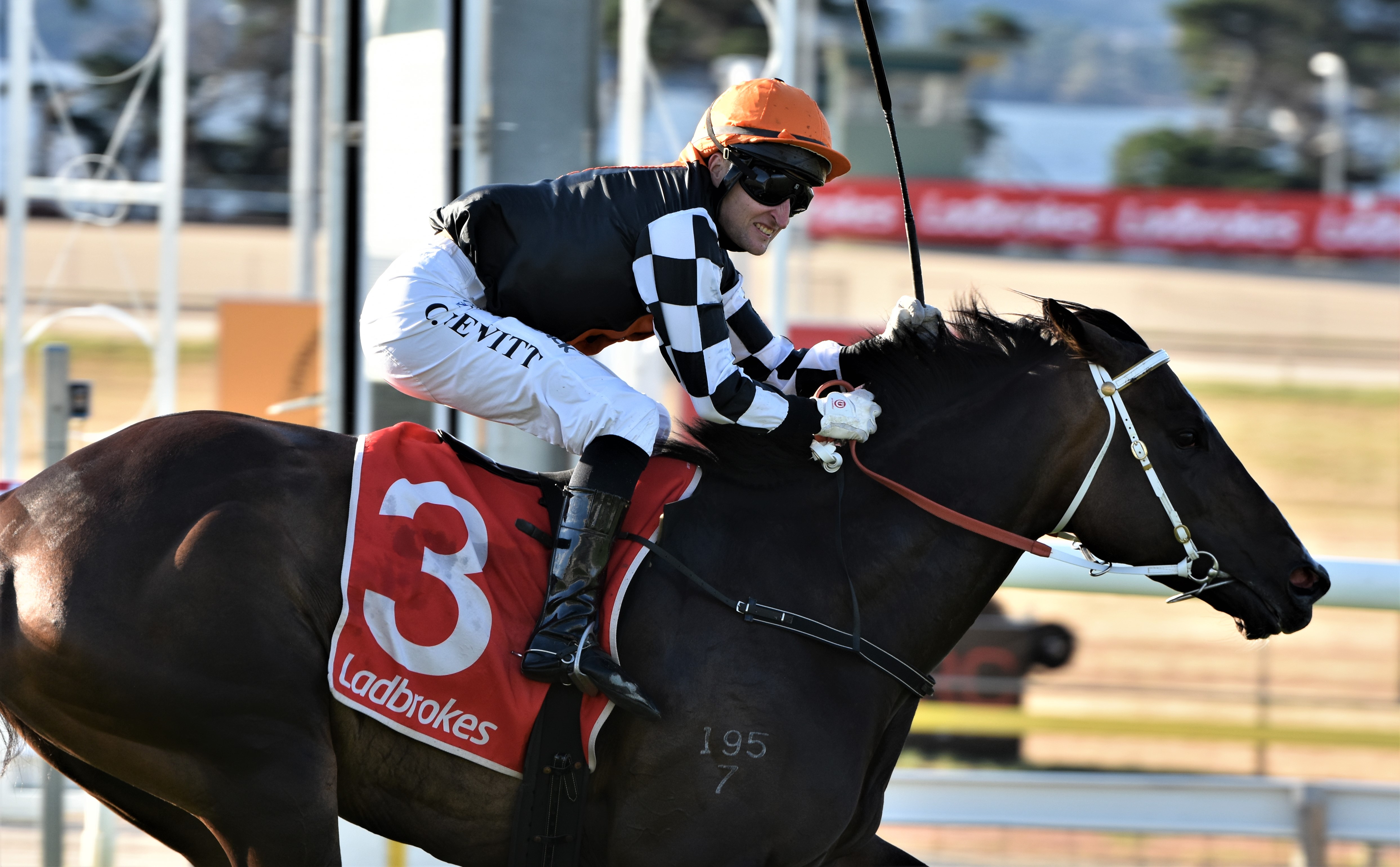 Set for the feature since resuming back in December, co-trainer Coral Feek and Belsielle's large contingent of owners were over the moon following the win.
"It's such a thrill, we are very delighted," Feek said.
"We've had this on the radar all preparation, we wanted to get her some black type and we targeted this race.
"It's just fantastic that she managed to win it."
Ridden patiently by Craig Newitt, Belsielle took full advantage of the strong tempo when storming home down the outside.
"There was a lot more pressure than I anticipated, I thought they might roll along but there was a lot of argy bargy down the back straight, there was a fair bit of interference," Newitt said.
"Instead of being spat out the back, I took my little mare out the back and kept her away from it all and kept her balanced.
"We know she has a really good finish on her and when they bunched up coming to the corner, I was pretty confident I was going to be right in the finish and to her credit she really powered through the line.
The heavily supported favourite, Dance To Dubai did a fair bit of work early but was tame in the straight, beaten just over four lengths.

Kevin Sharkie Bow Mistress (G3)
Sex: FM Type: OPEN
FP
Silk
Horse, Age & Sex
Sire & Dam
Jockey
Trainer
SP
WT

1st

3. BELSIELLE (AUS) 5yo M


BRAZEN BEAU (AUS) - CATHERINE LOUISE (AUS)

CRAIG NEWITT
D & C FEEK
$18
56.5kg
Mancinelli Family, B C Walker, Mrs C M Bloch, G De Goldi, P Chiaravalle, Ms W A Sellers, A Sellers, J M Rourke, Mrs C J Rourke, Mrs L Murphy, S Murphy, M J Rourke, T G Hanton, Mrs L D Fletcher, Ms E Williams, C J Atkins, Mrs L Ede, D N Burgess, Beau River Racing & Chooky Coop

2nd

6. EMBELLER (AUS) 5yo M


SUPER ONE (AUS) - EMBELLISHED (USA)

BLAIKE MCDOUGALL
TOM DABERNIG
$11
56.5kg
J V O'Neill, P N Smith, R A Van Dyke, Ms K J Fayle, M Harris, I M Halliday, E J Long, Ms C L Vincent, Mrs K G Brown, Mrs A Harris, Dr D S Karpin, J Khoury, M C Crampton, G M Harding, Capital Stack Racing (Mgr: E Law) & Falkor Nine (Mgr: Mrs A L Pedersen)

3rd

10. SIRENE STRYKER (AUS) 6yo M


STRYKER (AUS) - PIRATE'S SIRENE (AUS)

DANIEL GANDERTON
MARK GANDERTON
$31
56.5kg
Miss S L Rogers, S A Harding, J R McKenna, W R Pasterfield, L W Cure, G Bentley, D J Moss, D McCarthy, D Muscillo, C A O'Brien, M Bellchambers, J Adams, P Williams, M James, M Challis, Mrs K J Challis, H J Bean, T K Orpwood, M J Stewart & J K W Tyson
4th
9. EMILY (AUS) 4yo M


WORDSMITH (AUS) - ARENZANO (AUS)

ANTHONY DARMANIN
BARRY CAMPBELL
$12
56.5kg
5th
8. MISS TUPPENCE (AUS) 4yo M


CAPITALIST (AUS) - STARLEVIE (AUS)

BRENDON MCCOULL
ADAM TRINDER
$41
56.5kg
6th
2. DUNBRODY POWER (AUS) 7yo M


ALL TOO HARD (AUS) - SHE'S A FOX (AUS)

TROY BAKER
IMOGEN MILLER
$101
56.5kg
7th
7. JAJA CHABOOGIE (AUS) 6yo M


YOUR SONG (AUS) - JAJA (AUS)

DAVID PIRES
JULIE RICHARDS
$51
56.5kg
8th
5. FOR REAL LIFE (AUS) 4yo M


CAPITALIST (AUS) - TYPING (AUS)

DEAN HOLLAND
Leon & Troy Corstens
$16
56.5kg
9th
1. DANCE TO DUBAI (AUS) 5yo M


PRIDE OF DUBAI (AUS) - BRISK (GB)

MS CARLEEN HEFEL
PETER G MOODY
$1.75
56.5kg
9th
12. IN HER STRIDE (AUS) 4yo M


STRATUM STAR (AUS) - DAUNTING (AUS)

ALANA KELLY
JOHN SALANITRI
$26
56.5kg
11th
13. QUEENBOROUGH FLYER (AUS) 4yo M


ALPINE EAGLE (AUS) - SILANDRO (AUS)

SIGRID M CARR
SIGRID CARR
$12
56.5kg
12th
4. RIDUNA (AUS) 4yo M


FASTNET ROCK (AUS) - ALDERNEY (AUS)

JORDAN CHILDS
G WATERHOUSE & A BOTT
$9.5
56.5kg
13th
11. SUMMER FIRE (AUS) 4yo M


RUBICK (AUS) - BON FIRE (AUS)

HARRY COFFEY
ADAM TRINDER
$71
56.5kg