Race Result:
1st: Brave Mead (Ciaron Maher & David Eustace/John Allen) - $1.40 fav
2nd: Ana Jaahza (Ben & J D Hayes/Michael Dee) - $6.50
3rd: Celestial Storm (Robbie Griffiths & Mathew de Kock/Damien Oliver) - $6
Winning Time: 1:12.04 Last 600m: N/A
Margins: 2-3/4L x 3-1/4L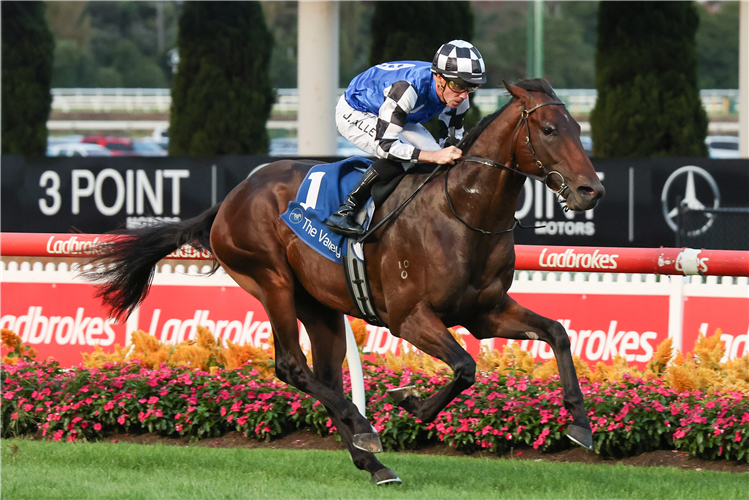 That's in a row for Brave Mead @cmaherracing @JohnnyA_24 pic.twitter.com/vJbUr56ps1

— Racing.com (@Racing) March 24, 2023
Winning Trainer: Ciaron Maher & Dave Eustace (Dave speaking)
"It was good. He jumped well.
"It was a good performance. Great to get a winner for Australian Bloodstock and for Brave Smash.
"His (Brave Smash) record is excellent and we've got a couple of nice ones tucked away for the same camp so he's one to watch for sure."
How talented is this horse?: "To be honest, couldn't really tell you. We were a little bit disappointed first-up where he races a touch green but we haven't had a chance to really test him.
"His racing has been quite thick and fast and he's done a pretty good job running three times in four weeks.
"The team have done a good job to hold him together but he's got a great attitude. He was very well behaved beforehand."
What's next: "I don't know, we'll see. The Sires is in eight days and he didn't do much today.
"He looks like he'll get seven (furlongs), no problems. I'll have a chat to Ciaron and the team."
Can he be an even better 3yo: "Definitely. He's built that way. He's not fully furnished. He's a nice medium-sized horse with a bit of scope.
"He's not just a two-year-old and whatever we're getting from him now he will improve into his three-year-old spring so that is exciting as well."
Winning Jockey: John Allen
"He was fairly professional. He's going to be a nice colt. For a small field we just wanted to keep it simple and when he jumped well I was happy enough to lead.
"He didn't handle the corner all that well and wanted to get off a bit and was having a bit of a look around.
"He's a horse who responds when you ask him to and he did in the straight.
"On paper he looked like the best horse so I tried to keep it simple."
Prospects: "He's a good strong colt. He seemed to hold his condition pretty well and I'm sure if he pulls up well out of tonight's race, that (G1 Sires' in Sydney) could be an option.
"I think he has the ability to go there and be competitive. It'll be a new way of going, the Sydney way, but he's an adaptable horse so I'd be happy to go up and ride him if he does."

FP
Silk
Horse, Age & Sex
Sire & Dam
Jockey
Trainer
SP
WT

1st

1. BRAVE MEAD (AUS) 2yo C


BRAVE SMASH (JPN) - MEAD (AUS)

J ALLEN
CIARON MAHER & DAVID EUSTACE
$1.4
58kg
Australian Bloodstock, J G Compton, J D Hinton, T J Pender, C J Meade, J M Carter, Nellies, L A Pearsau, D I Hollyman, J A Chatillon, M M Johnson, R Fairhall, B A Hoban, J Aitken, Carmonside Racing, A J Araujo, M Morgan, B P Scott, Watsy Nth Bowls Club & D J Knupkis

2nd

6. ANA JAAHZA (AUS) 2yo F


BETTER THAN READY (AUS) - MERIROSVO (USA)

MICHAEL DEE
BEN & JD HAYES
$6.5
56kg
Emirates Park (Mgr: N A H Lootah)

3rd

7. CELESTIAL STORM (AUS) 2yo F


ZOUSTAR (AUS) - SEBRING DREAM (AUS)

DAMIEN OLIVER
R GRIFFITHS & M DE KOCK
$6
56kg
M F De Kock, L M Nestadt, G Barber, L P Ralphs, Widden Stud Pty Ltd (Mgr: A W Thompson), Ms M A Butler, P T Blair, S Mekertichian, Dr S A Watts, Mrs D Watts, Mrs A McDonnell & C T Burgess
4th
9. MOCHI (AUS) 2yo F


MORE THAN READY (USA) - MUSCOVADO (AUS)

OPIE BOSSON
EMMA-LEE & DAVID BROWNE
$41
56kg
5th
8. MANHATTAN BABY (AUS) 2yo F


MIKKI ISLE (JPN) - MADDISON AVENUE (AUS)

TIM CLARK
MARC CONNERS
$14
56kg