Race Result:
1st: Cap De Joie (Blake Shinn/Nick Ryan) - $2.70F
2nd: Aspen Colorado (Damien Oliver/Lindsey Smith) - $14
3rd: Soaring Eagle (Ben Melham/Anthony & Sam Freedman) - $8
Winning Time: 1:37.09 Last 600m: N/A
Margins: 1-3/4L x 4-1/2L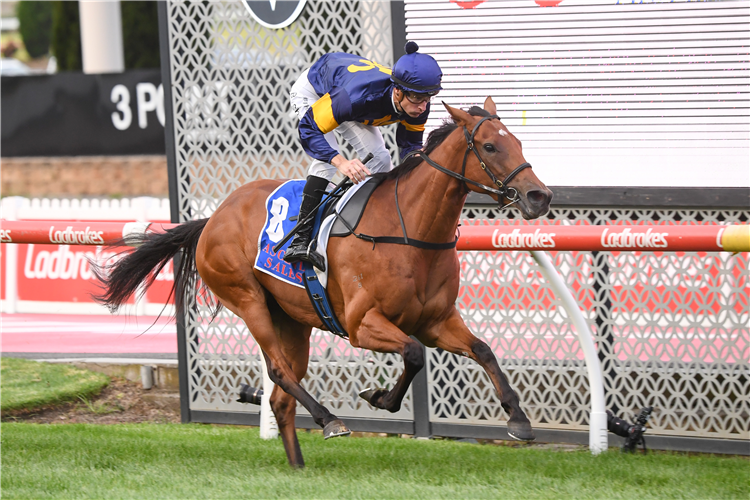 Cap De Joie kicks the night off for the punters with a comfortable victory @nryanracing @blake_shinn pic.twitter.com/ijy6BWoVYc

— Racing.com (@Racing) March 24, 2023
Winning Trainer: Nick Ryan
"We've had a very high opinion of her from her first prep in Australia and, geez, she was impressive.
"Blake rode her very confidently and she's just got s scintillating turn-of-foot and I just can't wait to get her out in trip and get her into some better races.
"We've got plans for her but it is good to see her come here and do that.
"She's been a work-in-progress and we took our time once she got off the plane from Ireland. We've really looked after her and they say if you have the patience you'll get rewarded and she's rewarding us."
"She's a longer term prospect. We're going to sit down and have a think about it but she's won a benchmark 70 tonight but obviously we know how good she is.
"Her mother had her first start over 2000 metres or something like that but getting her out in trip is something and I think she's going to enjoy getting her toe in the ground.
"She's going to be a very good mare."
Winning Jockey: Blake Shinn
"I think she's one of the more exciting horses to come into his yard. She's just a very good horse in the making.
"A great turn-of-foot and I think she'll stay and has returned a bit better than last prep and it is great to see her put them away second-up here tonight."
On the run: "She wasn't really traveling much throughout the run and I know the pace suited me but some horses you like them to come underneath you and she is one that sort of idles off the bridle.
"When they bunched down the side and I thought it's time to take advantage of that and stoke her up.
"And we know that she's got a bit of stamina on her side so we got around them on the turn, cut the corner a little bit but she did a good job. She was strong to the line."

FP
Silk
Horse, Age & Sex
Sire & Dam
Jockey
Trainer
SP
WT

1st

8. CAP DE JOIE (GB) 4yo F


FARHH (GB) - CAPE ROSIE (GB)

BLAKE SHINN
NICK RYAN
$2.7
58.5kg
Mrs J Love, H M Giles, B D Fitzgerald, Y K Ip, G J Minton, B I Poynter, Get The Picture (Mgr: M J Ryan), R Smykowsky, Blooders in Arms (Mgr: A T Mitchell), N W H Windsor, L K Cunningham, P Evans, P J Fitzgerald, D J Minton, J Minton, S Minton, S M Roberts, P W Waters & P A Young, Banksia Punters

2nd

2. ASPEN COLORADO (GER) 5yo G


SEA THE MOON (GER) - ASPEN ROYAL (GER)

DAMIEN OLIVER
LINDSEY SMITH
$14
60.5kg
Aspen's Crew, Distinct Racing And Breeding P/L, Gurners Bloodstock Co, J Bell, J Bahen, Princeton Tbred Stud, S Farrell, TC Thoroughbreds, C Hosie, B Cobanoglu, K Matthews, Let It Ride Collaboration, A Schultz, R Amaral, Miss D Patton, D Syme, D Cicciarelli, J Bennett-Hullin, T Tonkin & C Simpson

3rd

10. SOARING EAGLE (AUS) 7yo M


UNENCUMBERED (AUS) - WINGS OF SUCCESS (AUS)

MARK ZAHRA
DAVID BRIDEOAKE & MATT JENKINS
$8
58kg
T Scales, Ms B Patterson, D Juratowitch, Mrs S Juratowitch, M Lewis, B Cox, S Major, S Lewin, Mrs N Lewin, A Charles, R Lee, M Tsang, J Robinson, S Street, C Mcmanamny & M Rollo
4th
5. PIAGGIO (NZ) 5yo G


VESPA (NZ) - SAND'IOR (NZ)

SHERIDAN CLARKE
GREG EURELL
$7.5
56.5kg
5th
6. RHINOCEROS (NZ) 4yo G


VADAMOS (FR) - HOT IN PINK (NZ)

OPIE BOSSON
EMMA-LEE & DAVID BROWNE
$10
59.5kg
6th
9. SET TO PROPHET (AUS) 4yo G


EXTREME CHOICE (AUS) - SET TO SKELTER (AUS)

BEN MELHAM
A & S FREEDMAN
$10
58.5kg
7th
1. CEASAR (NZ) 4yo G


PROISIR (AUS) - ELEHARA (NZ)

LAURA LAFFERTY
MICHAEL MORONEY
$5
58.5kg
8th
3. EAST INDIAMAN (AUS) 7yo G


HINCHINBROOK (AUS) - DASHIE DIVA (AUS)

CAMPBELL RAWILLER
DARREN MCLEOD
$26
59kg
9th
7. SHARPER (AUS) 4yo G


ALL TOO HARD (AUS) - GYPSY WHISPER (AUS)

DANIEL MOOR
MICHAEL TEMPLETON
$31
59kg
10th
4. CERBERUS (AUS) 4yo G


DUNDEEL (NZ) - SCARLET MORETTA (AUS)

AMY HERRMANN
MICHAEL CORNISH & DONNA GASKIN
$61
60kg