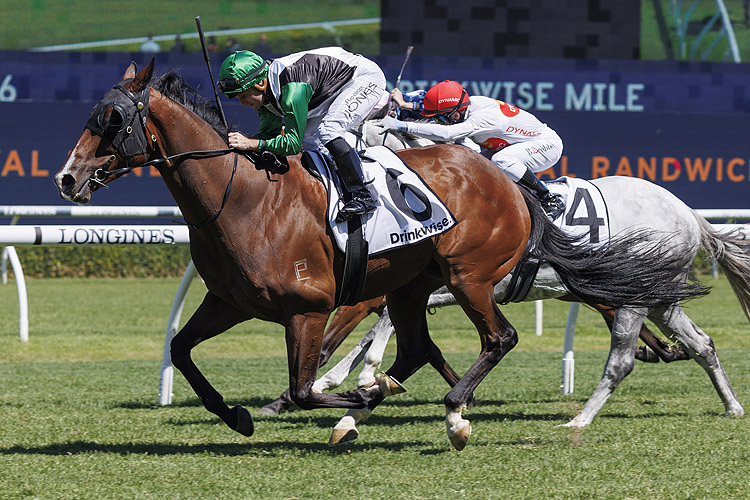 Banju has surprised trainer Lyle Chandler once this campaign and he is hoping the gelding can do it again by equalling a modern-day weight-carrying record in the Scone Cup.
Chandler set his sights on his hometown feature after Banju's fighting second to King Frankel in the Listed Parramatta Cup (1900m) in February, freshening him up before sending him to last month's Tamworth Cup (1400m) as a stepping stone to Scone.
He expected Banju to find the 1400m short of his best distance but the horse proved too classy for his opposition, the victory qualifying him for the Big Dance in November while also attracting the attention of handicappers.
He will now carry 57.5kg in Friday's showpiece with Speediness (2013) and Newton's Rings (2008) the only horses in the past 17 years to have won with similar imposts.
"He was ready for the Tamworth Cup but he did surprise me because I thought at the 1400 he might be vulnerable," Chandler said.
"Looking back at the history (of the Scone Cup) from the last seventeen or eighteen years, only two horses have carried 57-1/2 (kilos) to win and no-one has carried more than that, so obviously he's got a fair bit of weight.
"But if any horse can carry weight, I think he can."
Banju has been a lesson in patience and perseverance, taking seven starts to break his maiden at Quirindi then rising from Highway Handicap grade to become a consistent Saturday metropolitan and stakes-class performer.
Chandler puts that down to maturity and the addition of blinkers 18 months ago, the six-year-old now the winner of eight of his 25 starts and more than $577,000 in stakes.
Win, lose or draw at Scone, Banju will go for a well-earned spell off the back of an outstanding campaign, but Chandler has a couple of extra incentives to hope the horse can peak one more time.
"It would be pretty special. The ownership group are long-time friends of mine, I met their son over in the UK and he actually encouraged me to come over to Australia," Chandler said.
"They've been running an agistment property where Banju was born and bred for nearly 20 years so it would mean a lot to them and it would mean a lot to me to provide that opportunity.
"My parents are in town as well. I haven't seen them for seven years so it would be nice if they could share a big race success with us."

FP
Silk
Horse, Age & Sex
Sire & Dam
Jockey
Trainer
SP
WT

1st

12. COMMANDO HUNT (AUS) 5yo G


TIME FOR WAR (AUS) - MISASIO (AUS)

JEFF PENZA
CAMERON CROCKETT
$19
54kg
D M Kennedy, B A Rutter & Whitby Bloodstock Pty Ltd (Mgr: M J Whitby)

2nd

4. LUNCIES (GB) 6yo G


IFFRAAJ (GB) - UNDER THE RAINBOW (GB)

DYLAN GIBBONS
KRIS LEES
$8.5
57kg
R & C Legh Racing Pty Ltd, L Petagna, B & C Thoroughbreds Pty Ltd, Divor, MJM Racing, E J Lucas, Gurners Bloodstock Co), W W Guest, R J Date, M F Clemenger, M K Evers, Mrs K D Evers, M E McKeough, E W Kochmanz, P Filipovic & G Thiele

3rd

16. ACQUITTED (IRE) 6yo G


NIGHT OF THUNDER (IRE) - BLAMELESS (IRE)

JASON COLLETT
KRIS LEES
$9
54.5kg
Australian Bloodstock(Mgr: L G Murrell),J Noblett,N Noblett,Power Thoroughbreds(Mgr: W Power),D L Forward, M J Newton,Terrigal Racing Club,The Cooler,J Lunn,T A Allen,T P Johns,P M Kable,M J Carter,R G Le Brasse,G J P Van Ameyden,J B Hart,R E N D R Racing,About Time,B D Farrelly&Acquitted.
4th
10. CISCO BAY (AUS) 8yo G


SO YOU THINK (NZ) - IMAGINING (AUS)

ROBBIE DOLAN
G RYAN & S ALEXIOU
$21
54kg
5th
11. SUPERIUM (AUS) 6yo G


VERRAZANO (USA) - ROSIE'S HALO (AUS)

BEN LOOKER
M, W & J HAWKES
$61
54kg
6th
14. REBEL RAMA (AUS) 5yo M


DISSIDENT (AUS) - MOSSARAMA (AUS)

MIKAYLA WEIR
MARC CONNERS
$151
54kg
7th
15. WILD CHAP (AUS) 6yo G


TORONADO (IRE) - PIPKIN (AUS)

JEAN VAN OVERMEIRE
B M LAZZARINI
$51
54kg
8th
20. BOLD MAC (NZ) 5yo G


THE BOLD ONE (NZ) - MRS MAC (NZ)

REGAN BAYLISS
CHRIS WALLER
$5.5
54kg
9th
3. BANJU (AUS) 6yo G


BENFICA (AUS) - OVERLOOKED (AUS)

AARON BULLOCK
LYLE CHANDLER
$3.5
57.5kg
10th
2. BERDIBEK (FR) 9yo G


DARK ANGEL (IRE) - BERAVIYNA (IRE)

TYLER SCHILLER
JOHN O'SHEA
$26
58kg
11th
6. JOJO WAS A MAN (AUS) 5yo G


AL MAHER (AUS) - JO JO GIRL (AUS)

REECE JONES
JOHN P THOMPSON
$5.5
56.5kg
12th
13. HASABRO (NZ) 7yo G


SAVABEEL (AUS) - HALLOWEEN (AUS)

HEAVELON VAN DER HOVEN
ANNABEL NEASHAM
$151
54kg
13th
18. CRIADERAS (AUS) 6yo G


LONHRO (AUS) - YOUTHFUL PRESENCE (AUS)

RACHEL KING
CODY MORGAN
$91
54kg
14th
5. BARTHOLOMEU DIAS (GB) 8yo G


MOUNT NELSON (GB) - LADY FRANCESCA (GB)

CHAD SCHOFIELD
ANNABEL NEASHAM
$31
56.5kg
15th
19. LIGULATE (AUS) 7yo G


DOMESDAY (AUS) - FLORETS (AUS)

JAY FORD
CODY MORGAN
$151
54kg
16th
7. ALEAS (GB) 5yo G


ARCHIPENKO (USA) - ALEA IACTA (GB)

BRETT PREBBLE
CHRIS WALLER
$10
55kg