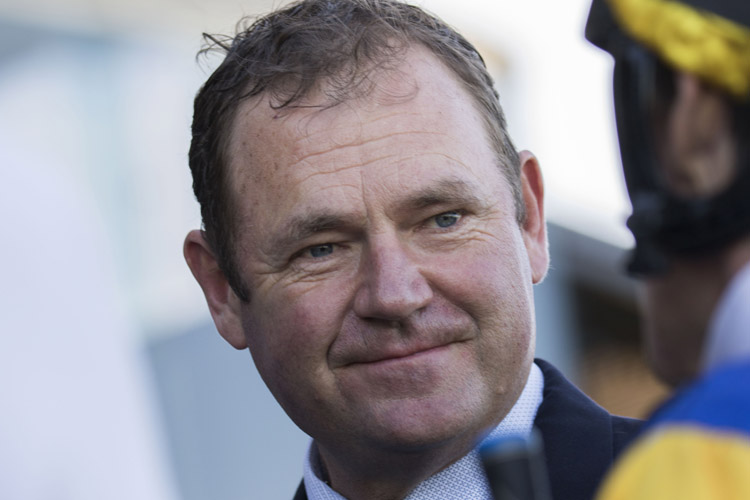 After missing out on a start in his hometown Scone Cup, rejuvenated gelding High Court will head to Rosehill in search of a consolation win.
Trainer Rod Northam was hoping to get the in-form seven-year-old into last week's Listed race but with a Big Dance qualification on offer, the feature attracted plenty of interest and High Court didn't make the cut.
It was almost the same scenario a start earlier in the Tamworth Cup (1400m) before High Court snuck into the field, holding off all but the stakes placed Banju to finish a fine second.
Thankfully, Northam had no such issues this weekend and High Court will take his place in Saturday's Precise Air Handicap (1500m) at Rosehill where he will bid to take his win record into double-figures.
"Going into the Tamworth Cup we were an emergency and lucky to get a run," Northam said.
"He just missed out on a run in the Scone Cup and I was very keen on him there.
"But the extra week shouldn't worry him and neither should Rosehill."
High Court only came to Northam last year but has proven a handy acquisition, managing a top-three finish in five of his eight runs for the stable.
He hasn't missed a place since his blinkers came off in February and Northam says the horse still has a great zest for racing despite rising eight.
"Jeff (Englebrecht) did a really good job with him, he is a lovely, sound old horse," Northam said.
"He's got his vigour for racing still and every start he has really put in."
The trainer is also keen to see how three-year-old Hammoon Thunder handles his first metropolitan test in The Agency Real Estate Handicap (2000m) after a solid second against the older horses at Newcastle two starts ago and last-start second to Saturday's rival Four O'Clock Knock at Mudgee.
"I really like him. He's a work in progress and still six to twelve months off but he's a real staying-type horse," Northam said.
"He raced really well last start and just got beaten by one of Bjorn (Baker's) at Mudgee. From the wide gate he got caught wide early and had to do a bit of work so he was vulnerable late.
"I thought he was worth a shot in a three-year-old race."
Overextend and Hiraishin round out Northam's Rosehill team in the Highway Handicap (1200m), the trainer shooting for back-to-back wins after claiming the corresponding race with Steplee last weekend.

FP
Silk
Horse, Age & Sex
Sire & Dam
Jockey
Trainer
SP
WT

1st

6. COTEHELE (NZ) 4yo G


TAVISTOCK (NZ) - BEQUESTS (NZ)

TOM SHERRY
JOHN O'SHEA
$6.5
59kg
Finemore Thoroughbreds (Mgr: R S Finemore), Mystery Downs (Mgr: F W Cook), Mrs C M Cook, C E Holt, M Angelos, L Ellas, S J Young, P Lucas & A Harmanis

2nd

16. KAYOBI (AUS) 4yo G


MAURICE (JPN) - MARDI (AUS)

JAY FORD
SAM KAVANAGH
$5
55.5kg
Ms K A Fawcett, Mrs J A Canceri, R S Canceri, Kayobi, G W Chesher, A J Curran, Black Type Bloodstock, M R Washbourne, J L C Lelay, Mrs L M Lelay, L J Sewell, B W Felsman, C J Gibbons, L Szancer, S A Baker, B.J & A.K Paterson, C Walsh, T Green, R B Grofos & Thoroughbred Girls No. 1

3rd

22. BAZOOKA (AUS) 5yo G


SMART MISSILE (AUS) - VALERINA (AUS)

MIKAYLA WEIR
DAVID PAYNE
$26
54.5kg
J Yianni, Mrs S Aldridge, G W Aldridge, A Donald, A Melching, S Loane, W Shelton, Mrs S Shelton, Miss A Shelton, P Griffin, A Mitchell, A Gessel, S Evans, Mrs K Hall, D Hall, M Williams & D & M Payne Racing (Mgr: D Payne)
4th
19. TONY BE (AUS) 5yo G


MORE THAN READY (USA) - MISS PORTOFINO (AUS)

DYLAN GIBBONS
CHRIS WALLER
$7
54kg
5th
13. DEFICIT (AUS) 4yo G


SNITZEL (AUS) - TAQASEEM (AUS)

REECE JONES
G RYAN & S ALEXIOU
$12
54.5kg
6th
21. ATTRACTABLE (AUS) 4yo G


I AM INVINCIBLE (AUS) - AFFABLE (AUS)

JENNY DUGGAN
SARA RYAN
$20
55kg
7th
15. WELSH LEGEND (AUS) 7yo M


CAMELOT (GB) - ONETHINGATATIME (AUS)

JEAN VAN OVERMEIRE
R & L PRICE
$81
55.5kg
8th
11. NIFFLER (NZ) 5yo M


TAVISTOCK (NZ) - GLAMOROUS GIRL (NZ)

LEE MAGORRIAN
CHRIS WALLER
$15
56.5kg
9th
23. DANISH PRINCE (AUS) 4yo G


DANE SHADOW (AUS) - CROWN MOSS (AUS)

RACHEL KING
MARC CONNERS
$26
54.5kg
10th
18. VERONA (NZ) 4yo M


BELARDO (IRE) - SPAMALOT (NZ)

TYLER SCHILLER
CIARON MAHER & DAVID EUSTACE
$151
55kg
11th
17. PODIUM QUEEN (NZ) 4yo M


OCEAN PARK (NZ) - QUEST FOR QUALITY (AUS)

BRETT PREBBLE
CHRIS WALLER
$26
55kg
12th
12. SUBSTANTIAL (GB) 5yo G


SIYOUNI (FR) - SENTARIL (GB)

CHAD SCHOFIELD
PETER & PAUL SNOWDEN
$3.9
56.5kg
13th
9. FUN FACT (AUS) 7yo G


THE FACTOR (USA) - FILL THE PAGE (AUS)

BRANDON LERENA
BJORN BAKER
$101
57kg
14th
8. HIGH COURT (AUS) 7yo G


STAR WITNESS (AUS) - VENASSAS JIG (USA)

GRANT BUCKLEY
RODNEY NORTHAM
$26
58kg
15th
3. HANDLE THE TRUTH (AUS) 7yo G


STAR WITNESS (AUS) - ASSERTIVELY (AUS)

ROBBIE DOLAN
KEITH DRYDEN
$41
59.5kg
16th
1. KISS THE BRIDE (NZ) 7yo G


SAVABEEL (AUS) - I DO (NZ)

JASPER FRANKLIN
BJORN BAKER
$61
58kg
17th
10. HARROW (IRE) 4yo G


EL KABEIR (USA) - SCHOOL RUN (IRE)

REGAN BAYLISS
ANNABEL NEASHAM
$41
57kg
18th
14. MACH SCHNELL (NZ) 6yo G


ZACINTO (GB) - ANYA (NZ)

ALYSHA COLLETT
JOSEPH PRIDE
$81
56kg