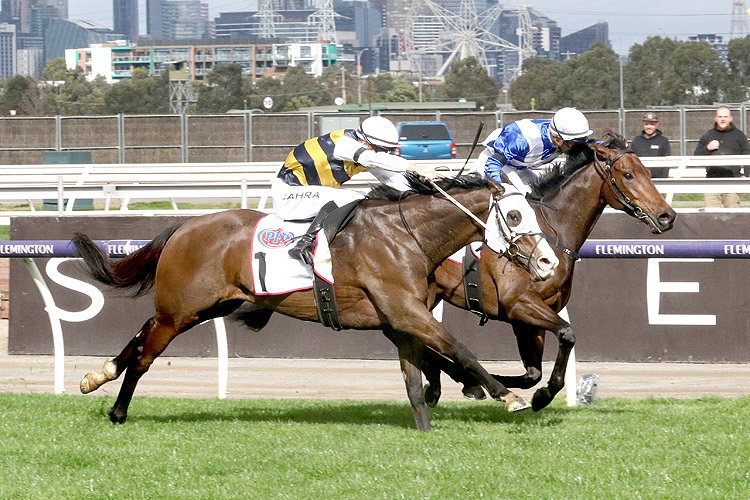 That crescendo takes place as the Underwood Stakes, a Group One contest on a racecourse made for horse racing.
Sandown is unlikely to draw the who's who of the ran-fourth-in-the-latest-season-of marquee set but it does it does draw 141 acceptors for a deep and interesting betting card.
Only half-a-dozen of those 141 are in the feature but it is no less deep or interesting for being select. As a side, one of the knock-on positive effects of Underwood being at Sandown is that it isn't at Caulfield which gives the upcoming Might And Power a more distinct look - something many 'Group Ones' could be accused of lacking.
The Underwood is an true top-line contest and a meaningful one. Four of the six can be considered among the top ten racehorses in Australia and would hold those positions with little dispute.
Ranked by Racing and Sports ratings, Nature Strip is the clear-cut king of the Australian turf right now. He is followed by Anamoe - the prince of middle distances. Then comes the Underwood. Third, fifth, sixth and tenth line up as I'm Thunderstruck, Zaaki, Alligator Blood and Mr Brightside.
So, as Anamoe ices up following his George Main win, the challengers to his principality step out on Sandown looking to set themselves up as the next in line.
It is of keen interest that the early betting ranks things slightly differently. Zaaki, who won this in smooth style 12 months ago, was just as good winning the Tramway in preparation for his latest tilt and comes up favourite on the back of that.
Of interest but not of surprise. Zaaki has beaten I'm Thunderstruck in both meetings to date and his Tramway win says he is not slowing down - but Thunder's Makybe Diva win suggested he might be speeding up.
Add to that, the All Star Mile was hardly decisive. Thunderstruck was closing Zaaki down late with the winner having had the run of things at the head of a soft pace.
Mr Brightside was perhaps the most sectionally appealing runner in that All Star Mile and has gone on to prove himself better than the result since. He is respected and so is Alligator Blood but it is I'm Thunderstruck who is taken as the bet, his chance to stalk Zaaki an appealing one and a gamble worth taking.
The two races that follow, the Sandown Stakes and the Testa Rossa, also provide terrific contests both on the track and in the betting ring but the each way play comes up earlier on the card where the fourth race looks to take on the role of Carbine Club lead up - for those who may have fancied a shot at the Guineas but just didn't get their act together in time.
Counttheheadlights can fill that role, kicking his spring off a bit later than connections might have hoped but still with the profile of one that could be much better than what he has thrown up to date.
What he has thrown up has been useful. He beat a handy filly in decent style on debut and was good enough to be sent around hard in the betting in a Diamond Prelude on the back of that.
Thereafter a top yard opted to campaign him like a top horse. The Blue Diamond, the ATC Sires and The Champagne rounded out his season; shaping well from poor positions in the first two and pulling up lame in the last.
It is easy to think that none of what we have seen from Counttheheadlights has been his best work. How he was campaigned is a hint to that and even so the ratings he has produced mark him down as one good enough to win a race that is obviously a step back on recent tests. There doesn't look a lot on offer here and scratchings thin things out further.
There are three down and there are probably a couple more to go with Foujita San and Muramasa lining up in the Stutt Stakes tonight, so the $16.00 on offer to backers of Counttheheadlights is going to be less lucrative than it appears, but he still has the makings of an each way play and one we are happy to chance.
THE MELBOURNE MAIL
Bet Of The Day: Race 7 #2 I'm Thunderstruck @ $2.90
Each Way Play: Race 4 #2 Counttheheadlights at let's say $9.00