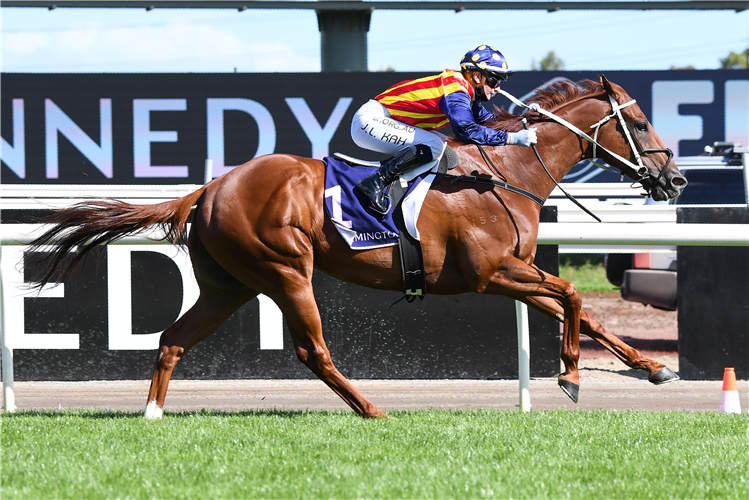 The Nature Strip tale began four trainers ago in 2017 with a winning debut and a rating of 99p after two starts. Nature Strip has not dipped below a rating of 100 in 39 starts since.
For comparison; Winx posted a rating higher than 100 on 41 occasions, finishing her career with 37 in a row after a 98-rated Light Fingers flop.
For absolutely ridiculous comparinson; Black Caviar ran 25 times and never posted a rating shy of 115 and was 122 or better in her last 21 starts. Good grief - even her failures were fabulous.
Nature Strip began his career in the Winx era. Winx was the highest rated horse in Australia for five years until departing in 2019 - the year Nature Strip first hit the 130 mark and the year that he first won at the highest level.
He has been the highest rated horse in Australia in every year since, winning at the top level for four years on the bounce, and goes to Flemington on Saturday looking to match Winx on that score with Group Ones across five consecutive years.
Takeover Target won Group Ones all around the world in five seperate years but he had a miss in the middle so Nature Strip can better his consectutive record along with others who won across four such as More Joyous and Black Caviar.
Black Caviar posted ratings of 130 or better on 11 (yes 11...) occasions. Nature Strip can only boast to have done that five times but on that score he stands clear of any sprinter in the modern era.
Lankan Rupee hit 130 but his time at the top was fleeting, winning at the top level across two years and really only getting going for two months between February and April in 2014. Hay List was as good and won Group Ones across three years, as did Chautaqua, who has also won the TJ Smith three times, but his peak ratings were never quite a match for Nature.
Nature himself wasn't a match for his peaks in his three-run spring cameo but even without his best he put up three ratings that would make him the best chance of winning on Saturday and setting series seven of Nature Strip off on the right foot. The best chance, but perhaps not a better chance than betting around even money suggests.
Ode to Nature Strip aside, this is a betting blog and in that light even money is easy enough to pass over - the early market for the Lightning is a tough one to crack.
We go from the established to the emerging. The Vanity and The Hayes for the three-year-old fillies and colts respectively highlight the undercard and the relative lack of information makes for more unknowns and unlocks some betting interest.
The fillies are headed up by Adelaide visitor See You In Heaven who comes via a path not yet travelled, the first to take in the Durbridge as a prep for the Vanity. She is not the first to pitch up here via the Sandown Guineas though; six having taken that path this century for a second and two winners, those winners at four times the rate of chance.
See You In Heaven has a Timeform rating in line with the modern winning average for the Vanity and has been able to produce that rating in both of her latest two runs; first winning the Sandown Guineas and then when second back at 1100m last time.
That she was able to run her race back at 1100m is a big hint that more is to come. Her rating improved sharply second, third and then fourth up last prep, looking much more at home when getting to 1400m and a mile.
There are others with ratings to match and others with promise to match but none with the combination of the two that look as well suited to this task as See You In Heaven and early prices around $3.75 offer up good value for money when all that is considered.
Elliptical is interesting in a similar spot to See You In Heaven but is not quite as appealing and the Hayes is left alone as an each-way option with preference for the race prior where the betting is headed by Annavisto.
Annavisto put up a blistering performance to win this race last year (albeit on a different weekend) before running second in a Group One and starting favourite in another but the early betting hardly misses here and she is off a longer break this time.
Her fresh record is noted but so is the fresh record of Excelida, particularly when viewed alongside her form second up which shows her as one that can be expected to do much better this time than last.
Excelida was among those blown off the park by Annavisto here last year, and she was plain first up (hardly a ringing endorsement!) but that was a wishy washy race and Excelida left her blinkers in the sheds.
She takes the blinkers, and Damien Oliver, with her this time and her second up Rose Of Kingston win at this course and distance in the spring, alongside her Empire Rose third, highlight the great chance she holds on a going day.
Let's hope she has one on Saturday.
THE MELBOURNE MAIL
Bet Of The Day: Race 2 #1 See You In Heaven @ $3.75
Each Way Play: Race 5 #3 Excelida @ $8.50