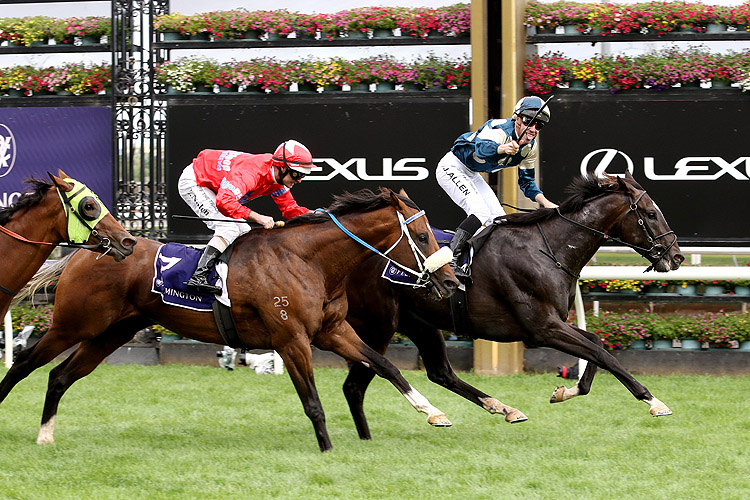 "It's the same thing every day. Clean up your room, stand up straight, pick up your feet, take it like a man, be nice to your sister, don't mix beer and wine ever, Oh yeah, don't drive on the railroad tracks." – Phil Connors (Groundhog Day)
It can feel like there is a Guineas every day in Australia. We're mad for them. Races run in honour of Newmarket's famous spring classic over the Rowley Mile are run across the seasons, over different distances, and some are far from classics...
But two, under identical conditions, just 20 minutes apart, is a wild one - even for us.
We hear of the need to 'engage a new generation' as if that new generation is of a difference species but, the truth is, human beings today (despite their Tik Tok shows, Pacman video games and hula hoops) thrive on what human beings have always thrived on - competition.
And so it is competition that racing should look to give its fans and potential fans. Two races for the same pool of horses on the same day flies in the face of that somewhat; though it is worth noting that only 14 have run in both this century when the option has been there and this is far from the worst example of anti-competitive programming on the calendar. The Australian Cup and the Tancred are on the same day this year. As are the All Star Mile and the Ryder...
What is more of an affront is the obsession with having Guineas after Guineas after Guineas. The Australian Guineas should, nay must, be renamed the Mahogany Classic. The Randwick Guineas the Octagonal and the Rosehill Guineas the Veandercross. Preferably by Saturday morning.
But we have digressed (unusual for the Melbourne Mail...) and this is a tipping blog so back to the action that awaits us.
The Australian Guineas has a bit of a straightforward look about it, and finding a 'best' there is no easy task. Jacquinot holds the aces but not the odds to make him hugely appealing and the dangers line up in reasonable order behind.
The one little edge in the race can be Jacquinot's stablemate Amenable who shaped best of all in the Autumn Stakes in what was yet another race in which he hasn't had a great chance to show himself off.
As it stands, Amenable is not in the same ballpark as his stablemate, but he is useful and potentially much better than that. We don't have to forecast an amazing departure from prior form to make him good value for money at $14.00.
Uncle Bryn will require a big departure from his last-start rating if he is to win the Blamey Stakes but his best efforts in the spring - notably his win in the Cranbourne Cup - show him capable of getting into the shake up with Tuvalu and Gentleman Roy and prices around $9.00 look big enough to stamp him our bet of the day.
Tuvalu was not far enough off his best fresh in the Orr to raise an alarm, but he was far enough below to raise an eyebrow, while Gentleman Roy, who all but won that race, has had a little setback since. That itself might be simply background noise but when the price (loosely 2/1 in early markets) is already short of what you want it is something to cling to as you grit your teeth to bet against a horse as good as Roy.
THE MELBOURNE MAIL
Bet Of The Day: Race 8 #7 Uncle Bryn @ $9.00
Each Way Play: Race 7 #8 Amenable @ $14.00