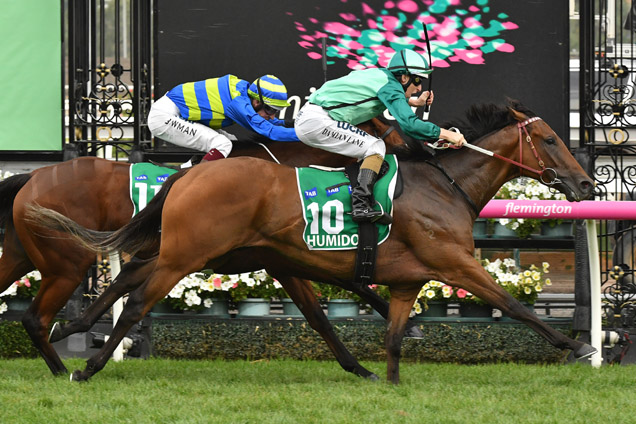 It would be taking liberties to call this a strong Australian Cup or even a strong Group One. In fact, we have to go back as far as 2006 to find an Australian Cup where the field had a lower average Timeform rating than the 115 that the 2023 edition throws up.
In 2006 the 120-rated Lad Of The Manor headed a field that was rated 114 on average. The Lad ran below form and a rating of 115 was enough to see Roman Arch home at 50/1 over the 20/1 shot Candy Vale.
Is that a portent to 2023? It seems doubtful. For all that this year's edition is lacking a bit of depth at the top-end, those at the head of the ratings and betting seem strong enough to focus most of our energy on them and it is the betting where this race really shines - ultimately, that your winners return ratings of 118 or 125 makes little difference so long as they are winners.
Cascadian heads both betting and ratings as the six-time Group winner turns out quickly from a big All Star Mile run at the Valley last week.
Three of his six Group wins in Australia have come in the 12 months since his fifth place in this race last year and, as his run last week again confirmed, he is as good now as he has ever been.
Somewhat remarkably, that fifth is one of just three times we have seen Cascadian at 2000m. He has since won the Hill Stakes in fast time and he was second, again on the quick turnaround from a mile, in the 2021 Mackinnon.
Three other runs beyond a mile have seen him win the Peter Young, the Craven Plate and finish fourth, having been left hopelessly placed, in the Northerly over in Perth - looking value for at least second and perhaps an unlucky loser.
That leaves Cascadian with a strong profile and he must have a great chance on Saturday. But this game is not about picking winners, it is about getting value for money, and there might be a bit more of that to be had in Mo'Unga at early prices given that he too could claim to have a strong profile for race such as this one.
Where Mo'unga's profile takes a knock is in the wins column, having slipped out to 15 runs without chalking one up there, but in that span he has been consistent if nothing else. Just twice has he dipped below a rating of 115 in that time - both in 1400m races which didn't set up for him at all.
One of those being the All Aged behind none other than Cascadian who leads their head-to-head 4-2 but Mo'unga won their most recent and typically little has split them - as is the case on peak rating.
They were second and third, Cascadian finishing best, in the 2021 Mackinnon here when send off 11-2 Mo'unga and 25-1 Cascadian. Those odds don't really have a great deal to do with things on Saturday where it is fair that Cascadian goes off favourite, but that little splits them is of note and Mo'unga's ratings at 2000m over the course of his losing streak (116-116-118-120-119-114) stand up well against Cascadian's.
If we put that array of 2000m ratings into a Monte Carlo simulation alonside Cascadian's 2000m ratings the results come out roughly 60/40 against Mo'unga. Early betting, which generally goes $3.50 v $8.00, is more like 70/30.
Now this is getting a little bit cute with things, but it hints at where the edges in the betting may lay.
The race hardly finishes in two. Nonconformist posted a rating of 119 in a fast Blamey first up and has run right up around that level in recent 2000m attempts.
Smokin' Romans stole it but he did win a Turnbull here and his stablemates Right You Are and Steinem won key lead-ups in fast times. All of those seem sure to go well and hence the betting will be as competitive as the racing but it is Mo'unga each-way that will do for these pages.
Our best is also over the Flemington 2000m,the handicap that goes as race three throwing up an appealing option in the form of Kettle Hill.
Summerbeel, blown off the park at the Valley last week, heads early betting and the combination of her in-form stable and upside makes her a touch frightening but ultimately she has ground to make up on Kettle Hill's last start and he may just improve for the step up to 2000m now and make life very difficult for her and the rest.
Kettle Hill switched down from the Willam Haggas stable in the UK (not a bad yard...) and his Australian debut was one of a horse that would be adding to his three prior wins sooner rather than later.
That has perhaps turned out to be later than the market had hoped for. Three Sydney runs saw him fancied above and beyond his ratings but he did run with excuses in all of those and his return to Melbourne, while unsuccessful again, saw him produce the sort of number that the betting had been hoping to get out of him.
That came in a race that has since worked out really well, adding confidence to that new peak, and if he can go on with it here then prices around $5.50 after a few early scratchings appeal as good betting value.
THE MELBOURNE MAIL
Best Of The Day: Race 3 #5 Kettle Hill @ $5.50
Each Way Play: Race 7 #3 Mo'unga $8.00