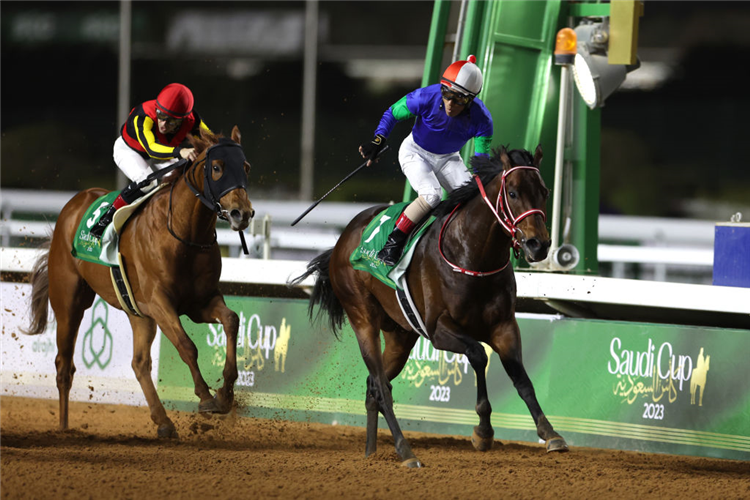 (R2) - Group 2 Godolphin Mile
Bathrat Leon, trained by hat aficionado Y Yahagi, is looking for back-to-back wins in this race having been successful at 50-1 last year. No such odds this time at 5-2 favourite, but he's going infinitely better than last year having run to 121 with Timeform in two of his past three and looks awfully hard to beat at $3.70.

(R4) – Group 1 Al Quoz Sprint
No Japanese horses here but Australian fans will know The Astrologist who is the sole Australian runner at the meeting, with Damian Lane to ride. He's about the right price at 15-1 and I think the bet in the race has to be #1 Al Suhail. The knock is his best ratings are over 1400m but he's adaptable and flying. #11 Sight Success was last seen beaten 1.5L by Lucky Sweynesse in Hong Kong and he's got the ratings at 1200m to win this so I can back both.

(R5) – Group 1 UAE Derby
Five Japanese runners here. Continuar and Derma Sotogake come through the G3 Saudi Dirt Cup, the latter finishing third and the former fifth. Derma Sotogake also narrowly beat Continuar when they met at Hanshin in November.
The interesting one is Dura Erede. A maiden winner on dirt at Sapporo, he was an upset winner of the G1 Hopeful Stakes at Nakayama. He's no superstar but has the ratings for this and importantly has seen dirt before and handled it.
The final two are Goraiko and Perriere, the former of which was beaten 5.4 lengths by the latter when they met at Tokyo last start. Perriere looks the second pick of the Japanese runners behind Dura Erede.

(R6) – Group 1 Dubai Golden Shaheen
Four Japanese runners here. Lemon Pop clearly looks the pick of them and is the $4.40 favourite for the race. He's one of the better dirt horses in Japan and his past year has been almost perfect but 1200m is a query given his form is over a mile. Good enough to win regardless.
Of the others, Switzerland won this race last year and returned with a 122 in the Dubawi Stakes here which will take beating, although Sound Money presents as value at $15 having run to 120 last time out at the track and trip.

(R7) – Group 1 Dubai Turf
Getting serious now with some world-class horses including four from Japan. The market has Do Deuce as the pick of them which is interesting. A Tokyo Yushun (Derby) winner over Equinox, he shook off the French mud to win dominantly first up at Hanshin, posting his Derby figure of 124. On ratings he's a leading chance but 1800m has to be considered a query.
Danon Beluga was fourth in both the Satsuki Sho and Tokyo Yushun, in the mix with Do Deuce. He posted a peak of 123 behind Equinox and Panthalassa in the Tenno Sho before (I think) he didn't stay in the Japan Cup when favourite. I prefer him at 1800m having beaten Geoglyph in the Kyodo News Hai at three.
Serifos re-uintes with Damian Lane who rode him to victory in the Group 1 The Mile Championship at Hanshin last start, posting a slight new peak of 124. That's competitive although he's unproven beyond a mile. $5 second favourite seems a touch short but he's a definite winning hope.
Vin De Garde ran third in this race last year to Panthalassa and Lord North. That was his peak of 121 and he's typically a high teens' horse which won't be good enough to win, although you can ignore his last start on the dirt.
The UK bring a strong quarter here with Real World, Lord North, Master Of The Seas and Nations Pride all possessing strong ratings and any of the first seven in the market could win without surprising.

(R8) – Group 1 Dubai Sheema Classic
Three from Japan here and the star attraction on the night. Equinox, the reigning JRA horse of the year, could have one of the all-time great record had things gone a touch differently in the Satsuki Sho and Tokyo Yushun. Arguably the run of the race in both, immaturity cost him before returning with a stunning run to chase down 20 length leader Panthalassa in the Tenno Sho.
Remarkably, he's improved his rating every time he's gone to the races, running 95-113-121-123-126-129 with Timeform. That last win was in Japan's greatest race, the Arima Kinen where he destroyed the field with a complete performance- no getting keen, no doing things wrong.
This will be another test: to travel overseas, to race at night at an unfamiliar track, but I'm confident he's the complete package now. If he runs to his best I think he wins, and if he manages to improve again, watch out.
Shahryar won this race last year running to 125 but hasn't replicated that since, his best effort 122 in a shaky looking Japan Cup rating. Equinox gave him a bath in the Tenno Sho and I'd be surprised if he turned the tables.
Win Marilyn comes off a win in the Hong Kong Vase, running to 120 there. That was a new peak for her and she's proven she can travel, but she'd need to go to another peak again to be a chance.
Of the others, Westover's Irish Derby win would be competitive although he's been poor in two runs since and Mostahdaf was dominant winning here in the G3 Neom Turf Cup last time out and would be the main danger if he runs to that level again.

(R9) – Group 1 Dubai World Cup
Fifteen to run here and no less than eight Japanese horses, all between $10-19 in the market with intertwining form lines. A quick brief of each:
Cafe Pharoah got home well in the Saudi Cup for third at 16-1 which was a new peak. Handled by T O Keynes at Chukyo over a year ago but has been better since then and is in the mix.
Crown Pride for Damian Lane was good in the Saudi Cup behind Panthalassa however he was behind both T O Keynes and Jun Light Bolt in Japan and I'd be surprised if he won.
Geoglyph is interesting. Fourth in the Saudi Cup when chasing Panthalassa and a winner of The Satsuki Sho, that was his first run on dirt and he may be better with a sit.
Jun Light Bolt was disappointing in the Saudi Cup when seventh but did start $6.50. He beat Crown Pride at Chukyo prior to that but his peak of 114 isn't good enough for this.
Panthalassa is a ripper. A winner of the Dubai Turf last year and Saudi Cup this year, if he wins he'll become the highest earning horse of all time. He's now run 122 in three of his past four starts and if Yoshida gets it right, you know he'll be very hard to catch.
T O Keynes is narrowly the shortest of the eight for Japan and I can see why. He's arguably the best dirt 2000m horse in Japan but chose to miss the Saudi Cup this year after failing in it last year. Starting $1.50 to beat Jun Light Bolt and Crown Pride when they met, he had a tough run and was over the top. Unlucky not to beat Ushba Tesoro last time out, peaks of 120 at G1 level will be competitive.
Ushba Tesoro is on a winning streak, running to 115 two back in the G1 Tokyo Daishoten before a great Kawada ride got the better of T O Keynes narrowly last start. Has come into his own of late and is on the up, but needs a new peak here.
Vela Azul is very interesting. Originally a solid dirt horse, they switched him to turf a year ago and he went all the way through to win a Japan Cup, courtesy of Ryan Moore. That peak of 124 (on turf) is strong although looks a touch shaky in a bunched finish and he was found out in the Arima Kinen. I can't imagine back to dirt will help and I'm happy to be against.
Of the others, Country Grammer flew home in the Saudi Cup and won this race last year running to 125, also coming off a second in the Saudi Cup. He's naturally the horse to beat also the draw does him no favour despite the long run to the turn.
I'd be with Panthalassa and T O Keynes as the pick of the Japanese.
Dubai World Cup Night Bets
R2 #2 Bathrat Leon @ $3.7
R4 #1 Al Suhail @ 5.5 & #11 Sight Success @ $5
R5 #6 Dura Erede @ $8.5
R6 #13 Switzerland @ $4.8 & #11 Sound Money @ $15
R8 #7 Equnox @ $2.10
R9 #9 Panthalassa @ $11 & #13 T O Keynes @ $10