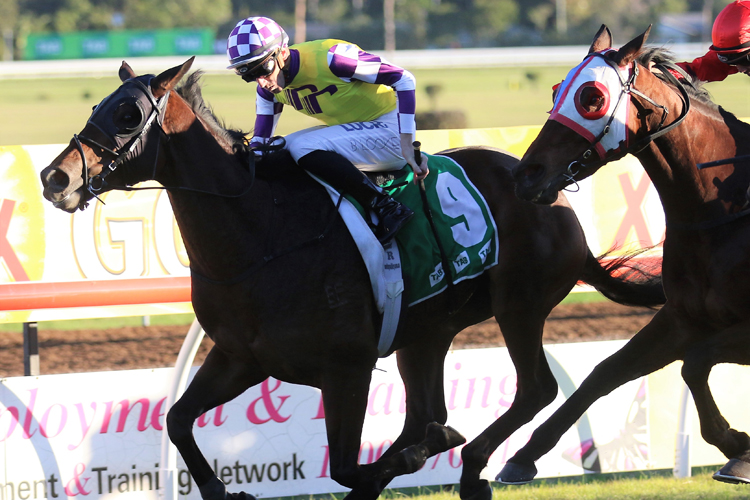 Australian thoroughbred Tab meeting is today held at Grafton.
GRAFTON: RACE 7 @ 5:40 PM
MISS LAQUETTA (10) came with a well timed run to win in this grade at Coffs Harbour most recently and gets to stay in the same class for this. She has a superior draw today and is only up two kilos in weight. There is no reason why she can't repeat the dose. XINGYUN (9) has put together a brace of second placings and is still at the improving stage of his prep. He is worth including in all multiples at nice each-way value. DON'T FORGET DAD (8) wasn't far away in fifth place last time out and should appreciate the extra distance on offer today. He seems to excel on a wet track and if he gets conditions to suit then his winning chances increase dramatically. LUCKY BANNER (2) made up a late chunk of ground when running into second place fresh up for her new trainer at Coffs Harbour. She has been given time to get over that effort and she should be right at home with an extra furlong to travel today. She also drops in grade and can go one better here. Watch closely. SELECTIONS: Miss Laquetta to win.
As a FREE Racing and Sports offer, below is the Grafton Computer Card.

FP
Silk
Horse, Age & Sex
Sire & Dam
Jockey
Trainer
SP
WT

1st

5. SURF SONIC (AUS) 6yo G


NICCONI (AUS) - SURFARI (AUS)

DANNY PEISLEY
SCOTT HENLEY
$26
60kg
D Fromberg, Dr G Fromberg, Mrs B Fromberg, Ms M Lowe & J L Eveleigh

2nd

8. DON'T FORGET DAD (AUS) 5yo G


CASINO PRINCE (AUS) - LADY OF HELENA (NZ)

LUKE ROLLS
NEIL GODBOLT
$4.8
59kg
J D Hartmann, S Watson, M Moore, C W Campbell, X L (Mgr: L Harden), B J Crowley, J D Mackie, B Elliott, J P Hartmann, J B Hartmann & G W Chesher

3rd

10. MISS LAQUETTA (AUS) 4yo M


STAR TURN (AUS) - COSTA LAQUETTA (AUS)

JON GRISEDALE
BRETT CAVANOUGH
$4.8
58.5kg
R Watson, N P Watson, T J Watson, TCB Bloodstock (Mgr: A T Brown) & Jaybar Equine (Mgr: J M Watson)
4th
3. CASSIA LANE (AUS) 4yo M


WORTHY CAUSE (AUS) - MY GIRL CHARLIE (AUS)

EMILY LANG
JOHN SHELTON
$4.8
59.5kg
5th
14. SHE'S ENUFF (AUS) 4yo M


RICH ENUFF (AUS) - DRIVEL (AUS)

HEIDI GILLIE
JASON REILLY
$15
53kg
6th
11. SPORTSPAK (AUS) 5yo G


CHARGE FORWARD (AUS) - SPRING BUBBLE (IRE)

MADELINE OWEN
PADDY CUNNINGHAM
$19
57kg
7th
4. FIGHT ON SHADES (AUS) 4yo G


FIGHTING SUN (AUS) - SHADES OF BELLA (AUS)

KELSEY LENTON
STIRLING OSLAND
$12
57kg
8th
15. STREET BABY (AUS) 6yo M


STREET BOSS (USA) - SEE MY BABY (AUS)

COURTNEY BELLAMY
DWAYNE SCHMIDT
$51
52kg
9th
2. LUCKY BANNER (AUS) 5yo M


STARSPANGLEDBANNER (AUS) - LUCKY IN LOVE (AUS)

MS J WORLEY
PETER J CLARK
$15
61.5kg
10th
6. KALAHARI HEART (AUS) 5yo M


SHOW A HEART (AUS) - KALAHARI PRINCESS (AUS)

BEN LOOKER
TODD PAYNE
$13
59.5kg
11th
16. OPTIMIZZER (AUS) 6yo G


NOT A SINGLE DOUBT (AUS) - TWIZZLER (NZ)

ANTHONY ALLEN
SCOTT HENLEY
$41
55.5kg
12th
9. XINGYUN (AUS) 6yo G


DAUNTING LAD (AUS) - MILLOW (AUS)

JASON TAYLOR
ROBERT KNIGHT
$21
59kg
13th
12. GRACIE BLUE (AUS) 4yo M


SPIRIT OF BOOM (AUS) - GRAWLIX (AUS)

MS YVETTE LEWIS
DANNY BOUGOURE
$12
57kg
14th
18. BUDAWANG (AUS) 9yo G


READY'S IMAGE (USA) - MANHATTAN PROJECT (AUS)

MS MELEA CASTLE
T J HIGGINS
$201
55kg