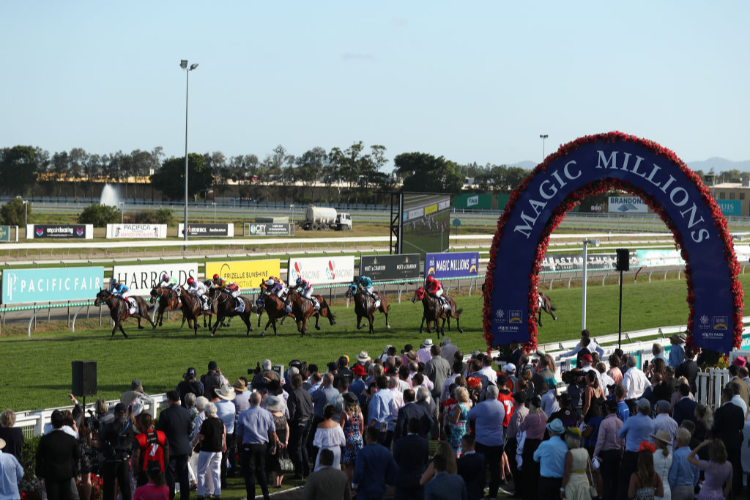 While we may rarely see the best three-year-olds head to the Gold Coast for the Magic Millions due to the restricted nature and timing of the race, my first feel is that we seem light on this year.
It's been spoken about plenty at Racing And Sports that the wet Autumn may have forced some two-year-olds to be held back and be unleashed at three but looking at the market for the Guineas is a touch disappointing.
Russian Conquest is into favourite after coming so close last year, running 108 by Timeform's scale when second to Coolangatta.
Since that peak, she's run six times for zero wins and a mean and median rating of 94, with heavy tracks to (fairly) blame for the most part- she's never really gone a yard in them.
She ran to 98 when second at Gosford on their feature Wednesday meeting in the Listed Gosford Guineas (1200m), beating another Millions' hopeful in Hell I Am, who stated favourite but could only manage third.
He sits third pick in the futures' market and while he has been consistent of late, running to 103-104-105-102 as a three-year-old, it falls short of what is required to typically win on the Gold Coast.
Looking back at the five year winning average of the race, the lowest rated winners still ran to 110, those being Aim in 2021 and (somewhat surprisingly) Eleven Eleven in 2020, who has made the Magic Millions his own since then.
Pierata ran to 116 in 2018, Boomsara 114 in '19 and King Of Sparta 112 last year, and while they are obviously more likely to run a new peak in a better quality of race, their numbers before are interesting.
Pierata had already run to 109+ and 111 prior to his win and Boomsara (111), Eleven Eleven (108) and King Of Sparta (109+) had all run higher than anything in this year's field is likely to run before the grand final.
This year, there are just two horses that have run to that level that may take their place on the Gold Coast- the first being Tijuana.
A double figure chance in the current market, I have no word (and a quick Google yielded nothing) on whether he'll actually be running having had a solid five-run campaign in Melbourne over the Spring. A peak rating of 112 in the Group 1 Caulfield Guineas (1600m) looks a bit shaky given it was the lowest rating edition in history, although his runs in the Listed Exford Plate (1400m) and Group 2 Stutt Stakes (1600m) were both good. He's had the opportunity to run bigger ratings given the level of race he's contested but must be respected if he does line up.
Fashion Legend won what is usually a key lead-up on Saturday- the Group 3 Magic Millions Vo Rogue Plate (1350m) as a 17-1 chance, getting a good run on speed and running to a new peak of 105 which fits right in around the leading chances.
Count Da Beans started favourite there and ran on strongly from well back to just miss ahead of second favourite Stroll, whom he got into a bumping duel with at the top of the straight.

Count Da Beans isn't in the race but Fashion Legend and Stroll are $26 and $17 respectively but it's a horse not nominated for the race that piques the interest most.
Also running on Saturday was Yellow Brick and with figures in from Toowoomba, who hosted the 'King Of The Mountain', putting Queensland firmly back in the running for the jurisdiction with the worst name ideas, he has plummeted in betting with a huge new peak of 115. Sitting on a good tempo, he put big margins back through the field and took his winning streak to four, having now gone 86-93-100-115.
That last jump is easily the biggest and also the hardest to do by some way so whether he can repeat it next start back against his own age I'd be surprised. That being said, he could regress half way back to his previous start and still be right in the finish. He's the best of the local hopes and double figure odds seem generous given the evenness of the others mentioned.
Unfortunately, we may not see what turns out to be the best horse in the race take her place this year.
Olentia, a Chris Waller filly by Zoustar has had two starts for two wins, both in Queensland and both by big margins.
She ran to 83+ on debut in a maiden handicap before justifying that mark up and then some, running to 99 at her second race start on Wednesday in a class 1.
As a filly, that's already put her equal with the likes of Stroll's last start and actually 1 pound higher than Russian Conquest's second at Gosford which reads incredibly well given she's only had two starts.

Whether she actually makes the field will be the query- she'd have to run and win again to improve on her winnings of $40,500 but if she does, watch out.