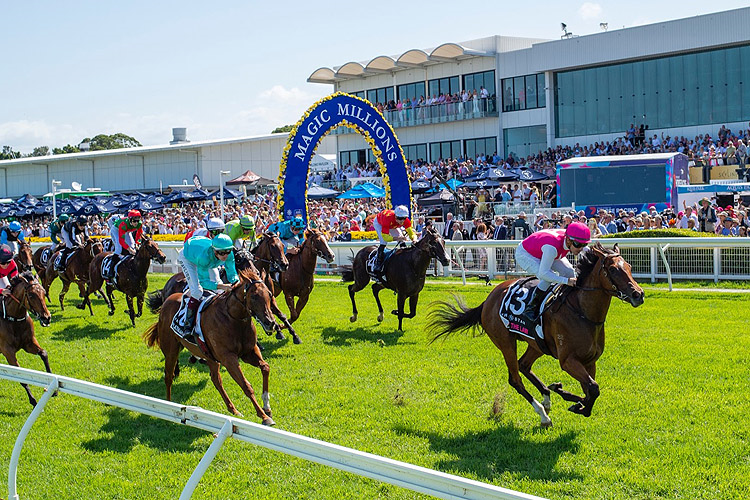 Fillies to the fore in 2yo Classic
In 24 running's of the Magic Millions 2yo Classic, since the turn of the century, fillies have won 15 (62.5%), including six of the past seven.
Interestingly, this year, fillies accounted for the same percentage (62.5) of the field, with 10/16 runners. Further in the girls' favour, they filled the first five places, and eight of the first nine.
Furthermore, according to Racing And Sports' head of handicapping Adam Blencowe, who put the R&S database to use post-race, "they have made up 53.75% of Millions fields in the past decade and have been overrepresented in the placings with 63.3%."
The trend of two-year-old fillies being generally better than their male counterparts continues in Australia's two-year-old pinnacle, the Golden Slipper with fields roughly a 50/50 split between boys and girls, yet fillies accounting for 63.6% of placings.
Skirt The Law, who kept her unbeaten record intact with a comfortable 1.5 length win on Thursday, isn't even a particularly strong winner of the race, according to history. Here's how she stacks up against recent fellow fillies to have won the race:
In Australia, fillies and mares are given a 2kg weight allowance in weight-for-age contests. Similar allowances are afforded in most major racing jurisdictions worldwide, including the UK, Japan and America.
The general consensus, at least in my opinion, is that males have the edge in Australian racing, hence the allowance, yet certain aspects appear to dispute this claim. Certainly in two-year-olds, the allowance doesn't appear to be required if the record in Magic Millions' and Slippers are anything to go by.
With less time to grow and mature, the difference in size, and perhaps more importantly, mental maturity, is less pronounced in younger horses compared to a fully matured gelding or stallion. In fact, some trainers have even suggested fillies are easier to train than colts as two-year-olds as they mature quicker, just as humans do.
This may be less evident in older horses, with most of today's weight-for-age stars in Australia male, however when an elite mare comes along, her 2kg allowance only adds to her dominance, and we've seen a few very notable examples.
This century we've seen arguably the three greatest Australian thoroughbreds in history- certainly three of the most iconic.
Winx, Black Caviar and Makybe Diva all beat the boys at weight-for-age on numerous occasions.
That's not to say they wouldn't have won their races without a 2kg allowance, because in 99% of cases they still would have, although Winx's third Cox Plate and Black Caviar's Diamond Jubilee would've been even more interesting.
Plenty have argued that a mare's allowance in Group 1 races isn't right- the pinnacle of our sport should pit horses against each other equally, regardless of sex. Whether that's right I don't know, but in two-year-olds, the data suggests a review of the allowance might be required.

FP
Silk
Horse, Age & Sex
Sire & Dam
Jockey
Trainer
SP
WT

1st

13. SKIRT THE LAW (AUS) 2yo F


BETTER THAN READY (AUS) - OUTLAW KATE (AUS)

RYAN MALONEY
TONY GOLLAN
$7
55kg
Mrs B Siemsen, Mrs J Dunn, Mrs J Folsom, Mrs L Essex, Mrs R Kelly, Mrs A Ledwidge, Mrs S Mackay, Mrs S Morris, Mrs V Morrissey, Mrs G Saines, Mrs J Van Buynder, Mrs A Balsarini, Mrs J Barnes, Miss V Johnston, Mrs P Lange, Mrs J Smith, Mrs A Treichel, Mrs J Treichel, Mrs A Wallis & Mrs E Marr

2nd

10. PLATINUM JUBILEE (AUS) 2yo F


ZOUSTAR (AUS) - MISS DEBUTANTE (AUS)

REGAN BAYLISS
G WATERHOUSE & A BOTT
$6.5
55kg
Go Bloodstock Australia (Sir O G Glenn), Silvertail (Mrs J T Wedge), Gee Racing (A J Guarrera), GW Holdings (G J Wilson), Sheffield Racing (R J Naylor), Just Fun Racing (D Halpin), R N Norris, F W Cook, Mrs C M Cook, Ms B L Cook, T Needham, S Bacon, D R Fleming, S C Murdoch, M J Murdoch & R Cattle

3rd

12. SUMMER LOVING (AUS) 2yo F


EXCEED AND EXCEL (AUS) - SERENA BAY (AUS)

BRENTON AVDULLA
G WATERHOUSE & A BOTT
$20
55kg
D Maher, A Harvey, H H W G Racing (Mgr: L Henderson), Milo Racing (Mgr: T Merlehan), B Gordon, M Grogan, Dr M Barth, Cazrob (Mgr: R Winney), D De Jersey, Z De Jersey, Mrs Z De Jersey, J Russell, Dr E Russell, G Macdonald, W Ekert, A Bundalo, Ms S Hunneybell, Mrs V Anderson & W Manning
4th
8. INFATUATION (AUS) 2yo F


I AM INVINCIBLE (AUS) - SWEET KISS (AUS)

MS RACHEL KING
BJORN BAKER
$26
55kg
5th
9. FIRE LANE (AUS) 2yo F


HELLBENT (AUS) - HERITAGE LANE (AUS)

JAY FORD
BRAD WIDDUP
$14
55kg
6th
4. EMPIRE OF JAPAN (AUS) 2yo C


SNITZEL (AUS) - ICHIHARA (AUS)

JAMES MCDONALD
PETER & PAUL SNOWDEN
$5
57kg
7th
16. EMPRESS OF WONDER (AUS) 2yo F


CHOISIR (AUS) - TSARINA WONDER (AUS)

CHAD SCHOFIELD
ANNABEL NEASHAM
$7.5
55kg
8th
14. MISS COOTA (AUS) 2yo F


SPIRIT OF BOOM (AUS) - ROCK GARDEN (AUS)

JUSTIN HUXTABLE
CHRIS MUNCE
$17
55kg
9th
11. CROATIAN BELLE (AUS) 2yo F


BRAZEN BEAU (AUS) - CROATIAN (AUS)

MICHAEL DEE
BEN & JD HAYES
$21
55kg
10th
5. ROYAL ENTRANCE (AUS) 2yo C


SNITZEL (AUS) - BALLET BLUE (AUS)

TIM CLARK
G WATERHOUSE & A BOTT
$26
57kg
11th
15. EXCEL D'OR (AUS) 2yo F


EXCEED AND EXCEL (AUS) - MISS CHIERRO (AUS)

BRODIE LOY
ANNABEL NEASHAM
$61
55kg
12th
7. CHRYSAOR (AUS) 2yo C


BETTER THAN READY (AUS) - NEW WINGS (AUS)

JAMES ORMAN
CHRIS WALLER
$61
57kg
13th
18. SHE'S A ROGUE (AUS) 2yo F


NICCONI (AUS) - QUELLE LIAISON (AUS)

BEN THOMPSON
CHRIS MUNCE
$201
55kg
14th
6. GODFATHER (AUS) 2yo C


I AM INVINCIBLE (AUS) - MELIORA (AUS)

BEN MELHAM
PETER & PAUL SNOWDEN
$31
57kg
15th
3. SUNSOURCE (AUS) 2yo C


ZOUSTAR (AUS) - PATRICIA DAWN (AUS)

MARK ZAHRA
TRENT BUSUTTIN & NATALIE YOUNG
$26
57kg
16th
2. SOVEREIGN FUND (AUS) 2yo C


CAPITALIST (AUS) - MOSSBEAT (AUS)

JAMIE KAH
PETER & PAUL SNOWDEN
$6.5
57kg