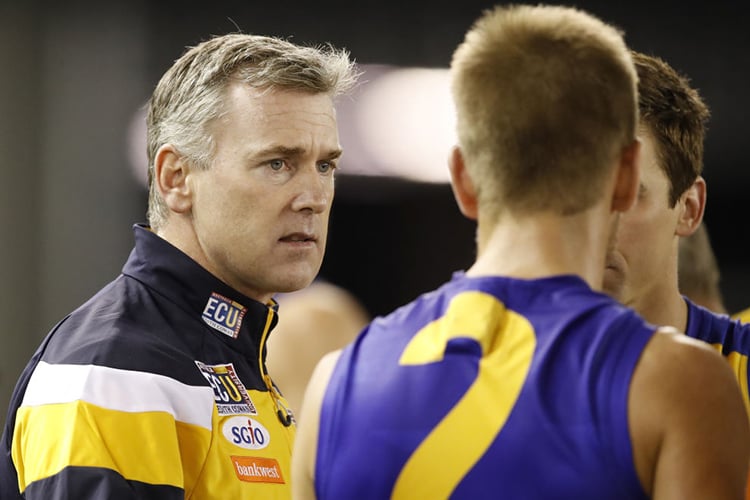 West Coast coach Adam Simpson has urged his players to be braver in their ball movement, but says the team won't go anywhere if they keep fumbling or can't win the contest battle.
The Eagles lost the contested possession count 152-115 and clearances 41-26 in last week's five-point loss to North Melbourne.
The result means West Coast have now lost an equal club-record nine straight games, with the side registering just two wins in their past 27 matches.
West Coast won the flag in 2018 with a slow and methodical system of ball movement.
Simpson knows that system is now outdated, and wants his players to embrace a faster, more direct style.
The premiership coach feels the fruits of his labour will be able to flourish if his players can improve their skill level and work in the contest.
"It's a no-fumble league, and we're fumbling too much," Simpson told reporters on Friday.
"We're working on that - the fundamentals and touch and skill is paramount to what we do in our program. We just haven't seen it on game day as much as we would have liked.
"And we won't get anywhere if we don't fix the bit we spoke about - the contest."
West Coast's inability to even come close to squaring the contest or clearance battle against the Kangaroos meant defenders including Tom Barrass and Jeremy McGovern were often forced to come to the rescue.
Simpson does not want that to become a pattern.
"It's so critical you're not relying on ball movement from the back half," he said.
"There's stages we can go quicker. We want to go quicker.
"(The old system) is probably ingrained into a few of our players and we've got to try to work through what that looks like.
"But we've got to win the ball first in the right spots.
"If we're thinking that McGovern and Barrass are going to be the gatekeepers of our ball movement, well we're not going to get far.
"We'd like to be braver with the ball if we can, but we've got to win it first."
West Coast were heavily criticised following the loss to North, but Simpson is not taking it to heart.
"That's part of our industry. If you don't perform well, you cop criticism," he said.
"We're not the same side as last year, but we've got to prove to ourselves as much as anyone that we're capable of more, and that's our challenge."
West Coast fielded three debutants last week against the Kangaroos - Campbell Chesser, Reuben Ginbey and Noah Long.
A fourth will feature on Sunday - last year's No.13 pick Elijah Hewett.
The powerful midfielder will be the sub for the game, and Simpson is excited to see what the 18-year-old can produce.