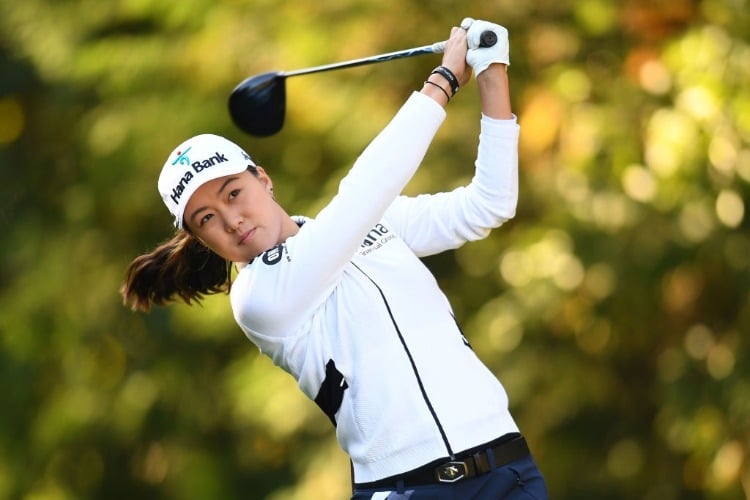 History-making Hannah Green is on track to pen another chapter in golf's history books after snaring the halfway lead at the landmark dual-gender Australian Open in Melbourne.
Green burst from a star-studded pack to claim a two-stroke advantage over the field with a sublime six-under-par 66 at Victoria Golf Club on Friday.
With five birdies and a brilliant eagle two after driving the par-4 15th hole, Green surged to 11 under for the championship to seize control.
The 2019 Women's US PGA champion enjoys a two-stroke buffer over former world No.1 Jiyai Shin, who posted a second straight 68 playing alongside Green.
First-round leader Grace Kim ground out an even-par 72 to remain at seven under.
The 21-year-old shares third with another Korean, ex-world No.1 So Yeon Ryu and South Africa's reigning British Open champion Ashleigh Buhai.
Ryu and Buhai both shot 68s at nearby Kingston Heath, the Open's co-host course.
Green's fellow West Australian major winner Minjee Lee climbed into outright sixth at five under with a second-round 70 at Kingston Heath.
But it is Green that everyone must catch.
In February, the 25-year-old became the first woman to win a 72-hole mixed-gender tournament on any of the world's leading golf tours after romping to a four-stroke victory at the TPS Murray River.
A mixed-gender competition is when men and women compete against each other, while males and females share the fairways at a dual-gender event - like this week.
Either way, Green revels in both formats.
She also won the dual-gender Vic Open in February and shapes as the player to beat over the weekend again on the Melbourne sandbelt.
"I've always loved it. The Vic open, obviously, were the first to do it, which is an event I've played alot and also been able to win," Green said.
"It's definitely the reason why we've got such a big crowd with both men and women together.
"And it's great to have all these guys out there today as well. So, yeah, it's only upwards for this event."
Green could have been even further ahead on Friday night had she converted a five-foot eagle putt at the last after almost holing out for two on the par-5 18th.
Kim retained her advantage for much of the front nine before racking up a double bogey on the eighth to fall back to six under.
But the former Australian amateur champion, still on a high after graduating for next year's LPGA Tour in September, rallied with a late birdie to stay well in contention to win her maiden Open as a professional.
Buhai, who tamed the famous Scottish links of Muirfield to land her first major in July, warned she felt right at home following her blemish-free display.
"It's always a good day when you can go on any of these courses bogey-free," Buhai said.
"Front nine, which was the back nine for me, was a little slow this morning but I got into the rhythm nicely on the back nine.
"I love sandbelt courses because I like to flight the ball, so you know you can kind of hit a mid flight and let it feed out.
"It plays a bit like a links and I like links golf."
Legendary former champions Karrie Webb and Laura Davis also thrilled the big Melbourne galleries by making the halfway cut.
Four-time Open champion Webb is in a tie for 19th at two over while English great Davies is in a group sharing 21st, one shot behind.