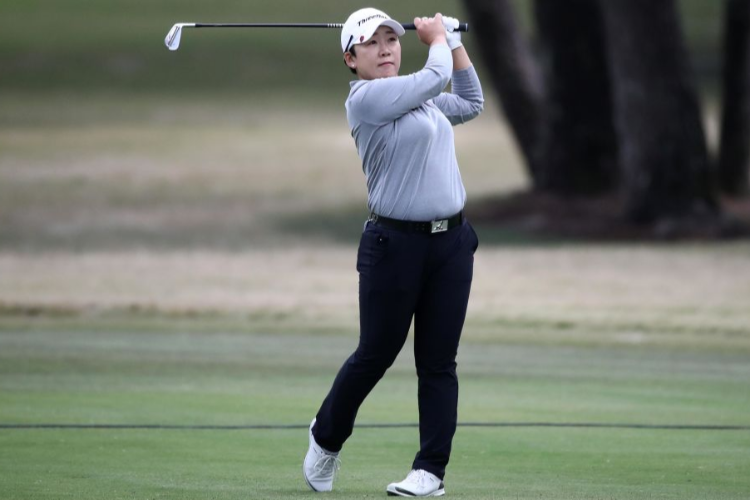 Jiyai Shin handed Cassie Porter a priceless lesson in big-time golf under pressure as the former world No.1 surged to a five-shot victory at the Vic Open and then declared the young Queenslander a star in the making.
The 20-year-old Porter had led after each of the opening three rounds at 13th Beach, but she was unable to go with the South Korean superstar as the wind got up on Sunday.
Porter's two-shot overnight advantage had disappeared within the opening two holes, which included a bogey for the Australian on the 1st and a birdie for Shin on the 2nd.
It was to be a portent of what was to come.
Shin eventually signed for a one-under 71 and a four-round total of 14-under 275 - five shots clear of Australian Grace Kim and Pavarisa Yoktuan from Thailand.
Porter dropped three shots in the last four holes for a seven-over 79 to slip all the way back to a tie for fourth with American Emma Talley at eight under.
"It's a hard pill to swallow but you can't do anything else than take the positives out of it, so onto the next one," said Porter, who has only been a professional for 14 months.
"It's just another day at work and everyone has hard days at work
"Jiyai is an amazing player.
"She was No.1 in the world at one point , she handled herself amazingly out there and I was just there to learn and I definitely did do that today.
"The golf is one thing, but how you handle yourself is a whole other thing.
"We can all learn something from Jiyai about how she handles tough situations ... one under in conditions like this was outstanding.
"I was just very lucky to have a front-row seat."
Two-time British Open champ Shin was more than happy to return the compliment, having played three of the four rounds alongside the youngster.
"I'm so glad to play with her for three days and I look forward to her playing all over the world," said Shin, who became the fourth major winner to join a celebrated Vic Open honour roll since the women's event became a 72-hole event in 2013.
"I played with her for the first two rounds and she was making everything.
"I was so surprised she was a rookie.
"Today I hope from this experience that she learned something."
Australia's LPGA Tour regular Su Oh had easily the best round of the day in the difficult windy conditions, a superb five-under 67, to vault up to a tie for sixth.