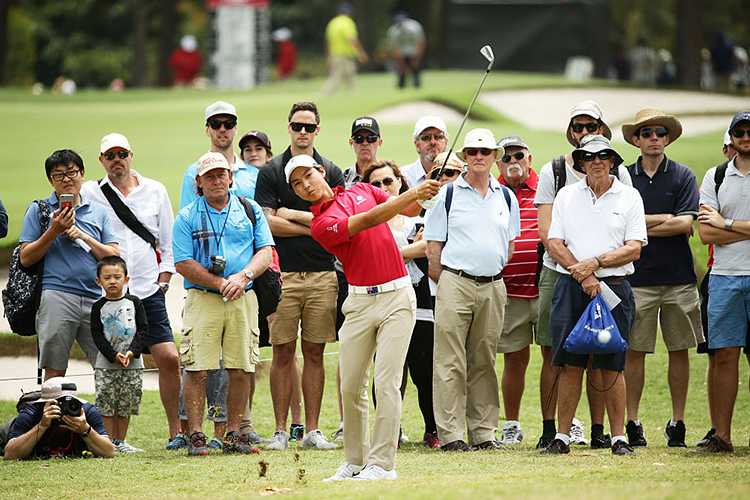 Min Woo Lee hopes to block out the gnawing pressure of making the Masters field and focus solely on this week's prestigious Players Championship, the PGA Tour's richest tournament of the year.
Lee is walking a tightrope trying to seal an invitation to Augusta National for the first major of the season starting on April 6.
The West Australian is ranked 50th in the world and needs to remain in the top 50 as of April 2 to clinch a Masters berth and the chance to win a coveted green jacket.
But with The Players Championship already regarded as golf's unofficial fifth major and offering $US25 million ($A37 million), including $US4.5 million ($A6.7 million) to the winner, Lee knows it's vital not to be distracted by his Masters predicament.
"I've got this tournament and I've got the (WGC) Match Play to look forward to. Those two tournaments to get me in the top 50," he said on a zoom call from the US on Tuesday.
"So it's in the back of my mind, but I'm not really thinking about it too much.
"Obviously there's a bigger task in front of me and I've got to play well this week. But I guess good golf takes care of itself.
"It's an exciting time. I'm in a good spot right now and hopefully I can have a good week in these next two."
Lee has spent the past two days addressing chinks with his technique - including an elbow angle that strayed into fowl territory - after missing the cut at last week's Arnold Palmer Invitational, and is confident of rebounding at TPC Sawgrass.
"I just was getting a bit too steep with my irons and I was getting a little 'chicken wing', which is not really pretty, and the contact of the ball is not as good as what it can be," he said.
"So we're working on that. I still have a little bit, but it's slowly getting better and better every week, which is nice. It's showing on the stats.
"Even though I didn't play that well last week, I was top 20 in the approach play for the first two rounds so that's a very big step forward."
The 24-year-old will conclude his preparations in a practice round with Australian major winners Jason Day and Adam Scott, both past champions at The Players.
"They're really nice guys and they're always willing to give advice, which is really cool," Lee said.
"Obviously being a fellow Aussie, it's always nice to play with them. Haven't played with them in a while.
"So I can't wait to get it going tomorrow.
"I played with Collin Morikawa today and he gave me a few tips; some of the experienced caddies that were in the group, too."
Lucas Herbert, ranked 51st, and world No.101 Cameron Davis are the other Australians in the field for the PGA Tour's flagship event, starting on Thursday.