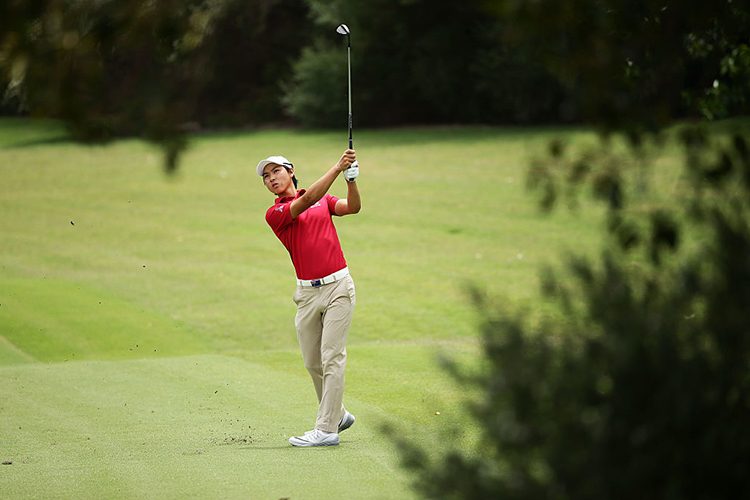 Min Woo Lee has overcome an untimely leg cramp to charge into early contention at the mega-rich Players Championship in Florida.
Lee carded a four-under-par 68 to share sixth place, four strokes behind American leader Chad Ramey, after the opening round at TPC Sawgrass.
Spearheading a strong Australian challenge, with three compatriots also in the top 20, Lee reeled off seven birdies and was sitting atop the leaderboard at the PGA Tour's flagship event before dropping two shots in his final two holes.
The Perth ace needed treatment after seizing up late in the round.
"It was a weird one because I had never experienced that before. It was kind of a funny story," Lee said.
"At the beginning of the week I thought I had an allergic reaction to the electrolytes I was having.
"If you don't have electrolytes you get cramps and then I got a cramp. It put the puzzle pieces together, and that's what happened."
After surging to six under, Lee recorded back-to-back bogeys to finish his round - but knows it could have been worse.
"I just swung my driver (on No.18) and kind of over-extended my calf," he said.
"Wasn't the best of timing, but I'm happy to get it done and I didn't actually hit it that bad with the cramp.
"Thankfully the physio came out and helped me out there."
Lee is ranked 50th in the world and needs to retain that top-50 position until April 2 to earn an invite back to the Masters, where he equalled the front-nine record of 30 shots in the final round last year.
His fine start at this week's $US25 million ($A38 million) event, after missing the cut at the Arnold Palmer Invitational in early March, should be enough to secure the 24-year-old a Masters spot.
"Everything was clicking, especially the putting. The putting was really solid," Lee said.
"I did change something with my putting. Felt like I missed a lot of putts right, so I started lining the ball up, and they started on line, which I thought I was doing without the line.
"So it was quite nice to actually see the ball rolling on the intended line.
"Everything was pretty good, solid off the tee and solid approach play, which is a nice recipe, especially on this course."
Fellow Australian Cameron Davis, outside the top 100 and needing a big result, also made a great start with a three-under 69 to be in a tie for 12th.
"Very pleased. It was a good solid round of golf," Davis said after mixing six birdies with three bogeys.
"Kept it in play really nicely, made a couple of putts here and there. But it was just a really well put-together round and stayed in it nicely with the mental game as well.
"I kept calm and cruised my way through the round and, if you can do that four times around here, you're pretty happy."
In-form Jason Day, coming off four straight top-10 finishes, continued his renaissance with a two-under 70 to be sharing 19th spot with countryman and PGA Tour rookie Harrison Endycott.
Day's fellow former Players champion Adam Scott, approaching the 10th anniversary of his 2013 Masters triumph, signed for an even-par 72.
But world No.51 Lucas Herbert will almost certainly miss the halfway cut, placing his Masters participation in doubt, following a nightmare 10-over 82 round that included a triple bogey on the last.