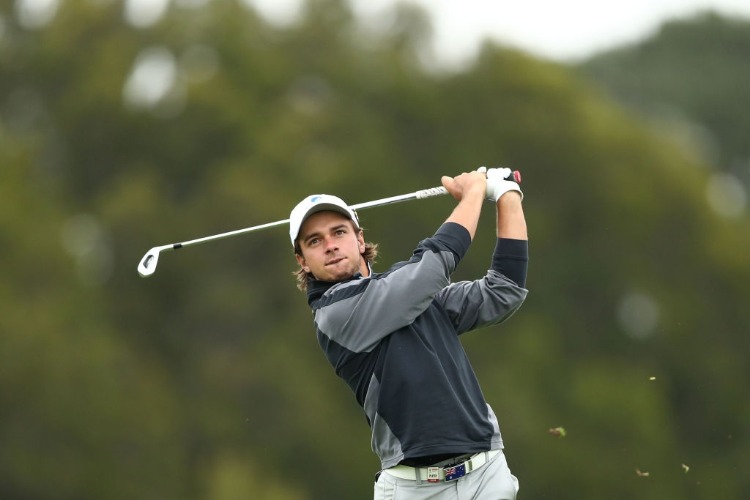 Points leader David Micheluzzi is intent on wrapping up the Order of Merit and a prized British Open berth when the PGA Tour of Australasia season heads towards a climax at Rich River.
Big points are on offer at the season's final three events, starting with this week's $400,000 NSW Open where one of the best fields in decades will compete.
Victorious twice already this season, Micheluzzi hopes to put to bed the notion he can be run down with a tantalising Open Championship spot at Royal Liverpool - and other spoils - at stake.
With 1031.67 points, the 26-year-old has a lead of 228 points on Canberra's Brendan Jones, who vaulted into contention by winning the New Zealand Open in Queenstown.
Jones would likely overhaul Micheluzzi if he collected the 380 points available to the winner at Rich River.
Micheluzzi could be excused for checking the points machinations but is staying focused.
"I'm just trying to win," he said on the eve of Thursday's first round.
"If I win, I'm safe. I want to play a good tournament and, if I do, the points take care of themselves."
Micheluzzi was a world top-five amateur and finished inside the top five in an Australian Open as a teenager, but his early years as a professional were difficult.
He admits to growing so anxious about results he feared where the ball was going, but now appears to be through the worst of that, winning twice on tour this season.
"I'm playing golf," he said.
"That's what I did as a kid, but I kind of lost sight of that. I lost the enjoyment of the game because I was playing bad golf.
"I've gone back to what I was doing as a kid, playing so much. Even weeks off, I'm playing so much, and making it competitive as well so that when I come out here, it feels normal.
"I'm playing for money, your four-ball in your group, all of that. That makes golf fun for me. It might not do it for other people, but the competing is what I love."
Jones, and the rest of the chasers, also have much to play for.
The top three finishers in the Order of Merit all earn DP World Tour cards for Europe next season.
The 48-year-old Jones had been in a rut before he won the NZ Open.
He needs another good result or it's back to his usual job on the Japan Tour, where he has two more years of playing rights.
If he's in contention for the OOM title, he will tee it up at The National in a fortnight.
Micheluzzi tees off in round one with NZ PGA winner Louis Dobbelaar and Masters-bound defending champion Harrison Crowe, one of the best amateurs in the world.
Jones is in the next group off the 10th with Brad Kennedy and Kiwi Michael Hendry, another Order of Merit contender.